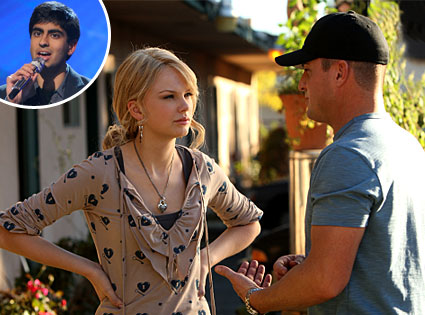 Monty Brinton/ CBS, Frank Micelotta / FOX
At Least Poor Anoop Didn't Suffer for Nothing: American Idol's dramatic wild card special (21.2 million viewers, per preliminary Nielsen estimates) was up over the show's last Thursday outing, and held off the Taylor Swift-assisted CSI (20.8 million) for honors as the night's most-watched show. 
That's What You're Supposed to Do with an Idol Lead-In: The blazing Hell's Kitchen (10.6 million) was up a full rating point in the 18-49 demo over Wednesday's Lie to Me.
Overcoming the Network Schedule: A new Office—a new, Valentine's Day-themed Office airing, um, nearly three weeks after Valentine's Day—was up over its season averages in total viewers (8.6 million) and the demo.
Etc.: Compared to last week, 30 Rock (7.4 million) was up. Survivor: Tocantins (12 million) was about even. ER (8.8 million) was solid. Ugly Betty (6.4 million) was not. Grey's Anatomy and Private Practice phoned in reruns.