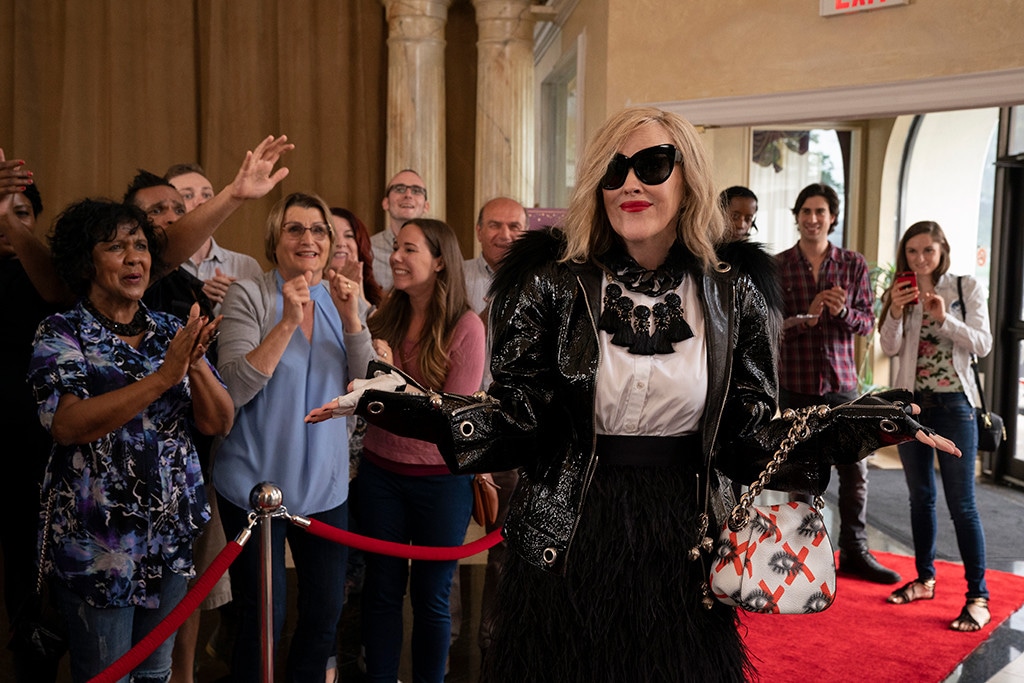 Pop
There aren't many TV characters out there like Moira Rose. The Schitt's Creek matriarch, with her affinity for wigs, extravagant clothing and bizarre word pronunciation, has become a pop culture phenomenon. You've probably come across a GIF of her on the internet, if not used one yourself.
"It's ridiculous," Catherine O'Hara, the woman wearing the wigs and the couture on screen, said with a laugh about her character's internet icon status.
But not everyone was always so sure about Moira Rose.
"When we first started writing it, I was thinking to myself, like, 'Geez, I wonder if people will get this.' And I'm very pleased that they have. I mean, to see her face pop up all over the internet at least once a day, it's a wonderful gift. I think in a way it just goes to sort of further exemplify how brilliant Catherine is," Schitt's Creek co-creator Dan Levy told E! News. "She's a legend."
O'Hara herself said she was worried about audiences connecting with her "otherworldly" character. Moira has quite the extravagant vocabulary and a signature voice. She speaks with an accent of sorts O'Hara came up with, one that can't be pinned down. "Well, now the way I explain it is my vocabulary and my articulation and my extension of syllables [Laughs.] are just all oral souvenirs from [Moira's] world travels," O'Hara said.
There's no real rhyme or reason to what syllables become extended, or how hard she hits certain consonants. Each time they shoot a scene is different, O'Hara said.
"When it's a word like 'amazing' or like 'astonish,' it's just fun to break up the syllables with way too much pausing in between, like, 'a-stonish,' just for no good reason…There are certain words that beg to be stretched out or beg to be destroyed [Laughs.]. I try to mix up the reading of it, but it depends because you have to try to relate to people as well," O'Hara explained. "When I first did the voice in the first season…I was just trying it out…I was so otherworldly that I found it hard to relate to the other characters. I thought, 'OK, people are going to think…I had a stroke or something.' So, I had to try to kind of mellow it out just to be able to relate to people. It's all about connecting with the other characters."
The other signature aspect of Moira Rose, the fabulous collection of wigs, was born out of O'Hara's love of hair. For O'Hara, zanier is better when it comes to the hair pieces. She admitted she'll put them on backwards or sideways, for effect. While developing, the character with Dan Levy and her frequent collaborator Eugene Levy, O'Hara said they never discussed why Moira has an affinity for wigs, O'Hara just asked to wear wigs.
"I've met two women in my life who, one changed her hairdos—she had great hair—she would change her hairdos throughout the evening. If they had a group of people over to dinner, she would disappear and come back with a new hairdo a few times throughout the evening. And another woman who actually did wear different wigs, she would change wigs throughout the party at her house!" O'Hara said with a laugh. "I've always loved hair…When I was in Second City Theater and we had no hair and makeup department, I would do my hair and other cast mates' hair backstage for different characters. There's just so much you can do and say with hair.
"Moira is someone who doesn't want to be pinned down in anyway, as anything. [Laughs.]  She's full of potential! 'You don't know me, you don't know everything that I could be.' I'm talking her, not me, so the wigs help," she continued.
The larger-than-life character has become just that.
"I think there's something to be said about characters who live their lives out loud with very little care of consequence," Dan Levy said.
A particular scene from the first season featuring Moira in a commercial for a local fruit winery has been parodied and performed countless times, including by drag queens. As Schitt's Creek embraces and preaches diversity, it's no surprise the LGBTQ community has embraced the series, especially matriarch Moira Rose.
"It's great, I love it! I love it. I just—I'm proud that the show doesn't even consider not being tolerant for any human being, so that's lovely…Someday it will just be the norm…I don't even like the word 'tolerate' really, and even 'accept,'" O'Hara said. "I would love a day when the word tolerate and the word accept don't get used that way, except when you accept a gift and tolerate bad behavior from a child (or an adult, more likely). I love that that's not in the vocabulary in this town and it doesn't need to be in life."
The fifth season of Schitt's Creek comes to a close on Wednesday, April 10 on Pop and O'Hara is already back at work on what will be the sixth and final season. She'll be hanging up the wigs (and hopefully taking some wardrobe home) and saying goodbye to Moira Rose.
"It's really, really fun to play Moira…It's really fun because it's different from anything I've played, it's different from most people in the world [Laughs.], but I guess her insecurity is relatable. She's a freak and she's relatable at the same time," O'Hara said. "And I get to be ridiculous, and at my age, that's too rare a thing, I think for actors my age. In life I'm ridiculous, I'm not afraid to be foolish in my life—my family has a great sense of humor, all of them—but in TV and film, there aren't that many opportunities for someone my age to be just silly, and fun and ridiculous. I'll be forever grateful for this."
The Schitt's Creek season five finale airs Wednesday, April 10 at 10 p.m. on Pop.