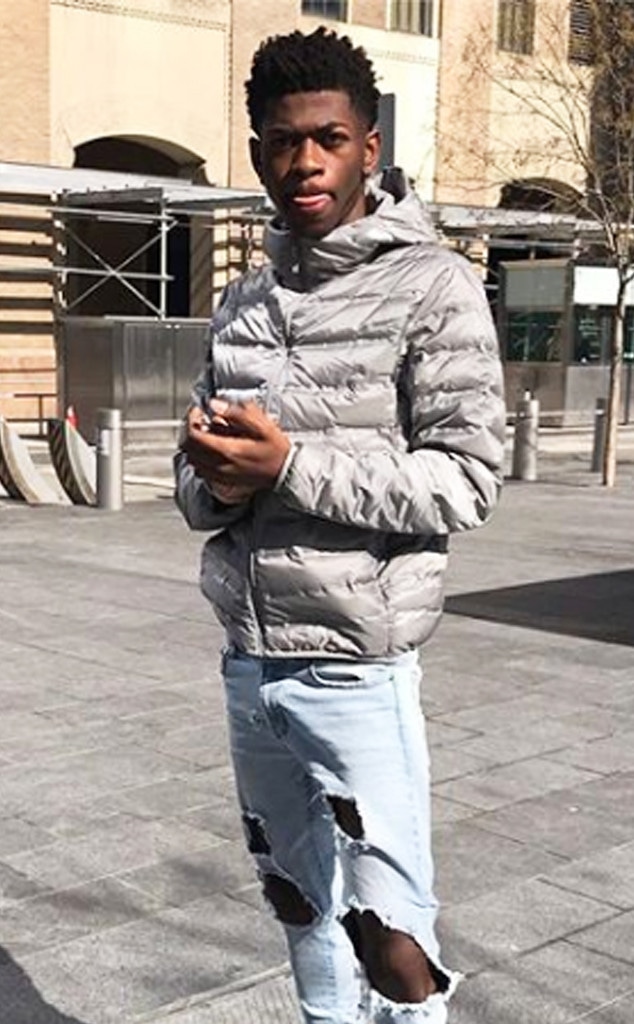 instagram
Justin Bieber couldn't stop gushing over it. Miley Cyrus can't stop hyping it. We all can't stop singing it.
Of course, we are taking about Lil Nas X's "Old Town Road," which became the No. 1 song in the country on Tuesday, officially ending Ariana Grande's reign atop Billboard's Hot 100. (Sorry, "7 Rings"!) What seemingly started off as a viral meme turned unexpected hit single turned full-blown country music controversy has turned Lil Nas X, whose real name is Montero Hill, into one of the most-talked about artists in the world, a far cry from last year, when the Atlanta rapper was struggling to find a place to live after dropping out of college.
Now, Lil Nas X is celebrating having "Old Town Road" hitting No. 1, a milestone he just so happened to achieve on his 20th birthday. 
During an interview with Beats 1, the rapper revealed the origin of his stage name.
"Nas has been my internet alias for a minute now," he explained at the time. "I had it just Lil Nas at first because every rapper has a 'lil' in front of his name, and that's funny to me. But then I got stuck with it because I already built a fan base at that point. I added the X [when I was] a couple songs in as a representation of how long [10 years] it should be before I'm at a legendary level."
Instead of 10 years, it basically happened overnight. 
Lil Nas X wrote "Old Town Road" in 2018, during a low point in his life.
He had dropped out of college to pursue a music career, a decision his parents did not support. "My dad initially was like, 'There's a million rappers in this industry,'" he told Time. "They wanted me to go back to school."
Attempting to avoid his disapproving parents, he moved in with his sister. 
"Everything was very stressful. I would probably get three hours of sleep, staying up on the internet trying to promote my music at my sister's house before coming back home," he said. "I would be over there sleeping on the floor—I didn't want to come back home because I knew my parents would be mad at me. I had headaches, literally almost daily, I guess from depriving myself of sleep."
Eventually, his sister told him it was time to hit the road; that's when inspiration struck.
"I felt like a loner cowboy," he told The New York Times. "I wanted to take my horse to the Old Town Road and run away. The horse is like a car. The Old Town Road, it's like a path to success. In the first verse, I pack up, ready to go."
In December 2018, he decided to post the song online, specifically to TikTok, the app of the moment. "country music is evolving," he wrote. 
"Old Town Road" soon turned into a meme on the video-sharing platform, with a cowboy challenge set to the song taking over. In the videos, users transform from their plain selves into cowboys after drinking "yee yee juice." The song now has over 67 million plays on the app. 
19 at the time, Lil Nas X knew exactly what he was doing when he chose TikTok as the place to promote the song, telling Time, "I was pretty familiar with TikTok: I always thought its videos would be ironically hilarious. When I became a trending topic on there, it was a crazy moment for me. A lot of people will try to downplay it, but I saw it as something bigger."
Lil Nas X is no stranger to using social media to his advantage.
"I was doing Facebook comedy videos, then I moved over to Instagram, and then I hopped on Twitter," he told Rolling Stone. "That is where I really was a master. That was the first place where I could go viral."
And viral he was pretty much destined to go, with his Twitter presence proves his clear understanding of meme culture. Take a quick scroll through his Instagram and you'll see he has a skill for posting casual-yet-hilarious one line captions on his photo, an essential and coveted Gen-Z talent. 
As first reported by New York magazine, Lil Nas X was allegedly a tweetdecker before finding success as a music artist, running a popular Nicki Minaj fan account (@nasmaraj).
Thanks to viral Twitter threads and popular memes, the account amassed hundreds of thousands of followers before it was suspended for violating Twitter's spam policy, according to Buzzfeed News. 
Lil Nas X and his reps never responded to either outlet's request for comment.
The point is: Lil Nas X speaks Internet fluently and after building a solid following, he structured the song to have some potentially viral phrases that could catch on. 
"I knew the way I was going to have to push the song to get it to hit more people's ears," he explained to Rolling Stone. "I run a meme type of account on Twitter; I know what my audience is looking for. So I put some potentially funny lines in there."
After the song blew up on TikTok, he soon placed it on conventional platforms like iTunes and SoundCloud, making the decision to label it as country. 
By March, the song had officially gone mainstream, debuting on Billboard's Hot Country Songs chart and its Hot R&B/Hip-Hop Songs chart.
But then a week later, it was removed from the Country chart. And that's when the fun viral meme became a cultural conversation starter. 
In a statement to Rolling Stone, Billboard explained its reasoning for the decision, saying that while the song "incorporates references to country and cowboy imagery, it does not embrace enough elements of today's country music to chart in its current version." 
Lil Nas X Instagrammed he was "extremely disappointed" by the decision, later telling Time that just because "OTR" doesn't fit into one genre doesn't mean it isn't a country song: "The song is country trap. It's not one, it's not the other. It's both. It should be on both."
Some of "Old Town Road"'s detractors claimed the song's presence on TikTok and meme-ability proved it wasn't a serious effort and was possibly satirizing the country music genre, with a Billboard article describing it as "winkingly silly" and "gimmicky."
"just because old town road has funny lines doesn't mean it's parody," Lil Nas X tweeted in response. "it has a theme. anybody with ears can tell i put some kind of effort into that song."
Still, he wasn't expecting the backlash to Billboard's move, admitting he was surprised by the level of support he received. 
"I wasn't expecting so much support because I just thought it would be one of those things that nobody really would care about," he told Rolling Stone. "It's a purist type of situation, where people have been seeing things one way and that is the way they would like to keep it." 
Many criticized Billboard's decision to remove "Old Town Road" from the chart, calling out the racial undertones of a young black man being banished from the country music chart, which predominantly features white artists. 
Plenty of artists have crossed genre lines to release country songs. Just look at Bebe Rexha, who spent a record 50 weeks at the No. 1 spot on the country chart with "Meant To Be." Plus, Sam Hunt shot to fame in the country genre by incorporating hip-hop elements into his music. Ditto Florida Georgia Line, whose 2012 hit "Cruise" (aka the most downloaded country song ever) features the rapper Nelly. "Dirt Road Anthem," a country-rap mash-up from Jason Aldean, was one of the biggest country hits in 2014.
But in 2016, Beyonce reportedly tried to submit "Daddy Lessons" off of Lemonade for country consideration at the Grammys and she was denied, though she invited to perform it at the CMA Awards earlier in the year. 
When asked if he thought some country music industry's negative response to "OTR"'s placement in the genre was racially charged by Time, Lil Nas X said, "I believe whenever you're trying something new, it's always going to get some kind of bad reception. For example, when rap started, or when rock and roll began. But with country trap, I in no way want to take credit for that. I believe Young Thug would be one of the biggest pioneers in that."
In a statement provided to Genius, Billboard said their "decision to take the song off of the country chart had absolutely nothing to do with the race of the artist." 
Ironically enough, the country controversy only ended up boosting the song's popularity, with celebrities and music industry insiders siding with Lil Nas X. 
But no one defended the young artist more than Billy Ray Cyrus, who had his own experience with chart controversy. 
"Been watching everything going on with OTR," Cyrus wrote on Instagram. "When I got thrown off the charts, Waylon Jennings said to me 'Take this as a compliment' means you're doing something great! Only Outlaws are outlawed. Welcome to the club!"
He also took to Twitter to call out Billboard's assertion that "Old Town Road" didn't qualify as a country song. 
"It was so obvious to me after hearing the song just one time," Cyrus wrote.  "I was thinking, what's not country about it? What's the rudimentary element of a country and western song? Then I thought, it's honest, humble, and has an infectious hook, and a banjo. What the hell more do ya need?"
Whether he knew it or not, Cyrus' support was a big deal to Lil Nas X, who had actually expressed his interest in collaborating with Miley Cyrus' dad back when he first released the song.
"twitter please help me get billy ray cyrus on this," he tweeted in December. 
Four months later, he got his wish, with the duo teaming up for a remix of "Old Town Road," which was released on April 5. 
Lil Nas X shared photos and video from their time in the studio together, admitting he "teared up" working with the country singer.
As of April 9, the remix was the No. 1 song on iTunes, with the OG version sitting at No. 2. It's also No. 1 on iTunes' top country songs chart. 
With the No. 1 song in the country, 32 million viewers and counting on the song's music video, a major deal with Columbia Records and collaborations with Young Thug and One Republic in the works, Lil Nas X is taking his horse to the old town road and riding 'til he can't no more—country charts be damned.
"no matter what negative shit y'all tweet i'm going down in history lmaoo," he tweeted on Tuesday.