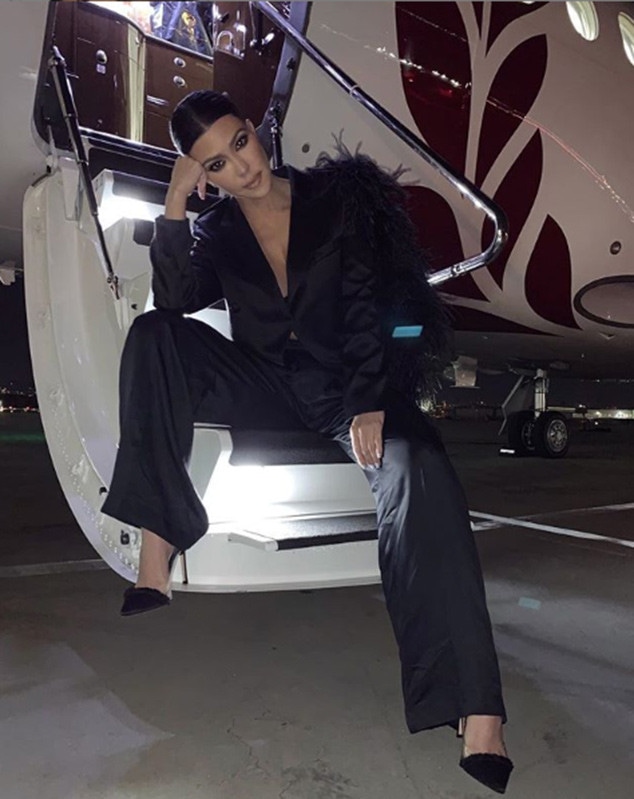 Instagram
Talk about a spring break to remember!
Just a couple of weeks before Kourtney Kardashian celebrates a milestone birthday, the Keeping Up With the Kardashians star decided to head outside of the United States and enjoy a getaway far, far away.
Instead of sunny Southern California, it's all about the cold but cool area of Finland.
"It was the kids' spring break from school and they decided to go for a quick trip to the snow in Finland," a source shared with E! News. "It made sense for Scott Disick and Sofia Richie to join them for a family vacation. They travel well together and Kourtney is happy with how co-parenting is going."
According to our source, Scott and Kourtney's kids played out in the snow and went sledding. The group also went snowmobiling and spent lots of time by the fire.
"The North Pole," Sofia shared on Instagram after posing near a snowy cabin.
studiopuisto & Studio Puisto Architects
Over the weekend, Kourtney posted an Instagram Story hanging out at the Arctic TreeHouse Hotel in Finland. Studio Puisto Architects, who designed the retreat, posted—then deleted—confirmation on their account that the birthday girl and her crew "stayed in the newly finished executive suite cabins."
Ultimately, Kourtney and her family already got back to normal this week in Calabasas. After posing for a glamorous shot at the airport on Instagram, the E! reality star was back to taking kids to school and hanging out with her extended family.
On Monday, Kim Kardashian shared a photo from school where North West and Penelope Disick posed in their school uniforms. And yes, those are Gucci loafers on Kourtney's eldest child.
"Spring Break is over!" she wrote on Instagram before Kendall Jenner commented that "PP is such a little beachy lady."
As for Kourtney's plans for her actual birthday approaching April 18, the agenda remains top secret for now. But if the past is any indication, Scott will be able to celebrate with everyone.
"I feel like I can show a message, too, of like parents can get along and work together and travel together," Kourtney recently explained on Today when discussing her close relationship with the father of her children. "And I think it's a good message to show other people. I am not doing it for that reason but I think the positive things that we are doing is nice too."
Check out our new Keeping Up With the Kardashian channel on YouTube for show clips, recap videos and more!