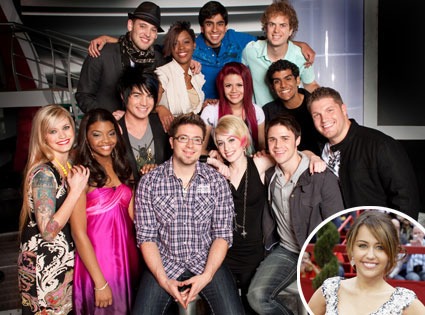 Michael Becker / FOX, AP Photo/ Amy Sancetta
The celebrities el-oh-vee-ee love this season of American Idol!
First Jennifer Lopez and Marc Anthony text Jorge Nuñez. Then Kayne West and Kelly Clarkson sign on to perform on the March 11 show. (Hell to the yeah on that, btw!) And now Miley Cyrus is eyeing 16-year-old redheaded firecracker Allison Iraheta, and Ellen DeGeneres has given Jorge a lucky penny.
"I heard that Miley Cyrus wants to take me on tour with her. It's crazy. I'm like, 'Oh my God. Yes! Take me now!' " Allison told us at the American Idol Top 13 (13!?! We're still reeling over that!) party at Area nightclub in Los Angeles last night, after Miley told mtv.com, "I'll make [Allison] an American Idol!" Miley has the power to make someone an American Idol? That's so cool!
Meanwhile, the Ellen Degeneres interview crew handed Jorge Nuñez a lucky penny that came straight from the talk show host. "Here it is!" he proudly showed us. "Very cool, huh?"
Very cool, indeed. Read on to find out what other cool surprises we uncovered about season eight at last night's party, straight from the horses' mouths...