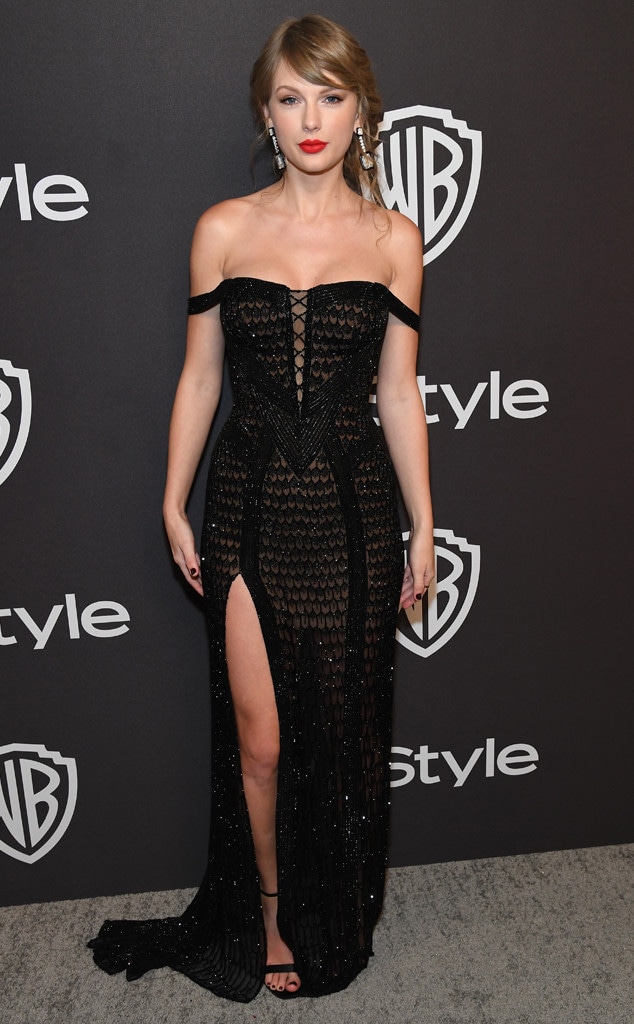 Kevin Mazur/Getty Images for InStyle
Taylor Swift filled in the blank space of a check with a very generous amount.
The 29-year-old singer donated $113,000 to an LGBTQ organization called the Tennessee Equality Project (TEP) on Monday and penned in a handwritten note why she felt so "inspired by the work" they do. Chris Sanders, who is TEP's executive director, posted a photo of Swift's letter onto the organization's Facebook page and praised the singer for her gift.
"I'm writing you to say that I'm so inspired by the work you do, specifically in organizing the recent petition of Tennessee faith leaders standing up against the 'slate of hate' in our state legislature," Swift began her letter. "Please convey my heartfelt thanks to them and accept this donation to support the work you and these leaders are doing."
The "Delicate" singer added, "I'm so grateful that they're giving all people a place to worship."
Sanders said in his caption that TEP was "honored and grateful" for her note and donation.
"Taylor Swift has been a long-time ally to the LGBTQ community. She sees our struggle in Tennessee and continues to add her voice with so many good people, including religious leaders, who are speaking out for love in the face of fear," Sanders wrote. 
He continued, "Tennessee Equality Project is honored and grateful to reveal Taylor Swift has made a donation of $113,000 to support our efforts at this critical moment."
Swift, a proud Tennessean, broke her usual apolitical stance before the 2018 midterm elections in November. On Oct. 7, just about one month before the midterms, Swift posted a Polaroid photo of herself on Instagram and urged her 115 million followers to get up and vote and not stand idly by.
She explained in her caption why she decided to speak up, despite previously being "reluctant to publicly voice my political opinions." It turns out that "several events" in her life and the world changed her mind.
Swift's donation to TEP aligns with the values that she spoke about in her Instagram post.
Thomas Alexander/BAFTA/REX/Shutterstock
"I always have and always will cast my vote based on which candidate will protect and fight for the human rights I believe we all deserve in this country," she wrote. "I believe in the fight for LGBTQ rights, and that any form of discrimination based on sexual orientation or gender is WRONG. I believe that the systemic racism we still see in this country towards people of color is terrifying, sickening and prevalent."
She went on, "I cannot vote for someone who will not be willing to fight for dignity for ALL Americans, no matter their skin color, gender or who they love."
The Grammy Award winner publicly endorsed Senate candidate Phil Bredesen over Marsha Blackburn, whose "voting record appalls and terrifies [Swift]." Yes, Swift wants to see more women in office but Blackburn's political actions caused Swift to think otherwise. 
"Vote based on who most closely represents your values," Swift wrote.
Two days later, Swift posted a photo holding an American flag standing next to a Phil Bredesen for U.S. Senate sign.
Bredesen lost the election, but her social media post had a major positive influence on the number of people registering to vote. Vote.org's director of communications Kamari Guthrie told BuzzFeed News on Oct. 8, "We are up to 65,000 registrations in a single 24-hour period since T. Swift's post."
Swift made another symbolic move in 2017 after winning her lawsuit against former DJ David Mueller, whom she accused of groping her in 2013. Swift was awarded a "symbolic" $1 in the case and pledged to donate money to organizations focused on sexual assault victims. 
She made good on that promise and donated a "generous" amount of money to Mariska Hargitay's charity called the Joyful Heart Foundation just a few days later.
"I just think about all the people that weren't believed and the people who haven't been believed, or the people who are afraid to speak up because they think they won't be believed," she told a crowd in Tampa at her concert one year after the verdict.
She opened up to her fans, "And I just wanted to say I'm sorry to anyone who ever wasn't believed because I don't know what turn my like would have taken if people didn't believe me when I said that something had happened to me."