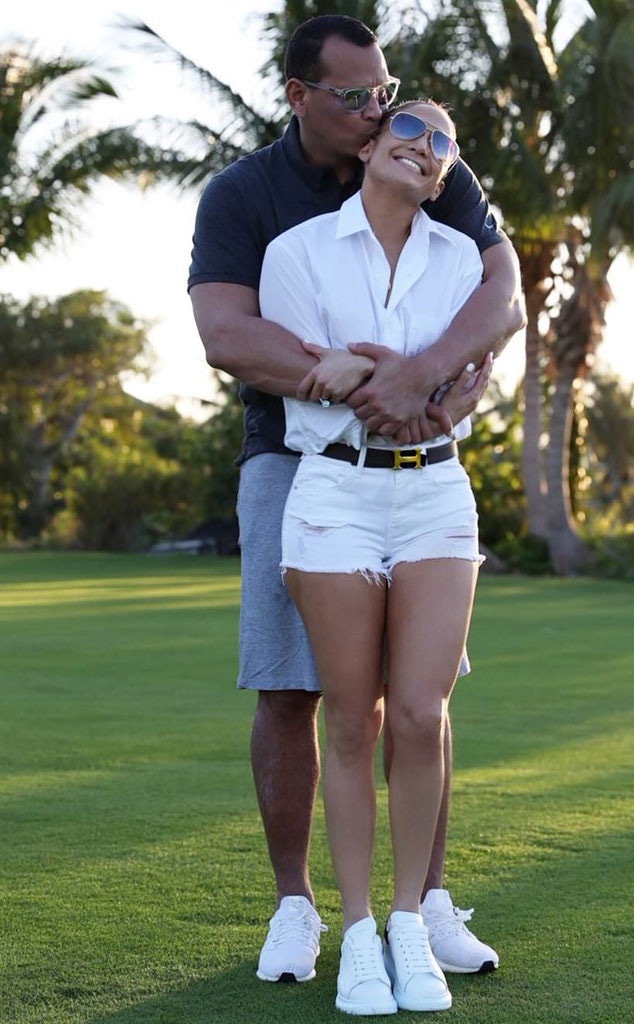 Instagram
Alex Rodriguez is proving that he's not your typical machismo sports guy.
If anything, the former pro-baseball player continues to gush over his famous fiancée, Jennifer Lopez, even when he's the focus of an interview. Speaking to The New York Times, A-Rod explains all the ways his multi-hyphenate fiancée has taught him about being a public figure (among other things).
"I've never met anyone who's more honest," the 43-year-old sports broadcaster tells the publication. "She's so authentic and genuine."
He reveals J.Lo's "superpower" of being able to gracefully juggle a variety of things, like motherhood, work, love and more. Furthermore, the former baseball player seems in awe of the "Medicine" singer, who, as he explains, manages to be "so normal" through it all.
"It was strange to see someone of such magnitude be so normal, be such a great mother and partner and friend," Rodriguez says. "How can you be like this and then go perform in front of 80,000 people? But that's her superpower."
Along with talking about the Second Act actress' "superpower," A-Rod shares a recent memory of "something brilliant" Lopez said.
After being asked if he still has a "checklist" that he looks at before bed, the 43-year-old star confess, "I do." 
"I'm old school. I remember things better if I write them out," he says, adding, "The other day, Jennifer said something brilliant at, like, 2 in the morning. I reached over to get my notebook, and everything falls on the floor. Then I grabbed it and wrote it down."
Lopez mentioned something "about Mariano Rivera," the former Yankees relief pitcher who recently became the first player inducted into the Baseball Hall of Fame by a unanimous vote.
She said, "'Mo getting 100 percent tells you more about his greatness off the field than it does on the field.' I thought, That's so true. I played with him all these years, and I couldn't have come up with that."
The famous couple got engaged on March 9, when Rodriguez popped the big question during a romantic getaway in Baker's Bay, Bahamas. In true J.Lo fashion, her dazzling engagement ring features a massive emerald cut diamond that is estimated between the $1 million to $5 million range.
Since their engagement announcement, the two are still hard at work, especially the World of Dance judge.
With the new release of Lopez's single "Medicine" and her upcoming Hustlers movie, it's clear A-Rod is right... she does have a "superpower" or two.