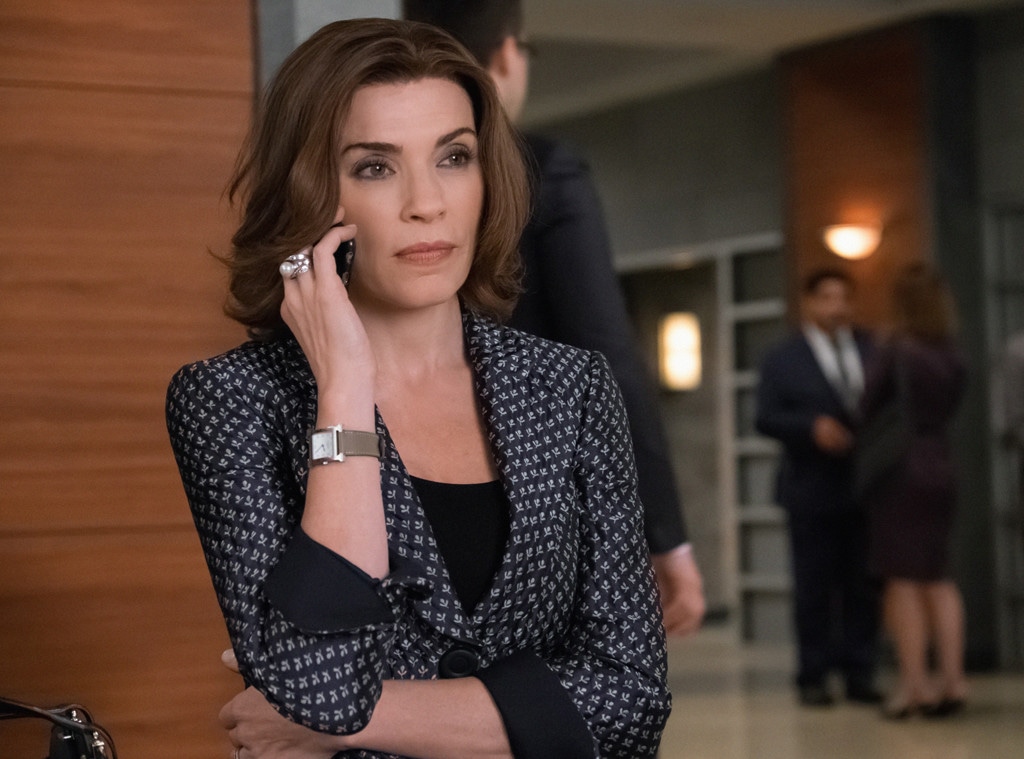 CBS
"I know my value. Anyone else's opinion doesn't really matter." Who said it, Julianna Margulies or Peggy Carter on Agent Carter? Technically, Peggy Carter (Hayley Atwell) said it, but it could very well have been Margulies to CBS. The Emmy winner opened up why you haven't seen her on The Good Fight, the spinoff of her hit CBS legal drama The Good Wife, and it comes down to money.
"CBS wouldn't pay me," Margulies told Deadline at the site's Contenders Emmys event. Margulies was there promoting her new National Geographic series Hot Zone and touched on why viewers haven't seen Alicia Florrick cross paths with Diane Lockhart (Christine Baranski). According to Deadline, Margulies asked for her regular rate, but was offered a Good Fight guest star rate.
"I'm not a guest star; I started the whole thing with The Good Wife," Margulies told Deadline. "I wanted to be paid my worth and stand up for equal pay. if Jon Hamm came back for a Mad Men spinoff or Kiefer Sutherland wanted to do a 24 spinoff, they would be paid."
The Good Fight takes place some time after The Good Wife finale. That finale, which wrapped up Margulies' seven-year run as Alicia Florrick, featured Alicia throwing Diane under the bus in court, airing Diane's marriage woes in open court, all to save Peter (Chris Noth) once again. Diane slapped Alicia, much like Alicia slapped Peter in the series premiere, and Alicia straightened herself up and went on her way. The Good Fight, now in its third season on CBS All Access, features characters from The Good Wife and has mentioned Alicia Florrick in passing.
"To be perfectly honest, I was shocked," Margulies said about the pay issue. "I was more surprised than hurt. I thought, what are you worth? If you are worthless, if you are not valued for your work, then what's the point?"
At the 2019 Television Critics Association winter press tour, series co-creator Robert King revealed they were working on bringing Margulies back to be part of the "resistance" (to President Donald Trump).
"We thought maybe about making a big episode where she would be at the resistance, Diane and her face each other," he told reporters. "But that would be the end of the story. It felt like an asterisk."
In February 2019, Margulies said she was down to do the guest spot, but they couldn't make the deal. "I don't think so. I think we've put the idea to bed this time, unfortunately. I really wanted to do it," she said.
Ahead of season two, co-creator Michelle King told E! News, "The feeling is that Alicia Florrick's story ended the way we hoped and things are moving forward with these new stories."
But back in 2018, Margulies told E! News "never say never" about appearing.
"They asked me the first season if I would come back and to be honest, I'm just one of those people—First of all, it would take away—I felt it would take away from Christine and Cush and Rose," Margulies told us. "It's their show now and I handed off that torch happily to them. But, never say never. Now that they've been able to establish those characters, who knows? I'm always open… I don't think the timing for the first season—they had to get on their own two feet and stand up for themselves before Alicia came back and did that. But I'm always open, I've always told them that."
Request for comment from CBS All Access was not immediately returned.
The Good Fight season three drops new episodes on Thursdays on CBS All Access.