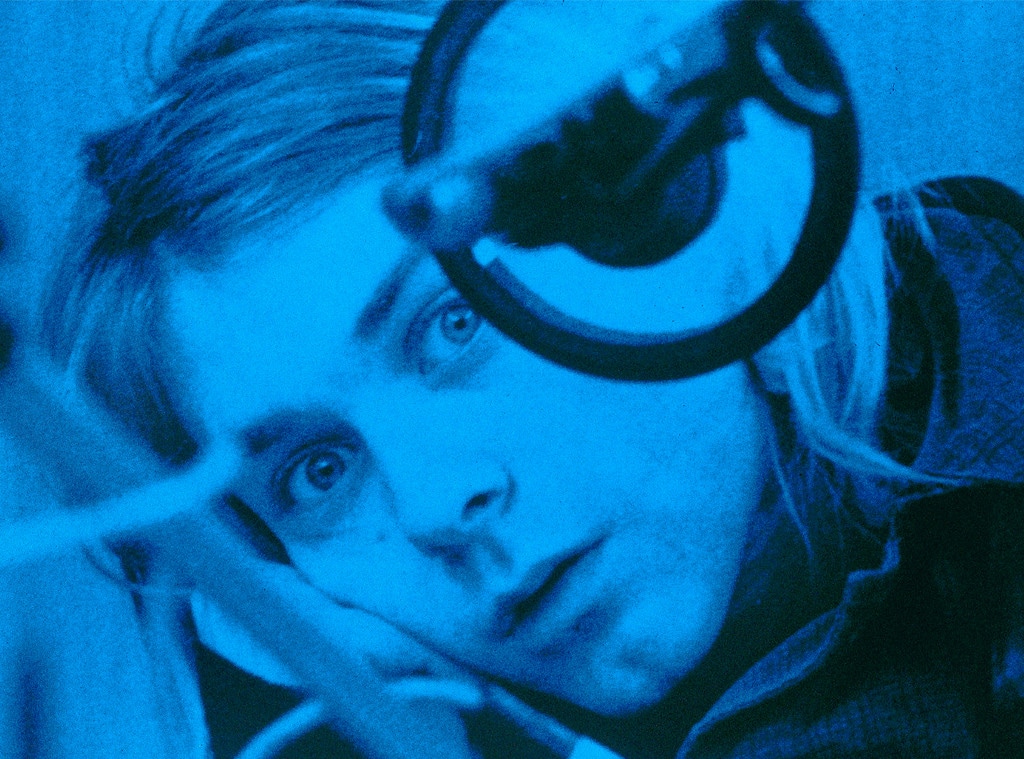 Michel Linssen/Redferns
For six days in April of 1994, Kurt Cobain was missing.
Despite being one of the biggest rock stars in the world at the time, for the better part of a week, the frontman for Nirvana was nowhere to be found. Police were on the hunt, his wife Courtney Love had hired a private detective to do the same, and friends of the troubled musician were on high alert.
"Kurt hadn't called me," close friend Mark Lanegan recalled to Rolling Stone that June. "He hadn't called some other people. He hadn't called his family. He hadn't called anybody... I had a feeling that something real bad had happened."
Lanegan was right. Something real bad had happened. 
On April 8, 1994, Cobain went from "missing" to "gone." And though those two words may seem similar at first blush, there's a cavernous gulf that stands between them—one that marks the difference between now and then, living and dead.
On that fateful Friday morning, an electrician named Gary Smith arrived at Cobain's Seattle home to install a security system. And when he entered the greenhouse above the garage, he discovered a body, a 20-gauge shotgun laying across its chest, and a note. The blast to the head being what it was, the deceased was only able to be identified using fingerprints. The deceased was Kurt Cobain.
With a high concentration of heroin and traces of Valium in his bloodstream, the medical examiner determined that, despite the desperate hunt to find him, Cobain's body had been lying there for about two days. A seemingly impossible, entirely avoidable, yet perhaps inevitable end to a life that had been careening out of control for some time.
By the time Nirvana shot to the top of the charts with the release of their first major label album Nevermind (their second overall) in 1991, selling over 10 million copies worldwide and propelling Cobain and his bandmates, bassist Krist Novoselic and drummer Dave Grohl, to uneasy global fame, the frontman was already hurtling down a dangerous path. 
Left broken by his parents' divorce in 1975 when he was just eight years old, Cobain's life turned to one of rebellion. It's what made his music so iconoclastic. But the other ways in which he sought solace from his pain weren't as positive. By 13, he'd begun smoking weed, and six years later, he had his first taste of heroin. As the '80s turned to the '90s, it was a full-blown addiction. Around the same time, he met Love, a woman with her own admitted set of troubles. A "Sid and Nancy" of sorts for the grunge era, albeit with a different type of tragic conclusion than that toxic rock couple, Cobain and Love tied the knot in 1992. A daughter, Frances Bean, was born six months later.
"I always knew their relationship was toxic," Frances Bean told Rolling Stone in 2015, referring to the couple's early bond over drugs. "And I don't promote having a fix-it baby, which is what I was – to fix their problems...In the sense that their own families were so chaotic, that they wanted to create their own family as soon as possible: 'If we create our own family, it will be nothing like our families were.'"
She added, "It ended up being a million more times chaotic." She wasn't exaggerating.
Cobain's troubles first became public in August 1992 when a Vanity Fair article claimed that Love had used heroin while pregnant with Frances. She denied the claim, but, as a result, both parents were barred from seeing their newborn for a month. In a September interview with the Los Angeles Times, Cobain admitted to "dabbling" in heroin, but said he had detoxed twice in the past year. The couple then regained custody.
Nevertheless, the trouble kept coming. 1993 saw Cobain endure multiple overdoses and a domestic assault arrest following an argument between him and Love over guns. The three firearms were confiscated, to be picked up by Cobain months later. In September, Nirvana would release their third and final album, In Utero. Despite its less mainstream sound that gave listeners some insight into Cobain's fragile, angry state of mind, it debuted at No. 1.
Following a North American tour, the band headed to Europe the following February. After a March 1 stop in Germany was cut short due to Cobain's lost voice, the frontman flew to Rome to seek medical treatment. He checked into the Excelsior Hotel on March 3, with Love and their baby meeting him the next day. That night, Cobain and Love mixed champagne and Rohypnol (the date rape drug commonly referred to as roofies). Love found him in a bad way the next morning. "I reached for him, and he had blood coming out of his nose," she told Select in a later interview, adding, "I have seen him get really f--ked up before, but I have never seen him almost eat it." 
He was rushed to the hospital, where he remained in a coma for 20 hours. 50 of the Rohypnol pills, which must be individually unwrapped, were found in his stomach. As Love later told Rolling Stone, this was Cobain's first suicide attempt. "He was at the end of the bed with a thousand dollars in his pocket and a note saying, 'You don't love me anymore. I'd rather die than go through a divorce.' It was all in his head...He took 50 fucking pills. He probably forgot how many he took. But there was a definite suicidal urge, to be gobbling and gobbling and gobbling," she told the magazine that December. "He definitely left a note in the room. I was told to shut up about it. And what could the media have done to help him?"
After three days spent in the hospital, Cobain was released and allowed to return home to Seattle to recuperate. "I saw [Kurt] the day he got back from Rome," longtime friend Dylan Carlson told RS shortly after Cobain's death. "He was really upset about all the attention it got in the media." Love would go on to tell MTV that Cobain's relationship with his bandmates was in such a bad state that he'd said, "I hate it—I can't play with them anymore." She added that he only wanted to work with Michael Stipe of R.E.M., who would later admit he and Cobain had been in contact in the final weeks of his life, with a project in the works.
On March 18, Love summoned police to their Seattle home yet again, telling them that Cobain had locked himself in a room with a 38-caliber revolver and said he would kill himself. Officers would go on to confiscate that gun and three others, as well as a bottle of unidentified pills. Later that night, Cobain would tell the police that he hadn't really planned to kill himself. As he claimed, he'd only locked himself in the room to get away from Love.
At this point, Love and the other prominent figures in Cobain's life had begun the planning stages of an intervention, hoping that they might get through to a man whose drug use had reached such dangerous levels that death seemed inevitable. On March 25, 10 people—including Love, Novoselic, and Carlson—gathered at Cobain's home with an intervention counselor. Love told him she would leave him if he didn't seek treatment, while Novoselic threatened to dismantle the band.
While his wife had hoped that Cobain would check into a Los Angeles rehab with her, by the end of the day, Love was alone on a plane heading south. A day later, she checked into the Peninsula Hotel in Beverly Hills and began an outpatient program to "detox from tranquilizers," according to her rep. She would later express regret about leaving Cobain alone, saying in a taped message played at his memorial two weeks later, "That '80s tough-love bulls--t — it doesn't work."
As Carlson told Rolling Stone, Cobain showed up at his condo on March 30, seeking his friend's help to secure a gun because there were trespassers on his property. Or so he claimed. 
"He seemed normal, we'd been talking," Carlson told the publication. "Plus, I'd loaned him guns before." As he saw it, the reason Cobain wanted his help was so that the police wouldn't confiscate this weapon like they had with his others just days earlier. So, they headed to a gun shop and bought a six-pound Remington 20-gauge and a box of ammo for about $300, which Carlson paid for in cash provided by Cobain.
"He was going out to L.A.," Carlson said. "It seemed kind of weird that he was buying the shotgun before he was leaving. So I offered to hold on to it until he got back." Cobain refused the offer.
Kevin Mazur Archive 1/WireImage
The police theory is that Cobain returned to his house, dropped the firearm off, and then left Seattle. After arriving at LAX, he then checked himself into the Exodus Recovery Center in Marina Del Rey. He was only there two days. On April 1, he called his wife, who was still across town at the Peninsula. "He said, 'Courtney, no matter what happens, I want you to know that you made a really good record,'" she later told a Seattle newspaper. "I said, 'Well, what do you mean?' And he said, 'Just remember, no matter what, I love you.'" It was the last time he'd ever speak to her.
According to one of Cobain's visitors at the clinic who spoke to RS in 1994 but remained anonymous, "I was ready to see him look like shit and depressed. He looked so f--king great. He walked out an hour later." At around 7:25 p.m., he told staff, whom claimed to have had no knowledge about his history of depression or prior suicide attempts, he was going out to smoke a cigarette. Instead, he scaled the six-foot brick wall and left. "We watch our patients really well," a spokesperson for the facility said that the time. "But some do get out."
Cobain made his way back to LAX and flew home to Seattle, seated to Guns N' Roses musician Duff McKagan, who later said that he knew from "all of my instincts that something was wrong." After learning he'd left treatment, Love canceled all his credit cards and hired private investigator Tom Grant to track him down, but he'd already taken that flight and left the state.
On April 2 and 3, there were various sightings of Cobain throughout Seattle, but no one could track him down. On April 4, his mother, Wendy O'Connor, filed a missing-persons report, telling police she feared her son might be suicidal. 
The timeline constructed by police suggests that Cobain wandered throughout town with little agenda, outside of possibly stopping by a gun shop for more ammo, before barricading himself inside the greenhouse above his garage on April 5. Once inside, he penned a one-page note in red ink, left his wallet open (possibly to help identify his body), and pulled the trigger.
Sadly, Grant wouldn't arrive in Seattle until April 6.  "I was working with [an investigator]," Carlson told Rolling Stone, "and the day we were going to Carnation to look for him, we found out he was dead." And while police did visit Cobain's house prior to Smith finding the body, they merely asked workers outside if they'd seen him and never actually went inside.
With Cobain missing, police in Beverly Hills were called to Love's hotel room on April 7, responding to a 911 call about a "possible overdose victim." She was taken to the hospital, discharged two hours later, and then arrested and "booked for possession of a controlled substance, possession of drug paraphernalia, possession of a hypodermic syringe and possession/receiving stolen property." After posting bail, she was released and immediately checked herself into Exodus. She checked out the following day after she'd received word that Cobain had been found.
News of Cobain's death was first reported by Seattle's KXRX-FM radio station, after a co-worker of Smith's called in claiming to have the "scoop of the century," adding, "you're going to owe me a lot of concert tickets for this one."
"Broadcasting this information was kind of an eerie decision to make," Marty Reimer, the on-air personality who took the call, told Rolling Stone. "We're not a news station." The radio reports were how Cobain's mother, as well as his sister Kim, first learned of their loss. "Now he's gone and joined that stupid club," O'Connor told a reporter at the time, referring to the grim 27 Club, which includes other musicians felled at the identical age, including Jimi Hendrix, Janis Joplin, Jim Morrison and, later, Amy Winehouse. "I told him not to join that stupid club."
A public vigil was held at a park at Seattle Center two days after Cobain's body was found. A crowd of approximately seven thousand mourning fans listened to prerecorded messages from Novoselic and Love, who read portions of Cobain's suicide note, addressed to his childhood imaginary friend Boddah, aloud. The event proved to be too much for some, as one fan, 28-year-old Daniel Kaspar, ended his life in a similar fashion upon returning home from the vigil. A private service for family and friends was held at the same time at the Seattle Unity Church nearby. There, Love read portions of the Cobain's letter that she hadn't included in her taped message for fans. 
In the years since Cobain chose to take his life, his death has remained a subject of curiosity for some. There are those who believe the official cause of death is incorrect, your usual conspiracy theorists. Love's PI is one of them. Grant believes Cobain was murdered, and he supports his theory through the high levels of heroin in the musician's body at the time of death, questioning how he could've possibly pulled the trigger, as well as other circumstantial evidence. 
In 2013, a spokesperson for the Seattle Police Department said that they get at least one request per week, mostly through Twitter, to reopen the investigation. As a result, the public affairs unit always keeps a basic incident report on file because of the number of requests. But in the end, the easiest answer, the one we've been given all along, just might be the right one. And that's that a man with a family history of mental illness and suicide who was dangerously addicted to drugs had simply fallen prey to the demons in his own head.
"There are some people that you meet in life that you just know that they are not going to live to be a 100 years old," Grohl said in an interview with BBC 1 Radio in 2009. "In some ways, you kind of prepare yourself emotionally for that to be a reality."
As the beat poet William S. Burroughs, whom Cobain considered a hero and whom met the musician months before his death, remarked following his passing, "It wasn't an act of will for Kurt to kill himself. As far as I was concerned, he was dead already"