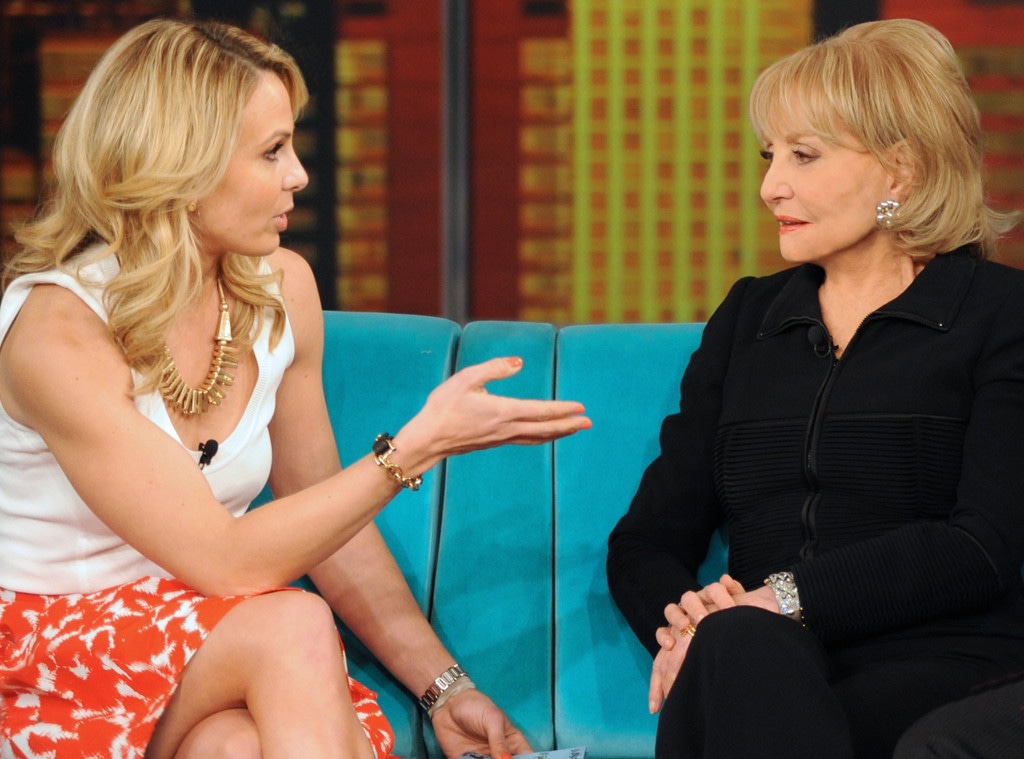 Svennevik/ABC via Getty Images
Years before she was fired from The View, Elisabeth Hasselbeck nearly stormed out. 
Such was first revealed by Variety's New York bureau chief Ramin Setoodeh, the author of the explosive, newly released book, Ladies Who Punch: The Explosive Inside Story of "The View."
In a 2006 episode of the ABC daytime show, Hasselbeck voiced her strong opinions against the morning-after pill being made available over the counter. With the co-host taking up much of the time, Walters tried to quell the mounting argument, telling her, "Elisabeth, calm down, dear."
"Everybody has strong opinions and there are many other arguments that other people could give you," Walters told her. "I think the most important thing, which is what we see today, is we've got to be able to have these discussions and listen to other people's opinions and not go so crazy that you don't listen to anybody's opinion." 
While Hasselbeck defended herself, the news legend added, "We have to go on and we have to learn how to discuss these things in some sort of rational way." 
As Setoodeh originally reported, the exchange spurred Hasselbeck to storm off as the show went to commercial. In an audio recording of Hasselbeck, exclusively published by Variety, you can hear Hasselbeck's voice get shaky as she says, "F--k that! I'm not going to sit there and get reprimanded on the air." 
"What the f--k! I don't even swear. She has me swearing," she tells Behar, who's trying to comfort her. "This woman is driving me nuts. I'm not going back. I can't do the show like this. She just reprimanded me, and she knew exactly what she was doing. Goodbye! I'm off. Write about that in the New York f--king Post!"
Elsewhere in the audio, someone can be heard telling Walters Hasselbeck does not want to come back on. "She has to. Bill, she has to. This is why we shouldn't have done this discussion," Walters says. 
In the audio, Hasselbeck says she's quitting, but a man's voice identified by Variety as former executive producer Bill Geddie encourages her to go back on because she's "a pro."
Ultimately, Hasselbeck does and can be heard talking to Walters just before the show is back on the air. "I don't want to be scolded for being emotional," she tells Walters, who denies that she was being scolded. 
Live, the women put arms around each other while seated next to each other on the couch. "The wonderful thing about this show is that we can have discussions that we feel very emotional about and we respect your opinions," Walters told her. 
"I respect yours as well and I love being here with you guys. I want to be able to be passionate," she responds, giving Walters a kiss on the cheek and concluding with a hug. 
Hasselbeck responded to the recording on social media, writing in part on Instagram, "This. Just. In: I am quite humanly reactive. I used bad words when frustrated. I was pregnant with Taylor and a big conversation about the value and the lives of the unborn took place at the View. It was a battle -but not of the flesh. I used fighting words because I believe that God decides the value of the lives of babies."
As longtime viewers of the show well know, that was far from the end for Hasselbeck on The View. She ultimately stayed on the show for a decade until 2013. 
"I can't ask for a better leader and mentor," she told Walters at the start of her final show. 
As for her time on The View, "The past 10 years have been nothing short of extraordinary."
Behar and Walters' reps declined to comment. E! News has reached out to Geddie for comment.