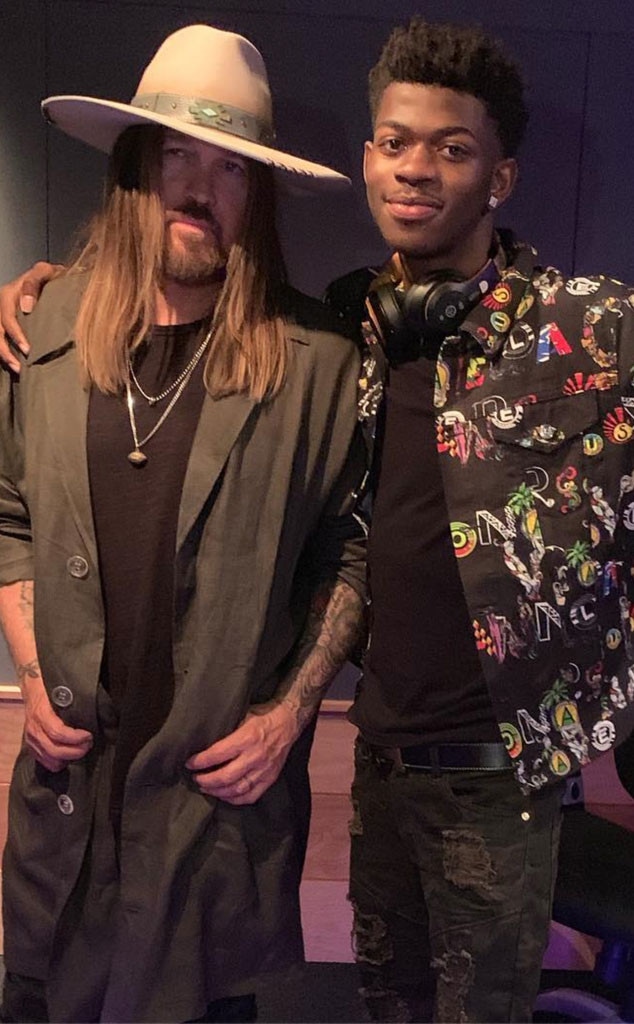 Instagram
You've never heard "Old Town Road" performed like this before.
Lil Nas X and Billy Ray Cyrus gave music fans an epic surprise on Thursday when they dropped a remix of the viral song.
They also shared photos and videos of themselves recording the hit.
"BILLY F--KIN RAY!!!" Lil Nas X captioned one photo. 
Lil Nas X released the original version back in December, and the tune's rap and country combination won fans over. In fact, Rolling Stone reported it was on Billboard's cross-genre Hot 100 chart, the Country Songs chart and the Hot R&B/Hip-Hop Songs chart at the same time. However, Billboard told the magazine that, upon further review, the artist's song did not merit inclusion on its country chart—causing a bit of controversy.
"I believe whenever you're trying something new, it's always going to get some kind of bad reception," the 19-year-old star told Time. "For example, when rap started, or when rock and roll began. But with country trap, I in no way want to take credit for that. I believe Young Thug would be one of the biggest pioneers in that."
However, it looks like Cyrus is standing behind him.
"Been watching everything going on with OTR," Cyrus wrote on Instagram yesterday. "When I got thrown off the charts, Waylon Jennings said to me 'Take this as a compliment' means you're doing something great! Only Outlaws are outlawed. Welcome to the club!"
Watch the videos to hear the song.