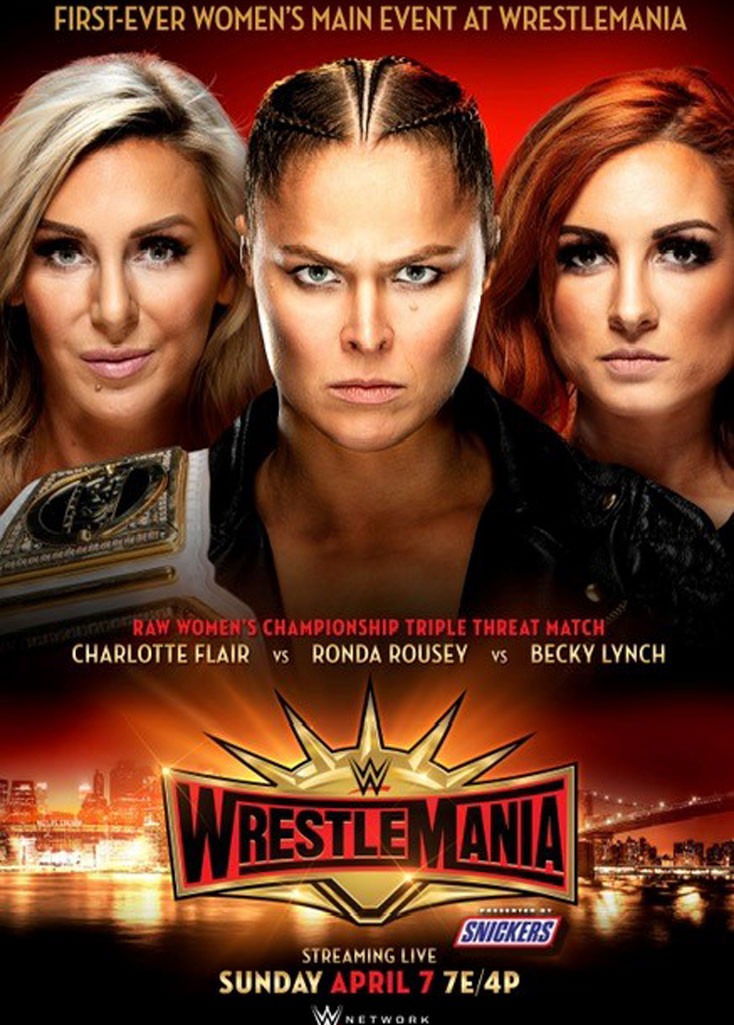 WWE
A WrestleMania to remember!
On Sunday, WrestleMania 35 went down at MetLife Stadium in East Rutherford, NJ. With WWE's best and brightest in attendance, we knew the major wrestling event would be one for the books…and, boy, were we right.
From Yolanda Adams kicking off the show with her performance of "America the Beautiful" to Ronda Rousey, Charlotte Flair and Becky Lynch's historic main event match, WrestleMania was jam-packed with some major moments.
Oh and we can't forget to mention Batista and Triple H's intense face-off, which resulted in the latter not having to retire from in-ring competition. (More on that later!)
But those weren't the only highlights from this year's show. Scroll down to see our top 5 major WrestleMania 35 moments!
1. Saturday Night Live's Colin Jost and Michael Che Try (and Fail) to Take Down Braun Strowman
After "Weekend Update" co-hosts Colin Jost and Michael Che agreed to face off against Braun Strowman in the Andre the Giant Memorial Battle Royal, we knew there would be some serious LOLs in store for fans. In case you missed it, the comedians were challenged to participate in the WrestleMania Kickoff Show match after the twosome (mostly Jost) insulted Strowman on several occasions.
While we weren't confident in the comedic duo's wrestling abilities, Jost and Che came into the Battle Royal with a game plan. Namely, the two ran and hid under the ring just after the opening bell. For most of the match, Jost and Che stayed hidden…until returning to try and eliminate Strowman from behind. Although Che attempted a self-elimination, Braun knocked him out of the competition by punching him off the apron.
As for Colin? The funny man—who was tauntingly wearing Odell Beckham Jr.'s Cleveland Browns jersey—was hoisted into the air and thrown on top of a group of wrestlers.
2. Alexa Bliss Brings Out WWE Legend Hulk Hogan
Anything is possible at WrestleMania 35! The evening's host Alexa Bliss made this abundantly clear when she summoned WWE icon Hulk Hogan to the stage. This cameo came about after Bliss teased that she could make a WrestleMania moment occur with a snap of her fingers.
And, just as she snapped her fingers, Hogan's entrance music and promo appeared on the stage. Well played, miss Bliss. Well played.
However, we doubt Alexa planned for Hogan to butcher the name of the WrestleMania venue as the wrestling legend referred to it as the "MetLife Center." Ironically, this flub came shortly after Hulk poked fun at himself for his mishap at WrestleMania 30. We're, obviously, referring to when the 65-year-old called New Orleans' Superdome the Silverdome.
Maybe he'll get it right next year?
3. "The New" Daniel Bryan Loses His Champ Title
Daniel Bryan has nothing to chant "Yes!" about tonight. As many of you likely know, Brie Bella's husband was slated to defend his WWE Championship title at WrestleMania and, sadly, he lost it. Even though this was a disappointing loss for current bad guy Bryan, the victory was a monumental one for opponent Kofi Kingston.
Specifically, Kingston's win made it so he was the second male African-American WWE champion in the network's history.
Kingston was certainly hungry for the title as he tirelessly countered every one of Bryan's moves. It's crazy to think that just last year fans were applauding Bryan's triumphant return and are now celebrating his defeat.
That's showbiz, folks!
4. Triple H Vanquishes Batista in No Holds Barred Match
Triple H doesn't have to say goodbye to in-ring competition.
As you may know, Batista (also known as Dave Bautista) issued a challenge ahead of WrestleMania: a No Holds Barred match between himself and longtime nemesis Triple H. In order to make the face-off more dramatic, the Guardians of the Galaxy actor made it a condition that Triple H must retire from in-ring competition if he lost.
Thankfully, the longtime wrestler won't be required to walk away from the ring as he beat his frenemy. While the match was a close one, with both WWE legends pushing their bodies to new athletic heights, Triple H walked away victorious thanks to an assist by Ric Flair.
Good match, guys.
5. Ronda Rousey, Charlotte Flair and Becky Lynch Face Off in a Winner Take All Match
Last, but most certainly not least, was the female-driven main event.
Featuring Rousey, Flair and Lynch, the Winner Take All match was chock-full of epic moments. For starters, the historic face-off started off with a bang thanks to Joan Jett's performance of "Bad Reputation."
Nonetheless, the real fun started when the three wrestling mavens entered the ring, each bringing their A-games. Though each woman was impressive in her own right, only one could be named the victor.
Despite having an impressive first year, Ronda did not walk away victorious as she and Charlotte were defeated by Becky. This meant Lynch earned both Raw and Smackdown's championship titles.
Congratulations, Becky!
What was your favorite WrestleMania moment?