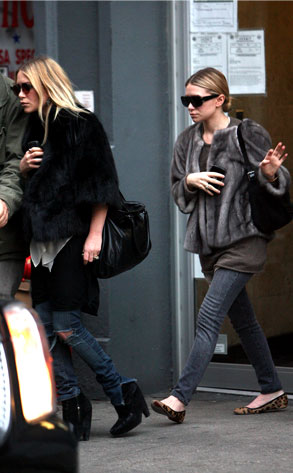 INFphoto.com
The fur—not to mention the sartorial insults—is flying over at PETA.
People for the Ethical Treatment of Animals has thrown the proverbial bucket of red paint on the six stars they've deemed most unfashionable, unveiling its list of the Worst-Dressed Celebrities of 2009.
This year's leader of the so-called "cold-hearted" pack is none other than Madonna, the Material Girl whose materials have been dubbed less than desirable by the animal-rights advocates.
"When you see Madonna in fur, you realize why nobody has copied her style since 1984," the sharp-tongued organization said. "We know that she's on the prowl for a young cub, but someone needs to tell Madge that wearing fur doesn't make you a cougar."
Among those stars also netting dishonorable mentions this year: Maggie Gyllenhaal, Kanye West, Elizabeth Hurley and PETA's most recent public enemies, the Trollsen Twins themselves, Mary-Kate and Ashley Olsen.