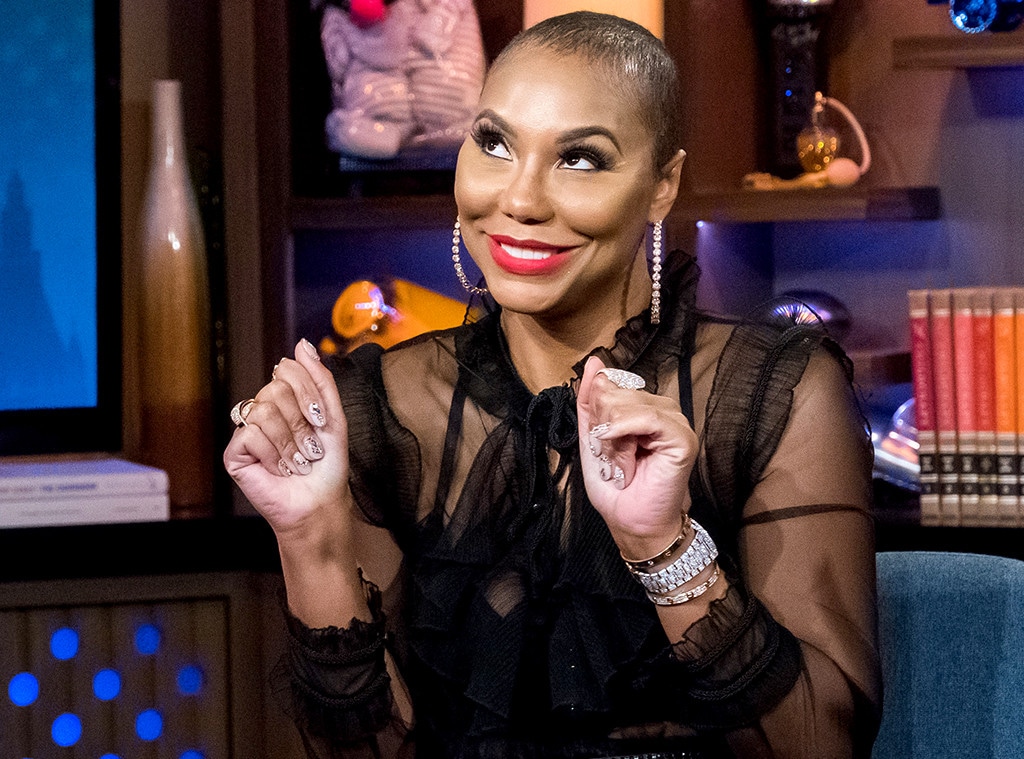 Charles Sykes/Bravo/NBCU Photo Bank via Getty Images
It's a new year and a new beginning for Tamar Braxton.
Ever since Braxton Family Values premiered in 2011, the singer and actress has been an open book when it comes to her personal and professional life.
But in recent years, Tamar has experienced some challenging times that just so happened to make news.
Between her surprise exit from The Real to her divorce from Vince Herbert, the 42-year-old learned that life can really change, really fast.
But as a new season of Braxton Family Values premieres tonight on WE tv, Tamar has a whole new outlook on life that viewers will get to see first-hand. For starters, she enrolled in her own version of "drama anonymous" that is working out quite nicely for her family and close friends. 
"It's fun to be dramatic and it's fun to gossip and have a good time with your friends and your sisters. But when it starts to go in the direction to where people start to get offended and upset by the things that you say…I think that's when it's time to scale back because that's never the intent," Tamar explained to E! News ahead of the season premiere. "I just took it up on myself not to get involved."
Jonathan Leibson/Getty Images for WE tv
She continued, "If somebody has an issue with me, 'This is your issue. I hear you. This will never happen again.'"
Another big step Tamar took was making her inner circle smaller and tighter. In fact, she would call her group "dime size" today.
One of the biggest motivations was the fact that her son is growing up and heading to school. If kids are aware of mom's job, Logan shouldn't be embarrassed at all.
"I'm just cautious because he is five and he is aware and I don't want him to go to school and be bullied over something I did on television the night before or said the night before," Tamar explained. "The same people you see over here today are the same people you see at my house on the weekend because I just think it's important to have a structured household for him."
When it comes to co-parenting with her ex Vince, Tamar previously told close friend and daytime talk-show host Wendy Williams that both parties are focused on keeping the peace.
"Vince and I are not enemies. We co-parent really, really well," she shared on The Wendy Williams Show. "We're not enemies so there's not a lot of fighting going on…In 2019, you have to grow up at some point."
That grown up behavior was on full display after Tamar won the second season of Celebrity Big Brother.
After host Julie Chen-Moonves revealed she won the jury's votes, Tamar explained how she was going to spend her cash prize. Spoiler alert: It's time to buy a house for herself and her son.
"Our divorce was really hard and shocking to me. Me and my son moved into an apartment and everyday he asks about his old house," Tamar shared with E! News on finale night. "And about a month and a half before I came onto the show, I told him I was going to work really hard to make sure he has a new house and God provided."
And in a separate interview with Wendy, Tamar reiterated that her large lifestyle has changed after her divorce.
"When you first get things, you're young and you're excited about getting it. You just do ridiculous things. But then you grow up and then life slaps you in the face sometimes and then you have to pay attention to the slap," she shared. "It's really up to you whether you pay attention to it or not because you're going to keep learning that lesson over and over and over again. And I just wasn't willing to do that."
Today, Tamar is currently in a relationship with David Adefeso. They made their red carpet debut this week when celebrating the premiere of Braxton Family Values.
"He is amazing. Absolutely [in love]! Head over heels like never before. I'm 17 again," Tamar gushed on E!'s Daily Pop back in February. "It's amazing. He's fine. It's been a really good eight months." 
There's also the possibility of an upcoming WE tv show focused solely on Tamar's life.
"I think it's important that I show all sides of myself…a lot of people saw Tamar and Vince and saw this glamorous girl who had this above reality lifestyle and was doing what she wanted to do and lived by the toot of her own horn, but now things are quite different," Tamar teased to E! News. "I live in a 2,000 sq. ft. apartment. I am doing things on my own."
She continued, "It's important for me to show other women and other people that when life changes, and it does change especially unexpectedly, that you can pick up the pieces and figure it out and I don't have a problem showing the figuring it out part."
New episodes of Braxton Family Values air Thursday nights at 9 p.m. only on WE tv.