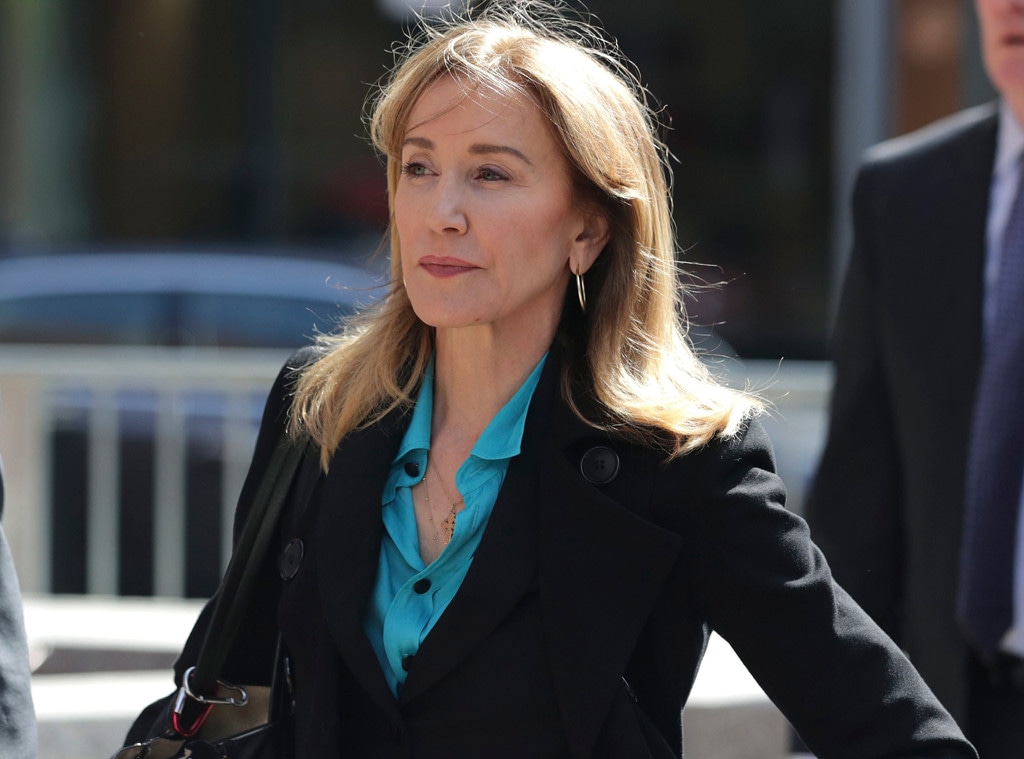 Charles Krupa/AP/REX/Shutterstock
Felicity Huffman and Lori Loughlin are back in court. 
The two actresses, both charged in the college admissions scandal that broke last month, were back in the public spotlight on Wednesday as they attended a hearing in connection with the case in Boston federal court. 
The Oscar nominee of Desperate Housewives and American Crime fame arrived in a black sedan and walked through the front door of the courthouse more than three hours early for the hearing. The actress was sporting a dark suit paired with a blue blouse as she made her way to security. 
Loughlin arrived later, sporting a tan suit as she headed inside. She was described as friendly and cheerful toward each of the prosecutors and sat next to Assistant US Attorney Eric Rosen. 
The women and Loughlin's husband Mossimo Giannulli appeared before Judge M. Page Kelley, who asked each of them individually if they understood the charges against them. All three confirmed to Kelley they did and their attorneys declined a preliminary hearing. All three agreed to the same set of conditions, including to not violate any laws, to not move without permission, to show up to court, surrender if sent to jail, surrender their passport, refrain from contact with co-defendants and witnesses excluding family members, to report any contact with a law enforcement office to a pre-trial officer within 24 hours and no possession of firearms. The judge decided the defendants are not barred from speaking to their children or family members about the case. 
Along with more than two dozen other defendants, the two actresses and Giannulli were charged with alleged conspiracy to commit mail fraud and honest services mail fraud in connection with the scheme.
CJ GUNTHER/EPA-EFE/REX/Shutterstock
"Beginning in or about 2011, and continuing through the present, the defendants—principally individuals whose high-school aged children were applying to college—conspired with others to use bribery and other forms of fraud to facilitate their children's admission to colleges and universities in the District of Massachusetts and elsewhere, including Yale University, Stanford University, the University of Texas, the University of Southern California, and the University of California—Los Angeles, among others," an affidavit in support of the criminal complaint alleged.
The affidavit alleged "Huffman and her spouse made a purported charitable contribution of $15,000 to KWF [Key Worldwide Foundation] to participate in the college entrance exam cheating scheme on behalf of her oldest daughter...Huffman later made arrangements to pursue the scheme a second time, for her younger daughter, before deciding not to do so." William H. Macy, her husband of more than 20 years, was not charged. 
As for Loughlin and her longtime husband, the affidavit accused the couple of agreeing to "pay bribes totaling $500,000 in exchange for having their two daughters designated as recruits to the USC crew team—despite the fact that they did not participate in crew—thereby facilitating their admission to USC." The pair are parents to Isabella, 20, and Olivia Jade, 19, both students at the university. 
Huffman's signature bond was set at $250,000 and Loughlin was released on $1 million bond. 
The women instantly garnered headlines over the allegations, spurring Hallmark to cut ties with Loughlin and Sephora to drop her YouTube-famous daughter. Amid the fallout, her Fuller House co-star recently voiced support for the actress. "We would never want to talk about someone that's such a dear and close friend," Candace Cameron Bure said on Today. "But, I think I've already said that we are family and we stand by each other and pray for each other and we'll always be there for each other."