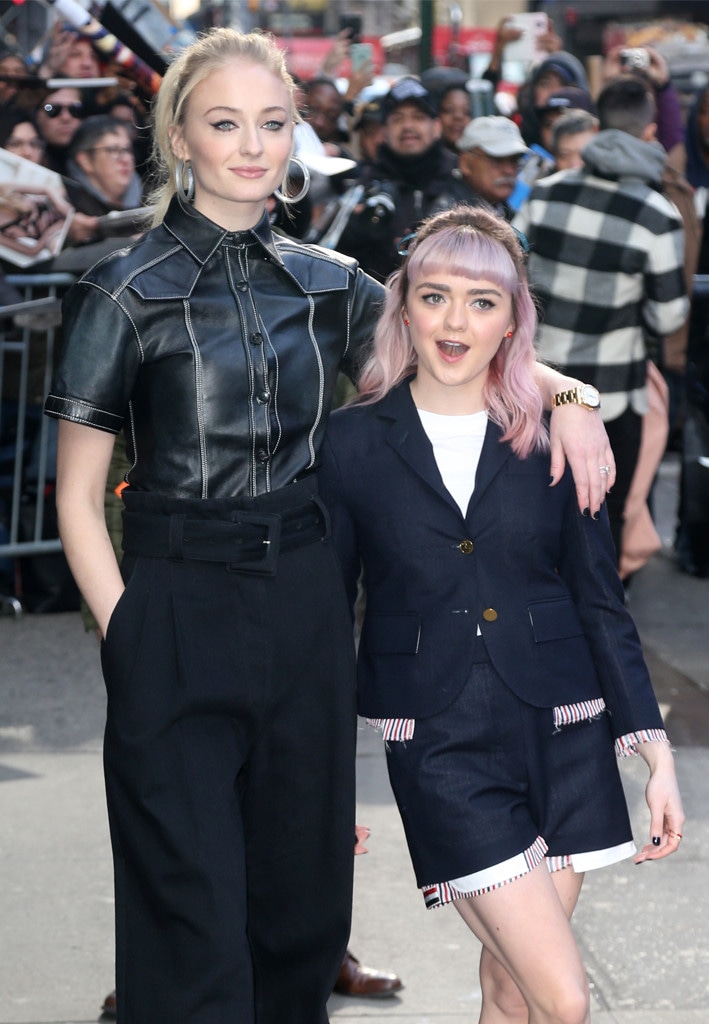 SplashNews.com
They say all good things must come to an end, but that's only going to be the case for Sophie Turner and Maisie Williams' on-screen personas.
Turner and Williams play sisters Arya Stark and Sansa Stark on Game of Thrones, which is airing its eighth and final season on HBO beginning on April 14 and it turns out they've been best friends since the get-go. The pals discussed their friendship in a cover story for Rolling Stone and explained that they were "pretty much best friends" from the moment they did their chemistry read in 2009.
"I thought Sophie was the coolest thing I'd ever seen. I get why they do chemistry reads, because when it's right, it's so right," Maisie told the magazine. "Like, we're best friends. And they could see that all those years ago, and it must have been real magic watching these two girls have the best time together."
Their friendship will not only be immortalized on television screens and Instagram posts, but on their skin, too. The Stark sisters got matching tattoos in 2016 that say "07.08.09." August 7, 2009 marks the day they heard from Game of Thrones that they each got the part. The future Mrs. Joe Jonas called the date "really significant."
Sophie joked to  E! News' Giuliana Rancic at the 2016 Emmys, "We don't know if we're going to make it so Maisie and I were like, 'Let's get these ones before anyone kills us!'"
The 21-year-old admitted to Rolling Stone that she and Sophie were "a nightmare to work with."
"If you're working with your best friend, you will never get any work done, ever. Anytime we tried to be serious about anything, it's just the hardest thing in the world," she explained. "I think they really regretted putting us in scenes together. It was difficult."
The two women even had their own special prank that they liked to play on set. The Dark Phoenix star and Maisie appeared on the cover of Glamour UK together and shared, "People always think Maisie and I are a couple. I mean, I am obsessed with her, so you never know...I've got an addiction to Maisie Williams. I actually stalk her hashtag on Instagram."
She continued, "Even though we are sisters [in Game of Thrones], we tried to sneak a kiss into every scene we did together to freak everyone out a bit. It kept them on their toes making sure they were following the script."
These two strong women have had an unstoppable 10-year friendship and it's only getting stronger. They grew up together on screen and have cemented their identities with the help of their respective roles and each other. Plus, we can expect to see Maisie as a bridesmaid at Sophie's upcoming wedding to the Jonas Brothers member.
Check out the photos below to see some of Maisie and Sophie's best friendship moments.
Sophie revealed in her Rolling Stone interview that she used to be "really jealous of Maisie because she got to do all these sword fights and be the badass." Now, however, she finds it "satisfying" that Sansa is "coming into her power now."
She shared, "There's a lot of Sansa in me."