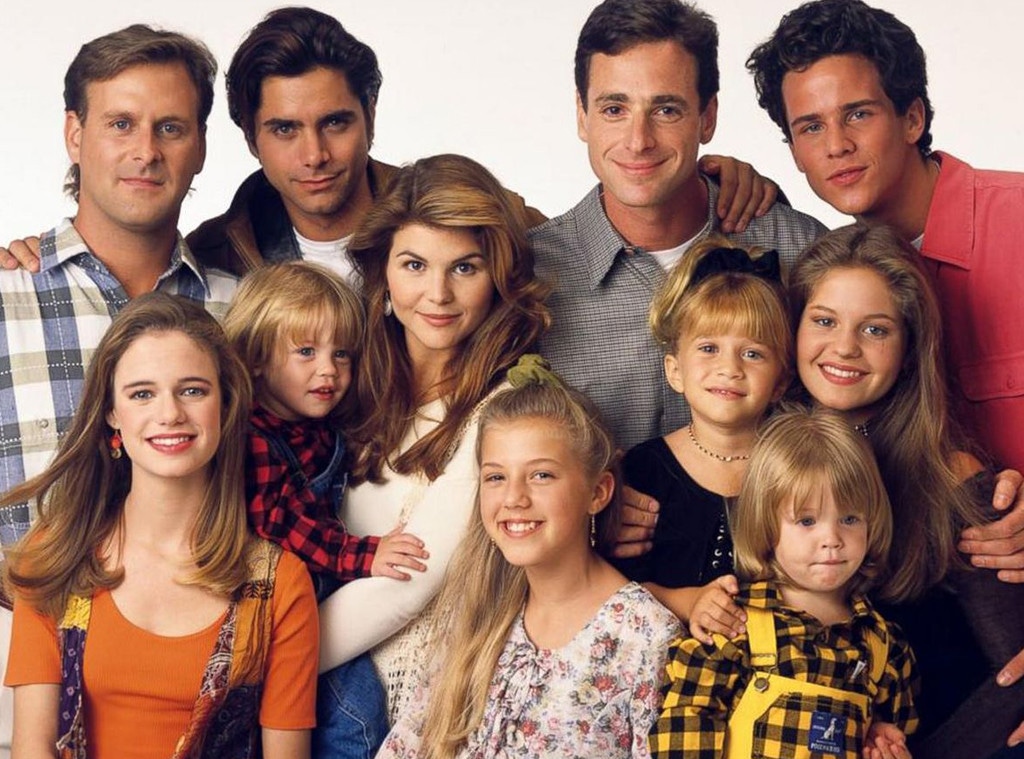 ABC
Everywhere you look, there's another joke being told, another person raking Lori Loughlin over the coals for her alleged involvement in a massive college-admissions racket.
Plenty of her fellow deep-pocketed celebrities have been in on the raking, too, from Rob Lowe and Alec Baldwin to all the late-night talk show hosts.
But Loughlin needs to look no further than to the group of actors she spent the most storied part of her career with to find people who don't want to see her pilloried in the village square.
"Where there's a lot of heart, there's a lot of love—and a loving family sticks together no matter what," said Candace Cameron Bure, in a speech that could have been scripted for her by Danny Tanner, alongside Jodi Sweetin, Andrea Barber, Scott Weinger and some of their newer co-stars at the 2019 Kids' Choice Awards on March 23, where Fuller House was named Favorite Funny TV Show. "They stick together through the hard times, they support each other, they encourage one another, they pray for each other, and they stand by their side no matter how tough it gets." 
Unless that was an elaborate dig at the Olsen twins for not returning to the fold for even one episode of Fuller House, Cameron Bure seemed to be extending a warm virtual embrace to Loughlin, whose reputation for being a person who was basically normal imploded last month after she and her husband, Mossimo Gianulli, were indicted on charges of conspiracy to commit mail fraud and honest services mail fraud. 
The couple sit atop a fashion-, Full House- and Hallmark Channel-fueled fortune, and they're accused of paying $500,000 in bribes to ensure that their daughters Olivia, 19, and Isabella, 20, would be admitted to University of Southern California as members of the crew team—even though they had no intention of participating in crew once they got there.
Fifty people were charged in the complaint, which further alleges that Gianulli sent someone (identified only as a cooperating witness) a photo of Isabella on an ergometer to further the ruse. 
Unlike Huffman, Loughlin and Gianulli, each of whom are free on a $1 million bond, rejected a plea deal last week and were promptly charged with conspiracy to commit fraud and money laundering—which carries a maximum 20-year prison sentence. On April 15, they pleaded not guilty on all charges.
They have also continued to exercise their right to remain silent, while those who know them best have maintained a unified front of refusal to pass judgment.
For instance, Cameron Bure is also a mother of three collage-age kids, which could have made this a particularly hot topic for her, but she has refrained from turning her back on her longtime friend.
Asked on Today if she had anything to say about it, Cameron Bure told Hoda Kotb and Kathie Lee Gifford, "You know, it's too personal to us, and you never want to talk about someone that's such a dear and close friend. But I think, I've already said that we are family, and we stand by each other and pray for each other, and we'll always be there for each other."
Sweetin, sitting alongside her, nodded in agreement.
Loughlin may be D.J.'s Aunt Becky on TV but in real life they're only 12 years apart and their kids have known each other pretty much all their lives. The two actresses were even spotted going to yoga together in Vancouver (where a lot of Hallmark Channel content is shot) in 2014, and Loughlin and Barber surprised Cameron Bure during Dancing With the Stars rehearsal when she competed that year.
Fuller House, meanwhile, is returning to Netflix this year for a fifth and final season. There's been no formal statement but, in the wake of Hallmark Channel cutting ties with Loughlin, star of the network's Garage Sale Mysteries movies and the series When Calls the Heart, those purportedly in the know were saying last month that the house was almost sure to be less full this upcoming season.
"She's toast, she's over," one source told Deadline two days after the criminal complaint went public. Sources also told TV Line that there were no plans to have Loughlin, who was not a series regular, back for season five.
But those aren't sighs of relief or snickers of schadenfreude coming from the Fuller House set.
In what sounds like a serendipitous scheduling coup, Jimmy Kimmel Live actually had Bob Saget booked on March 12, the day the college scandal story broke, but Saget must have arranged to not be asked about it—because Jimmy Kimmel certainly joked about it in his monologue.
"You know, you love who you love in your life," Saget said when TMZ caught up with him last month on his way to his car. He did not weigh in when asked if he thought Loughlin should do jail time or if he was upset at her for putting the show in a tough spot.
"I'm gonna stop talking," he said, smiling. "I just love who I love. Candace said it really good at the Kids' Choice Awards. You love who you love." Asked to confirm that he was on "Lori's team," Saget countered, "I'm on the team of people that I love but, um, life's complicated."
"You've got to love your people," he concluded.
Joe Scarnici/Getty Images for TV Land
John Stamos followed him out the door a minute later.
"I will [have something to say] at some point," he said. "I'm just not ready to talk about it."
He agreed with the reporter in his face that it was a "complicated" situation as he flashed a peace sign and drove away.
ScreenRant, meanwhile, concocted an elaborate article for April Fools stating that the showrunner had decided to have Uncle Jesse and Aunt Becky get divorced, but the story was soon updated with the punchline.
Seriously, have mercy—haven't Fuller House fans been through enough?
"He's a really good friend of mine, I love and adore him...We get each other, we just click," Loughlin said about Stamos on HuffPost Live in 2013.
She memorably followed that by saying that they had great chemistry playing longtime TV loves Jesse and Becky, but she was married (to her first husband, Michael Burns) and by the time she got divorced, he had met his future first wife, Rebecca Romijn.
Asked about her comment a month later, also on HuffPost Live, Stamos did a little tap dance, insinuating Loughlin hadn't told the whole story.
"We were friends, we were on the soaps together, and we actually did date," he revealed. "We went on a date to Disneyland before we were both married...we were like 18, 19 years old. And then...she's right, she was married during that time and then when she wasn't, then I was married, so we did have some off timing. But no disrespect to her, her family and her husband now, I would say she could be the one that got away.
"She's one of my dearest friends and that's good enough," he concluded. "But I really do adore her...She has a great husband and he's got a lot of money, so," he added with a jokey shrug.
That was before Stamos met his wife Caitlin McHugh, of course, but the on-and-off-screen leading ladies get along famously.
"I'm so happy he's married," Loughlin told Steve Harvey on Steve last year, "she's a wonderful girl, he's going to be a great dad and I'm really, really happy for him."
Loughlin and Bob Saget were among the first to meet Stamos' son, Billy, last spring, and Stamos appeared with Loughlin in one of Olivia Jade's YouTube videos just a few months ago. (Though, according to Loughlin, neither of her girls would accept Stamos' friend requests on Snapchat, after telling their mom she was "too old" to have an account.)
"Lori used to text me all the time, 'How are you doing, what's going on, how're you doing?'" Stamos told Access Hollywood last summer. "Now it's like, 'How's Billy doing? How is he? Where is he?'"
"All I text," Loughlin agreed with a huge smile. 'How's Billy? what's Billy doing?' I need a Billy video! I will steal Billy if you leave me with him. I'm so in love with him, he's the cutest thing," she said, beaming, telling John he had to bring his baby boy to work that week.
"He's a great dad. He's always been really great with kids," Loughlin added, turning to Stamos, the father of her TV twins Alex and Nicky, "but you are a great dad. You really are."
"We'll see how I do with my own," he quipped.
Stamos recalled Dave Coulier coming over to see Billy and suggesting they recreate the famous scene from the first episode of Full House where Joey and Jesse frantically try to change Michelle's diaper in the kitchen. "We're not doing that," Stamos—whom the cast nicknamed "the baby whisperer" back in the day—said, shaking his head in mock dismay.
A few days after the college scandal news broke, Stamos posted a video on Instagram holding Billy and making him laugh, with the caption, "For those of us who just need a good smile right now. Xo." Cameron Bure commented, "I definitely needed this right now," while Saget added, "Wait, was I there and said something hilarious?"
For her social media 2 cents, Andrea Barber liked a tweet in which she was @'d that read, "I am not gonna say much and you know what I am referring to, but I am thinking about you and the rest of the Fuller House cast and crew as we try to process the unfolding of events today. ((Hugs!))." 
Quite a few events unfolded between the time Full House went off the air in 1995 and Fuller House premiered in 2016, though this is the first noisy scandal to touch the crew while either of those shows was still being made. (Even Dave Coulier possibly being the subject of Alanis Morissette's "You Oughta Know" just missed Full House's original run.)
Stamos has gotten divorced and been to rehab after getting a DUI in 2015, and in her 2009 memoir unSweetined, Sweetin recalled drinking two bottles of wine at Cameron Bure's 1996 wedding and being high on meth at the 2004 premiere of Mary-Kate and Ashley Olsen's movie New York Minute. And Mary-Kate, on her way to building a fashion empire along with her twin, had her share of struggles.
Nary a stone has been cast, not counting anything Saget may have ever said in a stand-up set—or anything said about him at the Comedy Central Roast of Bob Saget in 2008, which a bunch of the Full House cast, including Loughlin, showed up for.
Asked in 2015, when production on Fuller House was underway, about how Stamos was doing after rehab, Loughlin told Extra, "Oh, John is great, I've been with him all week. He's fantastic."
Twenty years after Full House ended, the pair—whose real mothers were extras in the wedding episode when Jesse married Rebecca—didn't miss a beat as far as all that chemistry was concerned.
"I think John and I always had fun playing the characters, I think we have a good rapport," Loughlin said on Today last year, thinking about why fans have loved them as a TV couple for three decades. "I guess it's a relationship that people look up to, or want to emulate."
The actress laughed when asked what the key was to Jesse and Becky still being together after almost 30 years. "'Cause they're a TV couple!" she said, cracking up. "That's their secret! They go home at night—not with each other." 
But it was exciting to go back to their day jobs while it lasted.
"We shoot Fuller House on the same sound stage on the Warner Bros. lot that we shot, you know, 30 years ago," Loughlin said in a BUILD Series interview in 2017. "So in some ways, when you go there it's very surreal 'cause you don't feel like you've left. You're in a bit of a time warp.
"But it's great," she added. "We love being together, we have a great time together, and I feel really fortunate that they brought the show back and we're able to work with each other again in that capacity.
Though half of the cast back on Full House played the parents and parental figures and the other half the kids, they've all watched each other grow up in a way. The Fuller House cast may not be able to recapture a more innocent time this season, but the reason why can definitely be considered yet another teachable moment.
(Originally published April 3, 2019, at 11:15 a.m. Updated April 15 at 11:10 a.m. PT) 
For the latest on Lori Loughlin and the still-unfolding college admissions scandal, tune into E! News tonight at 7 & 11 p.m.