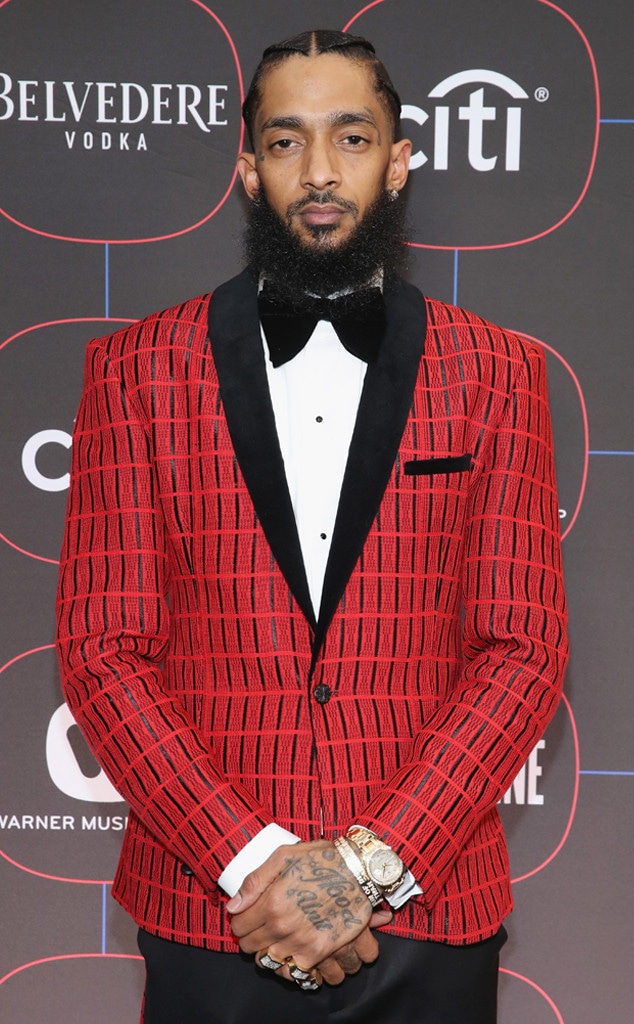 Randy Shropshire/Getty Images for Warner Music
The Los Angeles County Department of Medical Examiner-Coroner has officially determined Nipsey Hussle's cause of death. The 33-year-old rapper was fatally shot outside of his store The Marathon Clothing on March 31 near the intersection of Slauson Avenue and Crenshaw Boulevard in South Los Angeles.
The Coroner's office said in a statement obtained by E! News that the late rapper "was found to have died from gunshot wounds of the head and torso."
According to the statement—which mirrored what the Los Angeles Police Department tweeted on Sunday—Hussle was shot and then "taken to the hospital where he was pronounced dead at 3:55 p.m." The Coroner's office added, "The manner of death was certified as a homicide."
"At approximately 3:20 pm there was a shooting reported in the area of Slauson Ave and Crenshaw Blvd. 3 victims were transported to a local hospital where one was pronounced deceased," LAPD tweeted Sunday afternoon. "We have no suspect info at this time and will provide more details as they become available."
The police department later revealed in a tweet that they had a suspect in mind and were attempting to locate him.
A law enforcement source told The Los Angeles Times that the killer was likely someone that Hussle, whose real name is Ermias Davidson Asghedom, knew. Law enforcement also reportedly believes that the shooter has ties to a gang, but the motive for Hussle's murder was personal and not gang-related.
The Times reports that the 33-year-old was shot at close range and then the perpetrator ran into a getaway car.
Hussle tweeted an ominous message on Sunday morning, hours before his untimely and tragic death. "Having strong enemies is a blessing," he wrote.
Hundreds of people gathered outside of Hussle's store near the corner of Slauson and Crenshaw on Sunday night to mourn the rapper and pay their respects.
LAPD even tweeted on Monday that they decided to forgo an April Fool's Joke "in light of yesterday's events." They wrote, "We're focusing on bringing justice to yesterday's homicide on Slauson & Crenshaw in South LA."
Hussle was well-known in his community and was remembered as someone who was "instrumental" to the area. Malik Spellman told the Los Angeles Times, "The man was instrumental in a lot of stuff. Fighting gentrification, trying to stop gang violence. The facts are he was a good person."
He was passionate about tech, entrepreneurship, music and supporting his hometown community.
Many celebrities posted on social media and grieved the huge loss. Drake, Rihanna, LeBron James, J. Cole, Meek Mill and Steph Curry were just a few of the big names to mourn Hussle.
"F--k. My whole energy is just at a low right now hearing this. We just linked for the first time in years and said we were gonna do a new song this summer cause it had been too long. You were having the best run and I was so happy watching from distance," Drake wrote on Instagram Sunday night.
Drake added, "Nobody ever talks down on your name you were a real one to your people and to the rest of us."
Rihanna lamented, "This doesn't make any sense! My spirit is shaken by this!"
Mayor Eric Garcetti confirmed that Hussle was the victim and paid his respects in a Sunday evening tweet. "Our hearts are with the loved ones of Nipsey Hussle and everyone touched by this awful tragedy," he wrote. "L.A. is hurt deeply each time a young life is lost to senseless gun violence."
Hussle and his girlfriend Lauren London have a son named Kross Asghedom together. He was also the father of Emani Asghedom, who was one of his dates to the 2019 Grammys, where he was nominated in the Best Rap Album category.
Our thoughts go out to Hussle and his loved ones during this time.