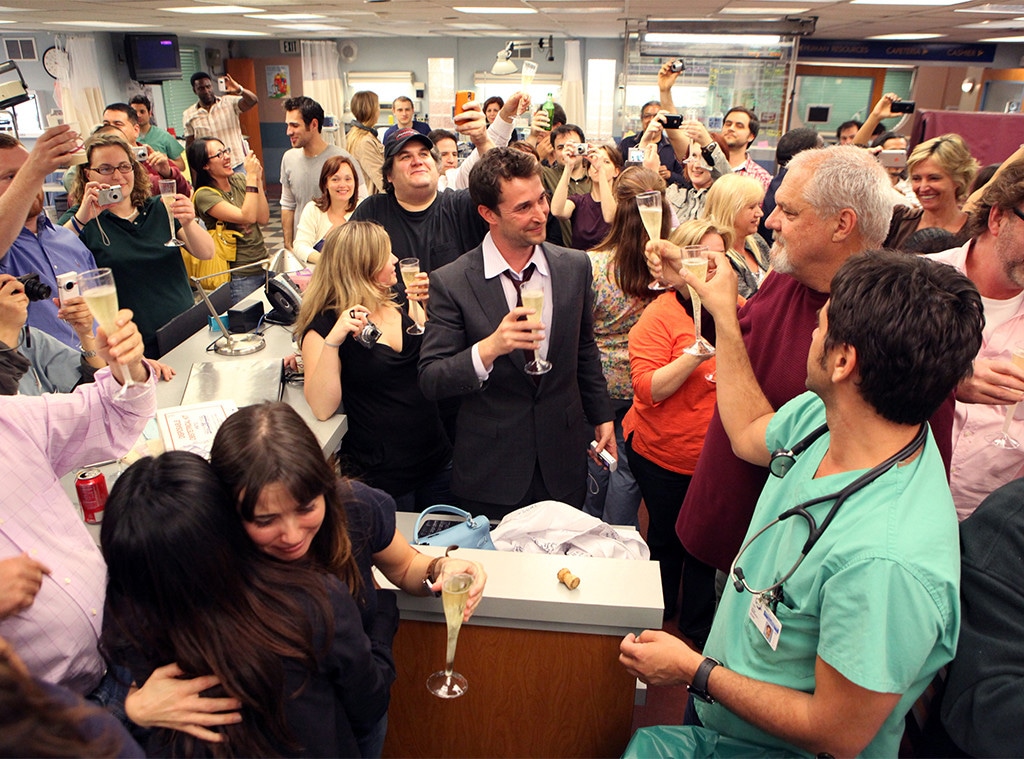 James Stenson/NBC/NBCU Photo Bank
It was the end of an era. (Or an ER-a, if you want to be cute about it.)
When ER signed off for good a decade ago with a two-hour episode that forced fans of the NBC hit to say goodbye to the fictional County General hospital for the last time, it did so as the reigning longest-running primetime medical drama in American TV history, sitting pretty at 331 groundbreaking episodes. (The show has, of course, since been supplanted, with Grey's Anatomy  recently laying claim to that particular honorific with no signs of letting up and no real challenger coming up behind it.) And it did so with an ending that had, in some form or another, been in the works since as far back as the show's sixth season.
Of course, making that happen meant that executive producer John Wells needed to get his onetime star Noah Wyle—who'd left the show's main cast after season 11 and last appeared in any capacity in season 12—back into Dr. John Carter's scrubs. 
As Wells told reporters in the months leading up to the finale, he figured that the show wouldn't make it past season eight. "So I started doing some planning, and I still have those notes," he  said. "They've gotten a little old and smudged, but one of the reasons Noah Wyle is coming back at the very end is we had always planned that the end of the series would involve Noah returning because he was so central as a character at the very beginning."
It had been a final season of returning favorites, stopping by for one final appearance—all the all-stars were there: George Clooney, Julianna Marguiles, even Anthony Edwards' deceased Dr. Mark Greene popped up in a flashback episode—but none more central than Wyle's Carter. While the show's pilot focused on the then-third-year medical student arriving at County for his rocky first day, the final season saw the seasoned vet—who'd seen some things over the last 15 years—return to County in episode 16 to work, get a kidney transplant, and, in the finale, open his very own clinic for the underprivileged, prompting the influx of familiar faces, there to celebrate their former colleague, in those last two hours. 
With Carter in the role of County's elder statesman, Wells was able to neatly allow the finale, entitled "And in the End...," to not only be structured like that game-changing first episode from 1994—which was filmed nearly word-for-word from creator Michael Crichton's original screenplay written all the back in 1974—but directly call back to it in ways both big and small.
James Stenson/NBC/NBCU Photo Bank
Set over the course of 24 hours, just like the pilot, we watched as new intern Dr. Julia Wise (guest star Alexis Bledel, fresh out of Stars Hollow) went about her first day at County, having about as much luck as Carter did on his. Veteran nurse Lydia Wright (Ellen Crawford, returning for the first time since 2003) woke up Scott Grimes' Dr. Archie Morris exactly as she had done with Edwards' Dr. Greene. The full-length opening credits from the first season, abandoned years earlier, were back with the James Newton Howard theme song—you can almost hear it now, can't you?—and beloved Benton (Eriq La Salle) fist-pump in tact. The episodes even shared a director, Rod Holcomb.
And to add to the whole "circle of life" goings on, County General was in the process of welcoming a next-generation Dr. Greene, in the form of the beloved doc's daughter Rachel (played by returning guest star Hallee Hirsh), who was interviewing for a spot in the hospital's teaching program. In the process, Carter got to show her how to start an IV exactly as Benton, his mentor, had in the pilot, and utter the words "Dr. Greene" as one of the show's final lines—mirroring, you guessed it, the first line ever uttered on ER.
ER's final season almost ended a few episodes earlier, with NBC extending the show by three episodes when a production delay on its replacement, Southland (also from Wells), left a gap in the network's schedule. It was a good thing, too. "I probably had about 200 more pages to do to wrap up all the things we had coming. ... They clearly couldn't all get done in that episode," Wells told reporters. "When we actually started to get towards the end, there's this tremendous feeling of, oh, there's this one and there's that one that we haven't done, so it's actually very exciting."
It also allowed for him to let a little bit of real-life tragedy influence one of the cases seen in the two-hour episode. One of the last patients we see Dr. Tony Gates (John Stamos) treat, a young teen brought in with alcohol poisoning after playing a drinking game with friends, was inspired the December 2008 death of 17-year-old Shelby Lyn Allen, Wells' niece. "What seems like teenage fun can actually be warning signs for a significantly dangerous medical situation," the producer told Fox News ahead of the finale's premiere.
James Stenson/NBC/NBCU Photo Bank
It was important for Wells for the finale to evoke that same "life goes on" ethos that ER had deployed throughout its storied run. And that's why in the final moments, the entire County General team jumps into action to triage patients arriving by ambulance after an industrial explosion as the camera slowly pulls out, showing the entire exterior of the hospital for the first and only time in the show's history before fading to black while that iconic theme song played for the very last time.
"I would hate to give the impression that the difficulties of running a county hospital and the problems within the system come to an end because conveniently the hospital gets closed for a new one or something like that," Wells said. "The only way to really do justice to the show is to continue what has worked, which is we just sort of showed up on one day in 1994 as an audience and caught what was happening. ... My inclination will be to feel as if we've simply walked away from the hospital with the cameras."
While it was clear to Wells that it was time for ER to say goodbye—"It's very odd to say, but it really was time to end. It's ending at a time when we're all still very proud of it," he told the New York Times weeks before the finale aired—at least one cast member was decidedly not ready to hang up his scrubs. 
"I think they're canceling it prematurely," Stamos told the newspaper as part of the same oral history. "I still have a lot of energy for the show. I think you could keep doing it as a spinoff."
While a spinoff never came to be—and almost certainly never will—it wasn't hard to imagine a world in which Bledel's Dr. Wise teamed up with Hirsh's Dr. Greene for an ER: The Next Generation. The casting of the Gilmore Girls vet in the role of the green newcomer was rather inspired—and could only happen as a bit of stunt casting, as Bledel admitted at the time she was wary of any lengthy television commitments so soon after the 2007 cancellation of the WB/CW series—and indicative of the sort of stellar guest stars ER had been able to pull in throughout its 15-season run. To see how ER's guests stack up against those of its record-breaking successor, read on!
ER is available to stream, in its entirely, on Hulu.