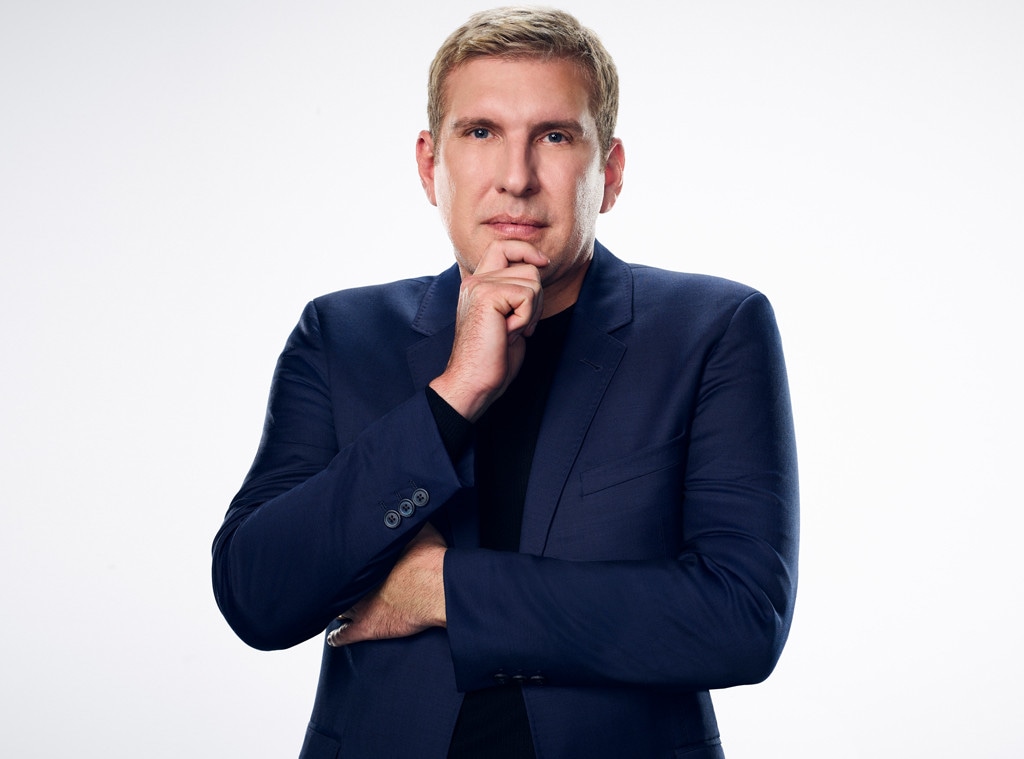 Dennis Leupold/USA Network/NBCU Photo Bank
They say love is a battlefield and in the Chrisley family it can definitely be bloody, brutal and end with a few tears and low blows. 
When all is said and done however, Todd Chrisley is the leader of the pack, will command his troops and win the war...no matter what the cost.
Throughout the past six seasons of the USA Network reality series Chrisley Knows Best, we've come to know and love the outrageous Chrisley clan and no one is more outspoken and funny than dad, Todd.
Since today is the patriarch of the southern family's birthday—he's turning 50 years old—what better way to honor him than by taking a look back at all of his most honest and wild quotes either about his children or towards them?
Trust us, there have been some sassy, intense and even wise words to come out of Papa Chrisley's mouth over the past few years and each and every quote should be remembered. 
Check out our personal favorites below!
1. "A good looking woman who has her game going isn't looking for a scrub."
Preach papa Chrisley, preach!
2. "What happens at four o'clock in the morning, you're reminded of nine months later."
OMG, this is too much. When Todd was trying to keep his kids in line and their curfews intact he pulled out this quote and wow, just wow.
3. "Baby, I know you're hurting and if I could take the pain away I would give it to your mom and me and you would go shopping."
After Savannah Chrisley was in a major car accident she was in a lot of pain and her dad knew exactly what to say to make her smile. 
4. "We don't have to agree. If I don't like it, that's all that matters."
This could be dad logic, or it could just be Todd logic, either way it is so on point.
5. "If they have a penis, I don't trust them."
Let's be honest every dad of a teenage girl has thought this at least once. 
6. "Smaller or larger, they still look like ass."
When Todd doesn't like his daughter's shorts, he tells her...to her face!
7. "Perfect is something you should strive to be."
We are writing this as our new mirror message ASAP.
8. "Ignorance I can fix, stupid is forever."
So true. So, so, true.
9. "There ain't nothing open after midnight except legs and the ER and he's going to stay out of both of them."
We guess it's true what they say...nothing good happens after midnight. 
10. "Find your friends at school, I'm your daddy."
Todd isn't here to be his kids' friends, instead he is there to discipline them and keep them in line.
11. "So Spencer, don't plan on doing anything with my daughter that you wouldn't do with me."
When Savannah went on a date, this was the sage advice Todd gave her suitor. Seriously, who wouldn't be scared of this guy?
12. "Lord, please protect my daughter from all douchebags. Lord, please protect my son from all hoes."
Hmm, we've never heard this prayer before!
13. "So, Savannah, don't be kissing on him. I'd better not catch you doing nothing or I'll cut it off and put it in his pocket."
We have a feeling this wasn't an empty threat on Todd's part. Yikes!
14. "She goes from Virgin Mary to Stripperella. We need to find a happy medium."
If you don't want your dad's opinion about your style or dating history then you should count your blessings that this hilarious reality star isn't your dad.
15. "Hate is a strong word, but so is love."
Wow, this is so deep.
16. "Take a step back or get a Tic Tac."
Sometimes Todd just says exactly what we're all thinking. If you have bad breath, please stay away!
17. "Class, not ass."
Words to live by. It's as simple as that.
18. "You're sucking hind tit right now."
What does this even mean? Poor Chase Chrisley, he really can't win sometimes with his pops.
19. "We're going catfish, swordfish. We're going to trap his ass."
What parent doesn't try to trap their son in a lie, catfish style? LOL.
20. "He's hot as a virgin in a whorehouse right now."
Yes, Todd once used this phrase to describe his son and we can't stop laughing about it.
21. "The Lord will have their soul, but their ass, I'll have."
When his kids cross him, Todd knows that the Lord will deal with part of their punishment, but for now they report to him and he's a hard ass. 
22. "I'd like you to wear something a little longer. You don't want the crouching tiger growling!"
Oh Savannah, haven't you learned by now, your dad does not want to see your lady parts on display when you're out and about!
23. "Grayson, get away from them cuz stupid is contagious."
Even though parents love their children equally, Todd does not want his youngest to end up like his older siblings...and he isn't afraid to tell him that.
24. "Let me give you a tip, don't be a douchebag."
All hail Todd and his sage advice!
Happy birthday, Todd! You really are one hilarious, wisdom-filled father and we just love you and your one-liners.
USA Network and E! Online are both part of the NBCUniversal family.