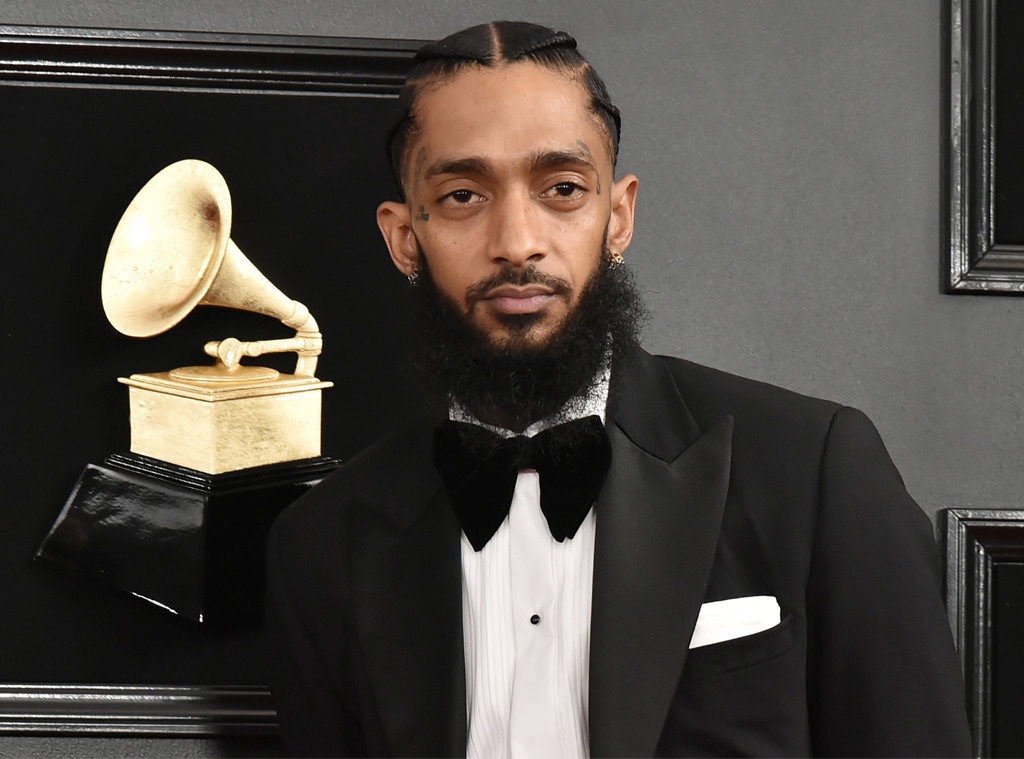 David Crotty/Patrick McMullan via Getty Images
One day after Nipsey Hussle's sudden death, fans and friends continue to show their outpouring love and support for the late star and his family.
The 33-year-old Grammy-nominated rapper, née Ermias Asghedom, was shot and killed on Sunday afternoon outside of his store, The Marathon Clothing, in South Los Angeles.
"At approximately 3:20 pm there was a shooting reported in the area of Slauson Ave and Crenshaw Blvd," the Los Angeles Police Department tweeted on Sunday. "3 victims were transported to a local hospital where one was pronounced deceased."
The LAPD later added, "The suspect in the shooting is described as a male black & LAPD South Bureau Homicide is conducting an investigation to locate him and anyone else involved."
As news of Nipsey's death emerged, stars began to pay tribute to the beloved artist and send love to his girlfriend, Lauren London.
"This doesn't make any sense!" Rihanna wrote on Instagram. "My spirit is shaken by this! Dear God may His spirit Rest In Peace and May You grant divine comfort to all his loved ones! I'm so sorry this happened to you."
"Heartbroken for Lauren and his family," LaLa Anthony told her Instagram followers Sunday. "Praying for you guys during this difficult time it's a sad day for all of us Rest in Paradise."
In another heartbreaking post, L.A. Police Commissioner Steve Soboroff shared on Twitter Sunday that he had a meeting scheduled with Nipsey the following day. The meeting was to discuss ways Nipsey could help stop gang violence.
"We (@LAPDChiefMoore and I ) were meeting , at the request of @NipseyHussle with him and @rocnation tomorrow at 4pm to talk about ways he could help stop gang violence and help us help kids," the tweet reads. "I'm so very sad."
Sources now tell TMZ that the meeting will still happen, in honor of Nipsey.
"The sadness that I feel -- I wish we could have had the meeting on Friday," Soboroff tells the outlet. "I think he would have been excited about all the possibilities, and I know we were." 
Nipsey, who grew up in the South Los Angeles area, dedicated his time to helping the community.
According to a report from the Los Angeles Times, published Monday, Nipsey once provided shoes to students at a Hyde Park area elementary school, where he also "helped fund upgrades to the campus playground and offered jobs to his struggling neighbors." The report also states that, if someone in the community was lost to gun violence, he would at times help pay for the funeral.
Of Nipsey's work in the community, activist Malik Spellman tells the outlet, "The man was instrumental in a lot of stuff. Fighting gentrification, trying to stop gang violence."
Nipsey is survived by kids Kross Asghedom, 2, from his relationship with Lauren London. He also has a daughter, Emani Asghedom, from a previous relationship.
Our thoughts are with Nipsey Hussle's loved ones during this difficult time.