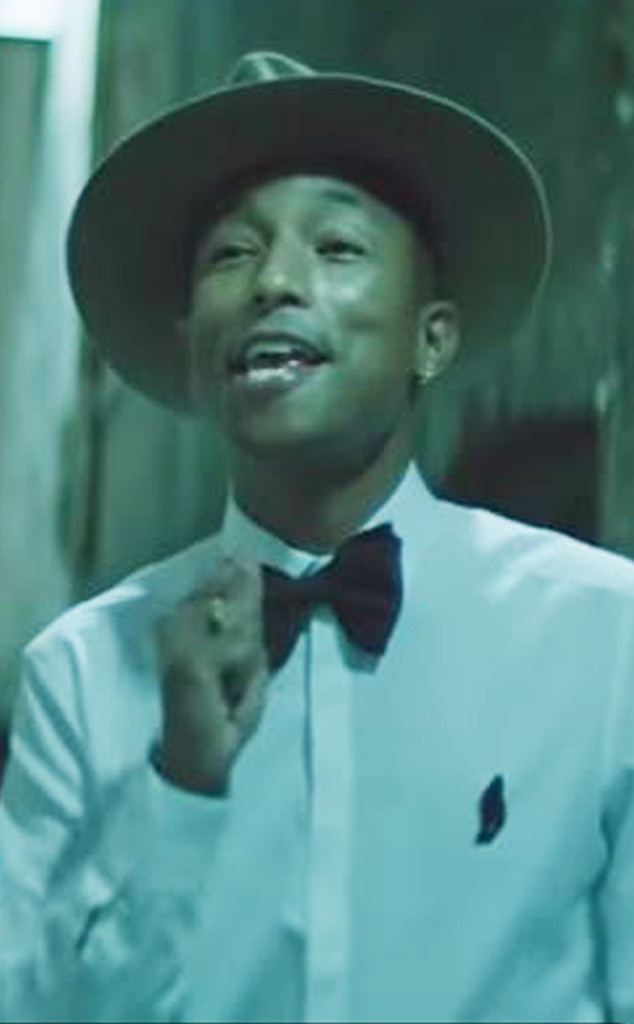 Because we're happy it's Pharrell Williams' birthday today we can't help but sing along loudly to all of the artist's biggest hits.
The Virginia native turns 46 years old today and boy has he accomplished a lot during those past four decades. Whether you're a fan of his solo work—he has two solo records thus far—or are a fan of his group tunes with N.E.R.D., Williams has been around for a while and he's not going anywhere!
When he's not singing "Happy" or working on music for different soundtracks you can sometimes find him on The Voice, or more than likely working on someone else's album as a producer or songwriter.
In fact, the birthday boy has worked with Jay-Z and Beyoncé, Gwen Stefani, Robin Thicke and more artists as a producer not to mention a musical collaborator and overall musical guru. 
Plus, he somehow has time to launch difference clothing collections, compose for massive box office hits like The Amazing Spider-Man 2 and even executive produce films like Dope.
Williams' most notable achievements however are all about music...at least for now, which is why we are focusing on some of his greatest music videos today.
We could go on and on about all of the songs he's worked on or recorded, but it's a little bit more fun to watch his visions come to life in music videos, don't you think?
In honor of Williams turning another year older and giving us more music to dance and sing along to this year, we've rounded up eight epic music videos from the artist's past.
After you've watched them all and caught your breath from all those dance moves you're bound to bust out, make sure to vote for your favorite one of them all!
"Happy"
As one of Williams' biggest hits ever, "Happy" and its corresponding music video are super fun and upbeat. The video shows the singer dancing around different cities, but he's not the only one. There are people dancing at night, construction workers moving and grooving and even a church choir rejoicing to the beat.
"Freedom"
This music video is unlike any other released by the 46-year-old singer. It shows Williams standing in numerous places with different issues plaguing them. He stands on top of bricks in a country where men are enslaved and on the steps of a modern city that has its own issues. There are images of child laborers, whales jumping in the sea, sweatshops, men walking on the moon and so much more. It's a take on our current times and it's definitely eye opening.
"Hypnotize U" by N.E.R.D.
"Hypnotize U' has serious cult vibes with Williams as the leader. He resides in a massive mansion and after stepping out of the shower he is greeted by a group of women all wearing white shirts staring at him waiting on his signal to blink or move. You later see the same women outside in white shirts and jeans playing a game and then walking around the pool as if they are in a trance. It's very trippy.
"Come Get It Bae" feat. Miley Cyrus
Ready to dance? Then this video is for you! It shows a bunch of talented women dancing in between mirrors like they are on a video shoot or at an audition trying to impress Williams who is behind the camera. It might be a simple concept, but it is really fun to watch and join in on. Plus, Miley Cyrus makes an appearance pouring sugar in her smiley face mug!
"Frontin'" feat. Jay-Z
"Frontin'" shows a young Williams in his element. The whole video is a fun house party featuring red solo cups, Williams trying to impress his love interest and putting all the moves on her to seal the deal.
"Marilyn Monroe"
Off of his second record, "Marilyn Monroe" is a funky and hypnotizing track and the video is just as intriguing. We see Williams riding his bike to a ballet audition as gorgeous women stretch and get ready to show off their skills. Williams then breaks into song as the ballerinas dance around him for a visually appealing video. In between the dance sequins you see a bunch of different girls who catch the singer's attention, because he loves women of all shapes and sizes.
"Rock Star" by N.E.R.D.
Williams in high school? Yes, please! This throwback video shows the guys of N.E.R.D. in gym class playing a game of dodge ball before a slew of cute cheerleaders fall through the roof and bring the party. There is then a big pep rally style celebration that includes dancing, skateboarding and rocking out with all of the kids in school cheering them on.
"Gust of Wind"
This video is a magical wilderness experience. After Williams stumbles upon a strange sculpture that appears to be a space ship of some sort in the woods, a group of dancers start to appear and show off their moves in stunning costumes and ribbon accessories. The trees match their costumes and no matter how hard you want to break your focus you won't be able to look away. Eventually two dances swirl in the sky as the UFO pieces float away into the night.
Happy birthday, Pharrell! We hope it's happy, loud and full of great dance music.
Pharrell Williams' Best Music Videos