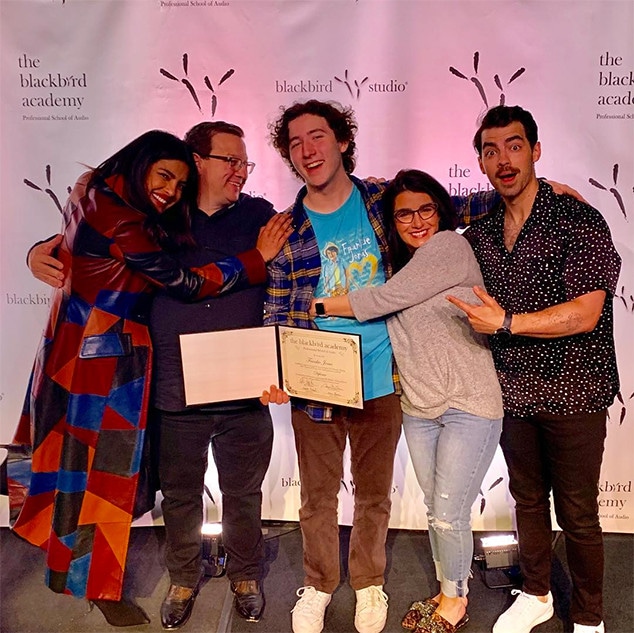 Instagram / Priyanka Chopra
Priyanka Chopra is one proud sister-in-law!
Her husband Nick Jonas' little brother Frankie Jonas, 18, aka the "Bonus Jonas," recently graduated from the Blackbird Academy, an audio engineering school in Nashville, and the actress joined the family in celebrating the milestone.
Priyanka posted on her Instagram page on Friday photos from the event, including one showing her, Frankie, her brother-in-law Joe Jonas and Jonas parents Kevin Jonas Sr. and Denise Jonas embracing at the event.
"The man of the hour!!" the actress wrote. "@franklinjonas we r so proud of u.. "Graduate" ! Can't wait to witness what else u will accomplish in your life. To bigger and greater heights! Love u❤️ @theblackbirdacademy."
Nick is not seen in the images. A day earlier, Priyanka shared a photo of the two on a boat in Miami. The two are enjoying the newlywed life, more than three months after they had two weddings in India, attended by both of their families.
Watch:
Priyanka Chopra & Nick Jonas' 2nd Wedding Reception
Priyanka also posted on Instagram a photo of herself, Frankie and his mom Denise Jonas laughing together. Family patriarch Kevin Jonas Sr. shared the same picture.
"Celebrating our son @franklinjonas graduation with our beautiful daughter-in-law @priyankachopra #BestGraduationShirtEver," Kevin wrote.
Frankie wore a blue shirt bearing a childhood photo of himself.
Denise also posted photos from the event, while Joe shared videos.
"Words cannot describe how proud I am of this guy right here," he wrote. "@franklinjonas has graduated from @theblackbirdacademy watch out world! I'm not crying you are crying!"