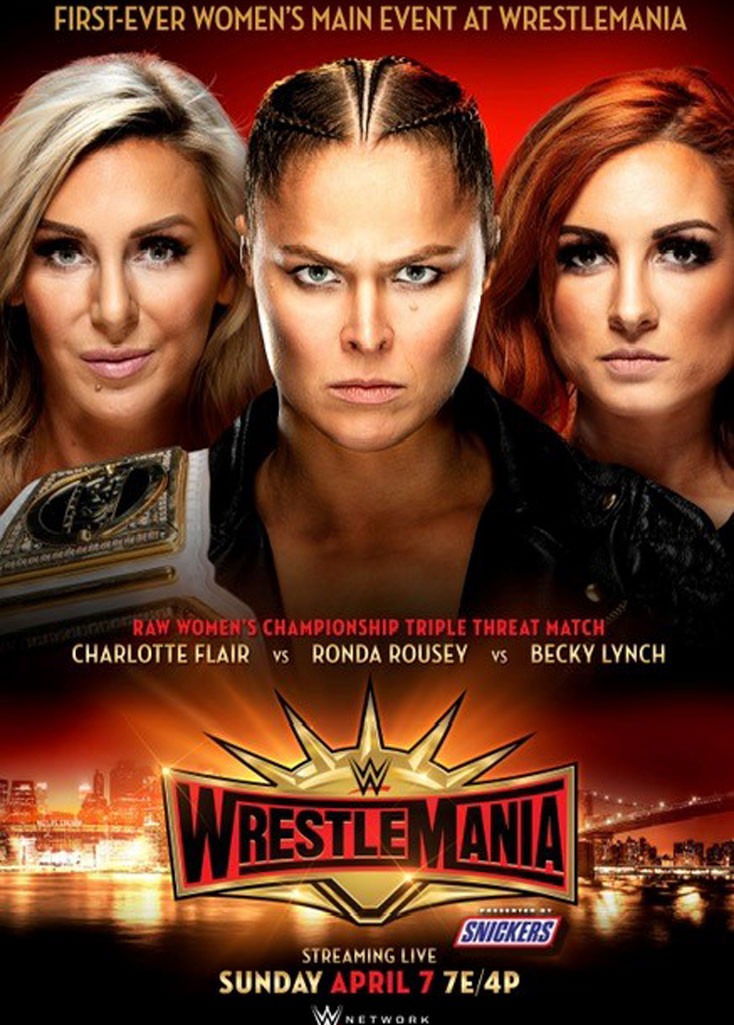 WWE
The WWE is about to make Herstory.
WrestleMania 35 is right around the corner and you should be hyped as it's slated to be a historic one. We're, obviously, talking about the history making Raw Women's Championship Match featuring Ronda Rousey, Charlotte Flair and Becky Lynch.
As you likely know, this is the first time a women's match will be the main event of WrestleMania. "This is a huge victory, not just for the three women in the main event, but for the entire women's division," Total Divas star Nattie Neidhart exclusively expressed to E! News. "I couldn't be happier for the women in WWE."
Nattie's costar and fellow wrestling maven Nia Jax shared a similar sentiment as she noted that this match is "extremely exciting and a testament to how far we have come." Go girl power!
Like in previous years, this event will be chock-full of memorable moments—and we've got all the details you need ahead of the big day on Sunday, Apr. 7 at MetLife Stadium in East Rutherford, NJ. Not only will WWE's best and brightest compete at WrestleMania, but some notable names are expected to join in on the fun.
Here's your breakdown of all the WrestleMania action you should be prepared for!
1. Joan Jett Will Rock Out for "Rowdy" Ronda
Since Rousey's match against Flair and Lynch is monumental for female athletes, it's only right that Queen of Rock 'N Roll Joan Jett has been tasked to play the former mixed martial artist's entrance music at WrestleMania. According to a recent announcement, the Rock 'N Roll legend will play her hit song "Bad Reputation" as the WWE Raw Women's Champion makes her way to the ring. We're certain this will be a performance you won't want to miss.
2. Colin Jost and Michael Che to Join in on Andre the Giant Memorial Battle Royal
After offending wrestler Braun Strowman, Saturday Night Live's Colin Jost and Michael Che were challenged to enter the Andre the Giant Memorial Battle Royal at WrestleMania. The drama all started after the 36-year-old "Weekend Update" co-host wore a Mets hat and asked if wrestling was real or fake. Scarlett Johansson's love further offended by donning a Yankees cap and somehow dragged his SNL partner-in-crime into the mess. We have a feeling the two comedians won't make it far in the match. Who are you rooting for?
Jonathan Bachman/AP/REX/Shutterstock
3. "The New" Daniel Bryan Will Defend His Title
The time has come for Daniel Bryan to defend his WWE Championship title...and at what better place than WrestleMania? This match will certainly be a dramatic one as the reigning champ (and current bad guy) will take on Kofi Kingston, who is hungry for the title.
"Since a certain someone has made it impossible to trust him at his word, I'm gonna need to see something in writing," Kingston teased on Twitter on Sunday. "No more games."
Will Bryan shout "Yes!" in victory or "No!" in defeat? We'll find out on Sunday.
4. Gospel Singer Yolanda Adams to Perform "America the Beautiful"
As per tradition, a performance of "America the Beautiful" will kick off WrestleMania. According to a recent announcement, "First Lady of Modern Gospel" Yolanda Adams will do the honors of singing the patriotic song. Previous notable performers include Aretha Franklin, Ray Charles, Gladys Knight, John Legend, Chloe x Halle, Tinashe and many more.
With over 12 million albums sold worldwide, it seems only right for the Houston native to perform at the major wrestling event.
5. Batista and Triple H Will Face Off in a No Holds Barred Match
Ahead of WrestleMania, Batista (also known as Dave Bautista) appeared on Raw to challenge his longtime nemesis Triple H to one final match. While the Guardians of the Galaxy actor has been absent from the WWE world these last several years, he made it a condition that Triple H retire from in-ring competition if the latter loses.
"This man has single-handedly changed this business. He runs this business. This man is this business," Batista taunted last October at SmackDown 1000. "14-time World Champion. There is nothing, nothing that this man hasn't done in this business...Except beat me."
We're interested to see if Triple H is able to prove his frenemy wrong!
Watch it all go down on Sunday, April 7!