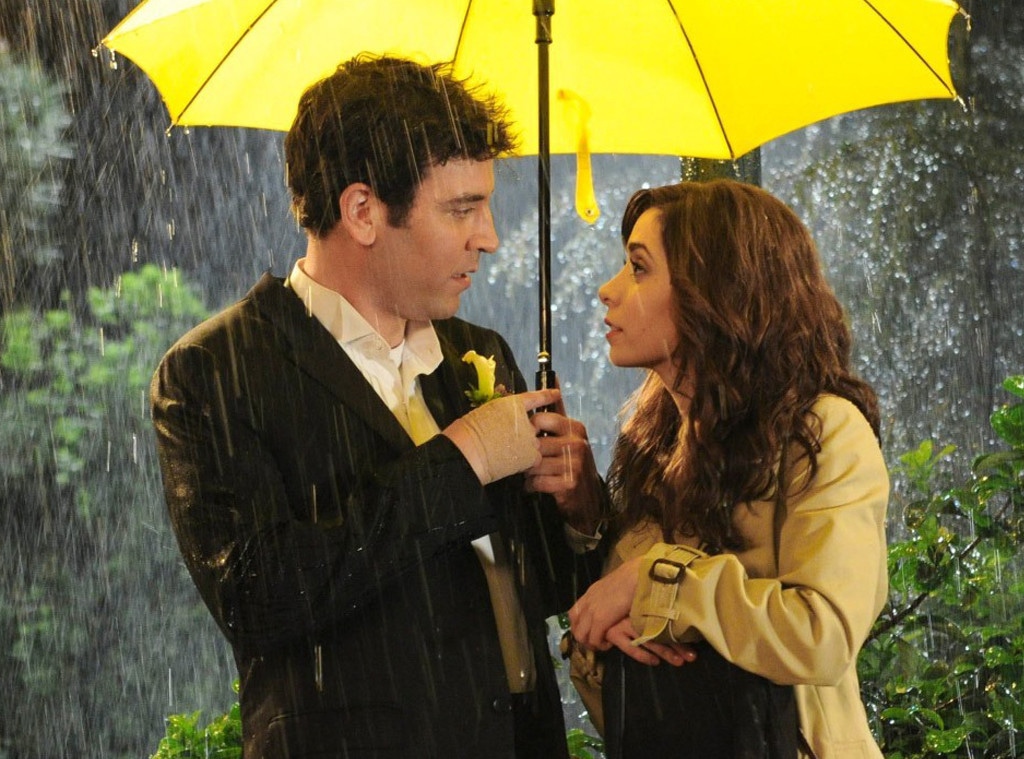 CBS
Ending a TV show is hard work.
At first, you're surely overjoyed at the prospect of getting to finish telling your story on your own terms. After all, that's not a fate that's afforded to most. But then comes the time to actually, you know, decide how the thing will end. And when you do finally decide and commit to it, film the thing, and then say goodbye to your baby for good, you have to present it to a world of critics and fans who are just waiting to see you stick the landing. Or not. 
No one knows this more than Carter Bays and Craig Thomas.
When the co-creators of How I Met Your Mother finally brought their nine-season romantic mystery to a close five years ago, it's hard to imagine a world in which they expected reactions to include such harsh words like "unsatisfying," "disappointing," or "betrayal." And yet, that's exactly what they were hit with after the final moments revealed—five year old spoiler warning here—that, after nine years listening to Ted Mosby (played by Josh Radnor with Bob Saget subbing in for the narration from the future) tell his kids the world's most long-winded story about how he, you know, met their mother and a full final season dedicated to him finally meeting and falling for her, mom Tracy (Cristin Milioti) had been dead for six years from some mystery illness. And to add insult to injury, the whole thing turned into Ted asking his kids for permission to pursue his former love, "Aunt" Robin Scherbatsky (Cobie Smulders).
To say that fans were pissed was an understatement. Afterwards, both Carter and Bays took to Twitter to deliver what would be their only statements on the finale in the last five years—requests to speak with either of the writers for this story were respectfully declined.  "If you didn't like the finale, I guess that happens. We tried something and it didn't connect with you. I hope we're still friends," Bays wrote.
In his tweet, Thomas expressed nothing but gratitude. "Thank you all. I mean it: Every possible reaction to the last 44 minutes...thank you all..." he wrote. "The fact that we have been a TV sitcom that has received this much passion from fans, for 9 years (not just tonight)—thank you. We wrote a comedy with dramatic elements till [sic] the very end. Thanks for taking that ride with us."
"We did a finale about life's twists and turns and that is not always what happens...but THANKS! Seriously - no matter what you thought of tonight, THANK YOU...you were with us," he continued. "We love you. Thanks for this ride."
The thing about the ending to the ride, though, is that it didn't have to happen this way. As Bays tweeted a week after the divisive finale aired, he and Thomas had crafted an alternative ending to their long-running CBS sitcom that would be made available as a bonus feature when the complete series DVD collection was released that fall.
"16 days ago today we were in the HIMYM edit room, trying to decide between two very different endings. We only shot one script, but through edit room magic we had two possible outcomes for the series," he wrote. "We chose the ending we chose and we stand by it. But we loved the other version too."
And chances are, viewers might've loved that one too.
In the alternate ending, Tracy doesn't die, Robin and Barney (Neil Patrick Harris) don't get divorced, and everyone gets their happy ending without anyone getting offed in the process. If only.
Speaking with press immediately afterwards, the show's stars seemed to share some of the public's misgivings about how it all ended. Radnor admitted to Vulture that he'd known about the twist ending since the show's early days, but didn't expect Bays and Thomas would ever actually go through with it. 
"They had mentioned to me the twist about the mother in the first season, and I kind of put it out of my head," he told the outlet. "I didn't know if they would actually want to come back to it and do that, especially after Cristin, because she was so wonderful and the fans seemed to really take to her. So I asked them 'Are you guys still doing that?' And they said yeah."
Alyson Hannigan, who played Ted's BFF Lily, admitted to Australian news site news.com.au that she didn't think the show should've ever gone through with Barney and Robin actually tying the knot—despite the fact that the entire final season took place over their wedding weekend. "I didn't think Barney should have ever gotten married," she said. "I liked Barney and Robin. But in my heart, I always wanted her with Ted. I just feel they [Barney and Robin] shouldn't have gotten married."
As both Hannigan and Radnor explained in their separate interviews, there was plenty of footage from the finale left on the cutting room floor.  "I was bummed they didn't just make it a two-hour season-ender, so they would get to show certain parts [that were cut]," Hannigan said. "The table read for the finale was so good, so right, but it was also like 14 hours long. So when I actually saw the final version of the show, I was like 'they cut out everything!'"
"It just seemed too quick. Obviously it was a tear-jerker, but with all the stuff that got cut out it was too fast...like 'OK, now we're going to find out the mum's dead, then suddenly, OK — he's with Robin now', and you're just like, 'wait, what happened?!'" she continued. "There was a funeral scene [that got cut], and all this stuff that I think the audience needed. They needed that time to process that information, instead of having it slap them in the face."
According to Radnor, there was also a scene between him and Smulders set in a diner that he believed would've helped make the final twist regarding Ted and Robin sit a lot easier with the audience. At the very least, he thought, it would've helped make clear that Ted hadn't been pining away for Robin the entire time he was married to Tracy. "They cut a scene that Cobie and I shot between Ted and Robin. I thought it was a really important scene and I talked to Carter and Craig about it," he said. "I understand why they cut it, but I thought it laid in that Robin had been thinking about Ted all these years more than Ted had been thinking about Robin. But who knows?"
Perhaps one of the reasons why Bays and Thomas remained so committed to their controversial conclusion was the fact that they filmed scenes for it. 
As actors Lyndsy Fonseca and David Henrie, who appeared as Ted's grown children in brief scenes throughout the series, reacting to their dad's story, admitted to TVLine, their pivotal scene in the finale's final moments was filmed back in season one because Henrie was going through puberty and the producers wanted to make sure he looked the same throughout the course of the show's life, however long it might be.
"Everyone abandoned the stage, and it was just me, Lyndsy and the two show creators," Henrie revealed. "We had to sign [non-disclosure agreements] as far as secrecy."
Fonseca added, "We signed a confidentiality agreement saying that we would not say who the mother is. They also didn't know how many years the show was going to go. They filmed the ending of the show then just to have it."
And if the show hadn't lived nearly as long as it did, the identity of the mom would've been a whole lot different. Had the show been canceled early into its run, Ted's love interest introduced at the very end of the first season's 13 episodes—Ashley Williams' Victoria—would've been the one. "Early on, I wanted Victoria to be the mom," Hannigan told The Huffington Post in 2015. "I guess Carter later said had we got canceled she would've been the mom. But, you know, somebody great would come on [the show] and we would be like, 'Yeah, we want her to be the mom,' so it was sort of just like whoever was on for a long period of time. We're like, 'Let her be the mom. Let her.' We just loved everybody."
While there are plenty of fans who probably wish they'd never laid eyes on HIMYM's complicated closer, at least one of the show's stars has gone on record to say they actually never have. Jason Segel, who starred as Ted's other BFF and Lily's hubby Marshall Eriksen, told Australia's The Daily Telegraph in 2017, "If I am totally honest, I never watched the ending. I'm aware of what happened, but there is something for me about leaving that show with an ellipsis. I like that in my own mind it's still alive."
The good news in all this for Carter and Bays is that they're not alone. How I Met Your Mother is hardly the first series to deliver a finale that left its fan base feeling less than satisfied. In fact, they're in some pretty good company.
How I Met Your Mother is available to stream, in its entirety, on Hulu.