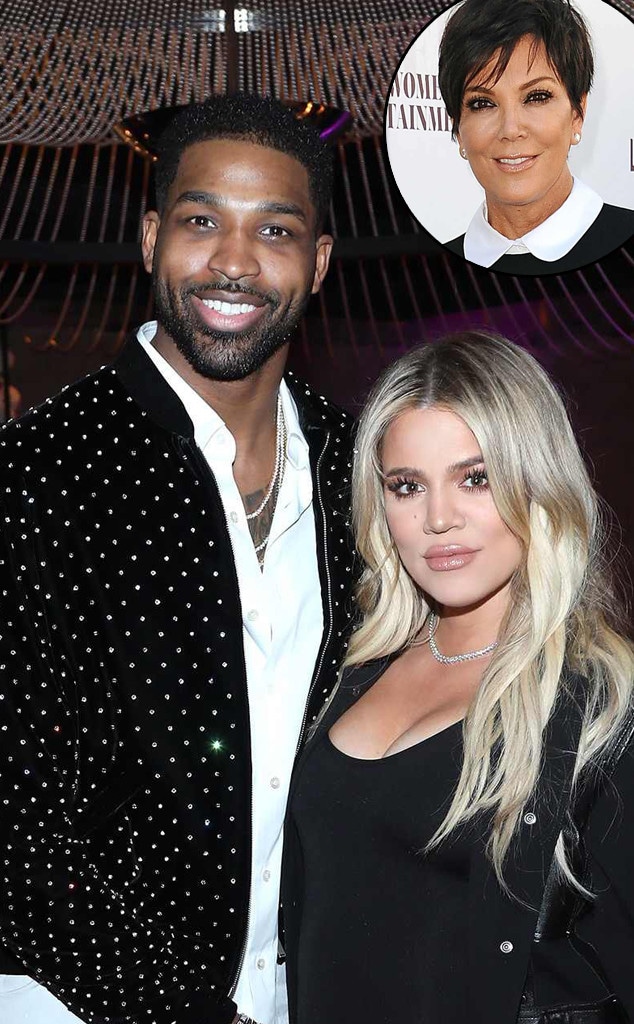 Getty Images
Kris Jenner is speaking out about the scandal involving Tristan Thompson and Jordyn Woods.
It's been just over a month since reports emerged claiming that the Cleveland Cavaliers star had allegedly hooked up with Kylie Jenner's BFF at a house party. Amid the allegations, E! News confirmed that Khloe Kardashian had called it quits with Tristan, the father of her child.
"The family has done so much for Jordyn," a source told E! News after the scandal broke. "To say they are disappointed is an understatement. She was a friend to all of the girls and they are stunned and in disbelief."
In early March, Jordyn appeared on Red Table Talk, where she addressed the alleged cheating rumors with Jada Pinkett Smith.
During the talk, the 21-year-old model admitted that Tristan did give her a "kiss on the lips," but was adamant that things didn't go beyond that. 
Watch:
"KUWTK" Highlights Kardashians' Real-Life Struggles This Season
Earlier this week, E! News released a supertease for the upcoming Keeping Up With the Kardashians season, in which Khloe can be seen breaking down in tears over the scandal. 
"It just sucks it has to be so public," the Good American co-founder cries in the video preview. "I'm not just a TV show. Like, this is my life."
Ahead of the season 16 premiere this weekend, Kris spoke with Ryan Seacrest about the drama surrounding the family.
"People watch the show and we remind them of things that their family might be going through or things that they're experiencing or don't want to talk about," Kris shared Friday on On Air With Ryan Seacrest. "And suddenly here it is right there for them to watch and see how they might handle it or go through it because it's real."
Charles Sykes/Bravo/NBCU Photo Bank via Getty Images, George Pimentel/Getty Images
The scandal with Jordyn impacted the lives of the entire Kardashian family, who were all very close with her over years. When asked how she copes amid the difficult times, Kris told Ryan that she prays about it.
"First of all, I pray about it. I really do," Kris shared. "I find the spiritual side of me has to kick in because otherwise I feel like I wouldn't survive. But, I think that my kids make really good decisions...and as challenging as some of these situations are, I think that because they have one another and they try to make really good decisions, that they're going to come out the other side with a lot of clarity and a lot of honesty and do what they feel like is the right thing."
"I think [having] kids has really made such a difference obviously in all of their lives [too]," the momager added, noting that Kendall Jenner is the only one without a baby now.
In addition to the scandal, Kris also addressed her baby, Kylie, becoming a billionaire.
"Kylie is an old soul and she's super smart and she's really responsible and she works hard," Kris told Ryan. "She's got the most amazing work ethic and she's really creative so at this point I just show up for work and say 'OK, boss, what are we doing today?'"
Keeping Up With the Kardashians returns this September, only on E!