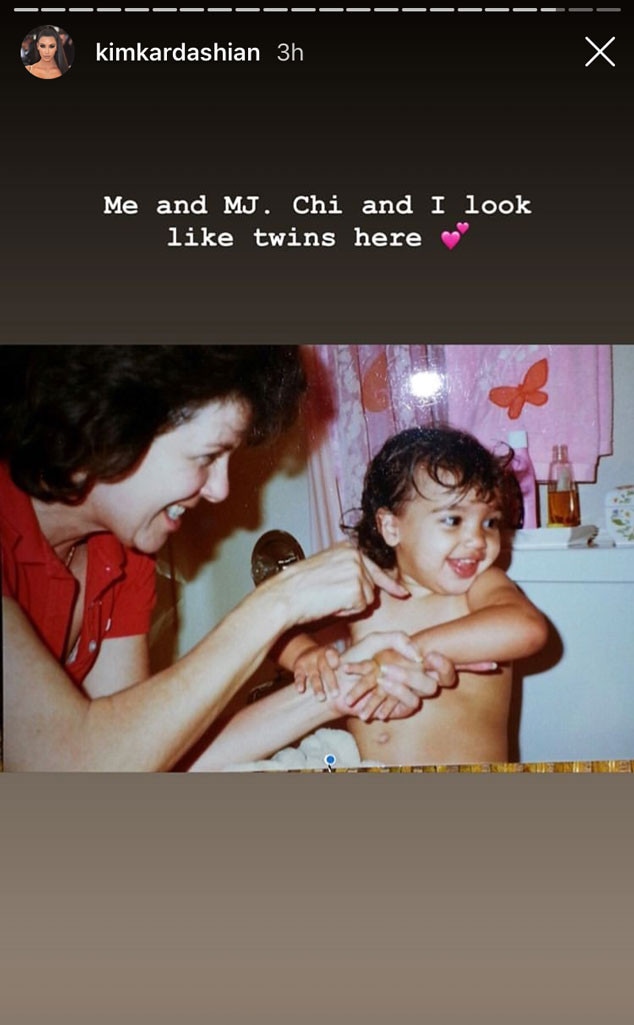 Instagram
Twinning!
Kim Kardashian really got into the Throwback Thursday spirit this week, posting a series of old photos and videos with her family and friends on social media. Along with the pictures, Kim provided commentary for her fans on each throwback snap.
"Can't sleep going through old pics," the Keeping Up With the Kardashians star told her social media followers late Thursday night.
In one of the shared pictures, a baby Kim can be seen smiling alongside her grandma, MJ.
"Me and MJ," Kim captioned the sweet photo, adding that she and her 14-month-old daughter Chicago West "look like twins here."
In another photo, a 9-year-old Kim can be seen with her BFF Allison, both rocking bows in their hair.
"Allison & I so very cool at 9 years old," Kim captioned the picture. "JoJo Siwa has nothing on us and our bows."
Proving that she's always been an Adidas fan, Kim also shared a photo with her pals (including sister Kourtney Kardashian) from their teen years.
"I always wore the 3 stripes and a baby tee," the E! star wrote alongside the pic.
Years later, Kim would tie the knot with Kanye West, who has a very successful Yeezy collaboration with Adidas.
Before heading to bed, Kim shared one final post with her fans, a video in which "psychic" Khloe Kardashian makes a major prediction.
"Her name is Kim, and she's really pretty...she's gonna be famous when she grows up," Khloe says.
And then, with a laugh, Kim replies, "Oh, I know that."