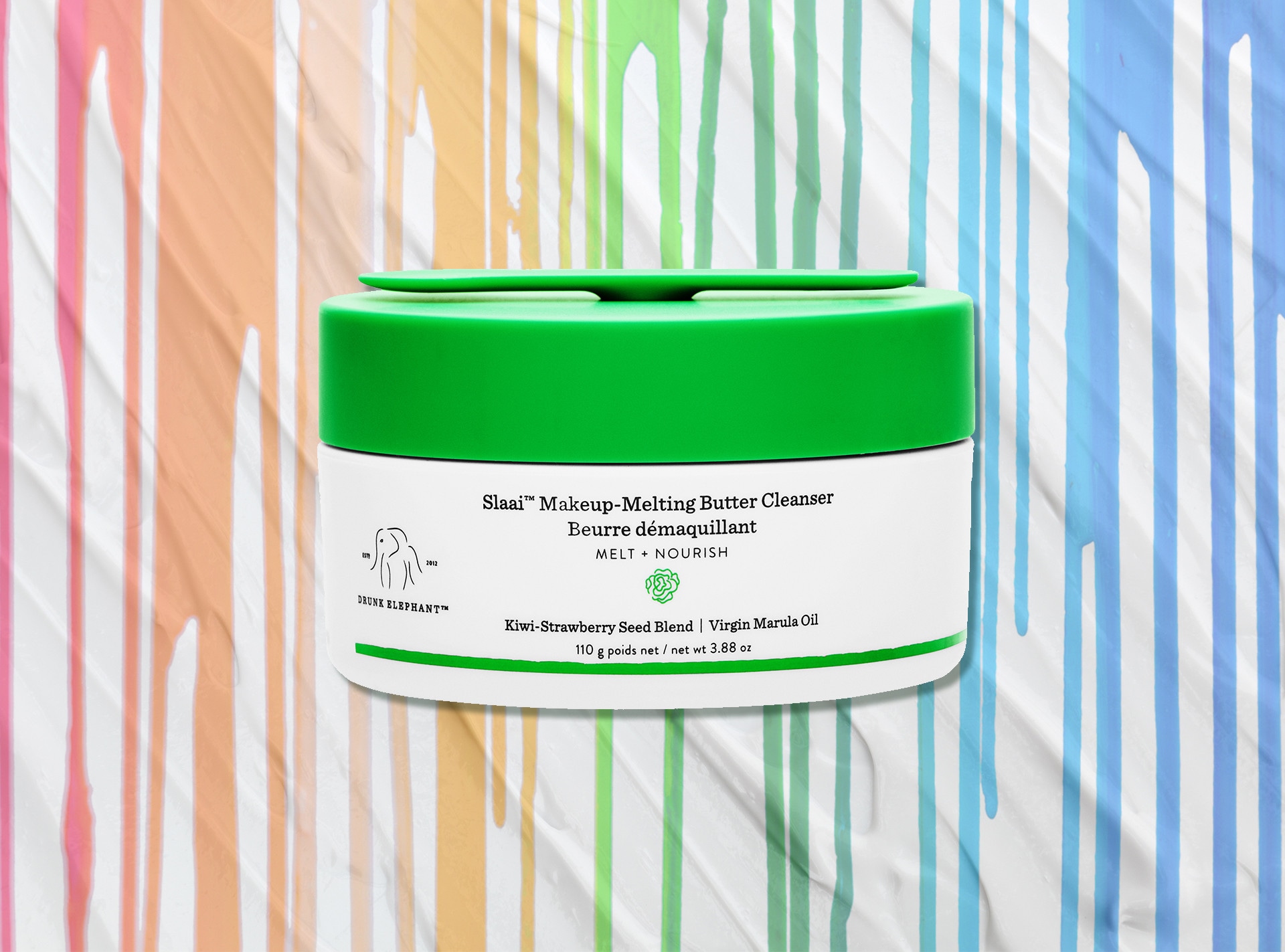 We all use a face cleanser of some kind on the regular, but how satisfied are you with yours—really?
Half the time you're using whatever is in front of you, be it a bar of soap or something new you're trying from Sephora. But if you wear makeup, rarely do you ever get it all off with one effortless wash.
Well, we've got big news that's about to change your life. Drunk Elephant, the aesthetically pleasing skincare brand your beauty junkie friends are already obsessed with, just dropped (today!) a game-changing makeup-melting butter cleanser. Trust us: We've tried it, and it's legit. It removed our full face of makeup so easily actually that it made us wonder what we've been doing all these years.
First off, it truly is a velvety, butter-like consistency. It also comes with a cute matching magnetic spoon on the top, so all you have to do is dip it in the product and grab a dime-sized amount. 
What's different about it is that you apply it to dry skin, not wet. Immediately, the oil melts into your skin and feels so nourishing you'll want to keep massaging it in. As you're massaging, you'll notice any residue immediately lifting from your face like magic. When you're ready to rinse, a quick splash of water activates the butter into a creamy milk that rinses cleanly, leaving you with a dewy glow.
Seriously, at this point you skin is feeling fresh and comforted, almost like you've already put on a serum or an oil ready to crawl into bed. 
A few other bonuses: It's unscented, so it feels natural. And it actually is. It's packed with a blend of kiwi-strawberry seeds and virgin Marula oil, which we should also mention is extremely beneficial for keeping your browns and lashes happy and healthy.
More good news: It'll only cost you $34, which is such a steal because it's huge jar and a little goes a long way. Again, it just launched today and we have a feeling it's going to go fast.
BUY IT: Drunk Elephant Slaai™ Makeup-Melting Butter Cleanser with Bamboo Booster, $34 at Sephora 
We love these products, and we hope you do too. E! has affiliate relationships, so we may get a small share of the revenue from your purchases. Items are sold by the retailer, not E!.