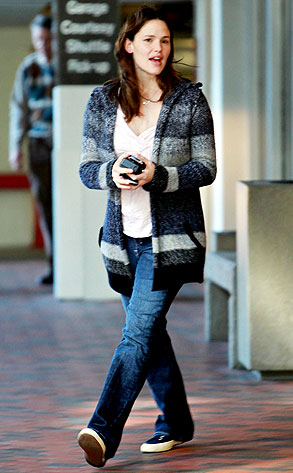 Fame Pictures
Jen Garner's been working nonstop, it seems—we're not talking about acting. We mean the full-time job of convincing the public she and hub-unit of the mo' Ben Affleck are still happy as a pair of East Coast clams.
Please, we see right through your faux smiles; give us a break, the both of ya. Jen took her own rest from behaving like the perf li'l wifey to spend some quality time with baby Seraphina on the set of her new funny flick, The Invention of Lying (or This Side of the Truth, or whatever the hell it's so appropriately called). And there were a helluva lot of lies going around, par-tick when it came to Jenny's postbaby bod:
"Jennifer looks radiant," an on-set source told Celebuzz, mentioning that Jen's costumes are a size 8. Down to such a small size in less than two months from giving birth? Can Jen work the same miracles when it comes to her marriage?
Get ready to start seeing heaps of photo ops of Jen out with her new bod and new baby—but not with Ben. He's far too busy.