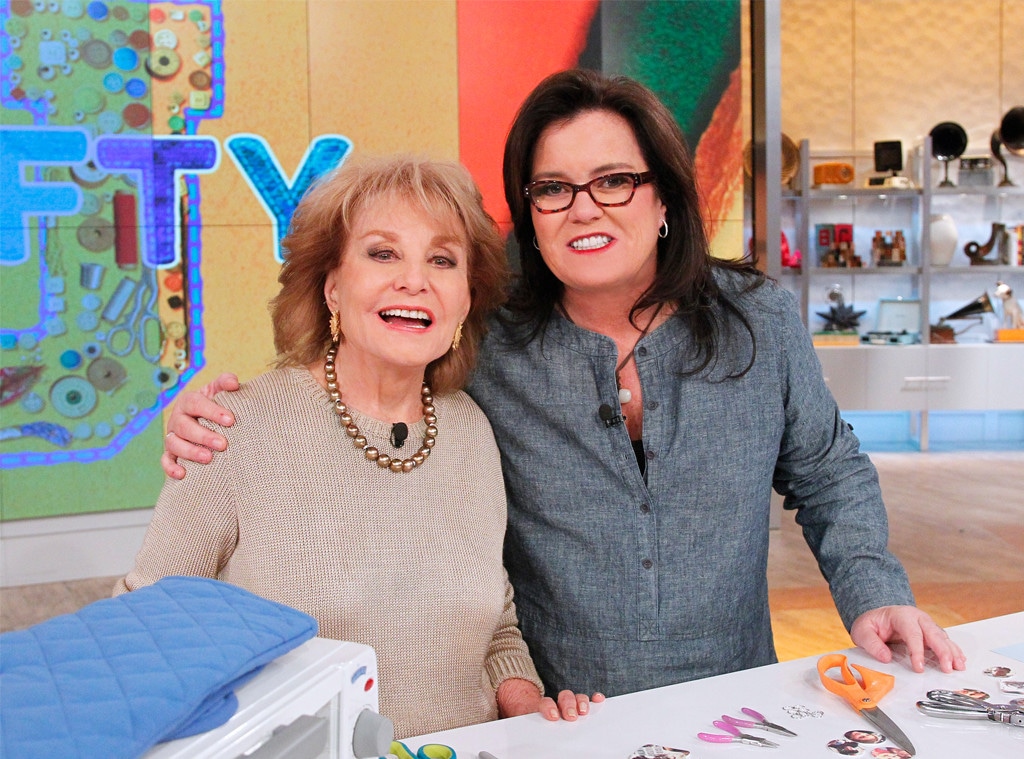 Lou Rocco/ABC via Getty Images
More details are coming to light about the hit daytime talk show The View.
Ramin Setoodeh, the New York bureau chief for Variety, wrote a book called Ladies Who Punch: The Explosive Inside Story of "The View" which is where many of these new revelations have been coming from. Huff Post reported on Wednesday night that they are the first publication to receive the full copy of the book rather than excerpts, and have published new details about the show and the workplace as a whole. 
Huff Post's Yashar Ali described it as a "breathtaking level of workplace misconduct, unethical behavior and dysfunction behind the scenes of the top-rated television talk show."
The book is expected to come out on April 2.
According to Huff Post, Barbara Walters is painted in a rather unfavorable light. Ali writes that Walters "held a tight grip on the show, but was also deeply egomaniacal and threatened by women who are more popular." These "more popular" women supposedly included Rosie O'Donnell and Joy Behar. Ali explained that Ladies Who Punch alleges that Walters even leaked information to the press about other women on the show that was often embarrassing.
One instance was allegedly when O'Donnell wrote her book called Celebrity Detox. According to Ali citing Setoodeh, O'Donnell supposedly sent a copy of her book to Walters despite the fact that the two of them were not speaking at the time.
Walters was apparently not portrayed very lovingly in the memoir. Huff Post says Walters was painted as a narcissist and as someone who was unhappy when O'Donnell got more praise from the audience members. O'Donnell also wrote that she thought Walters should retire from the program but she was still on the air due to some internal politics from ABC higher-ups.
Walters, seemingly unhappy with this, allegedly took the book to ABC execs who then agreed to leak it to the New York Post. Huff Post reports that the book says the Post would have the exclusive only if they "framed O'Donnell as the villain and had psychologists analyze her mental health for the story based solely on reading the book."
The New York Post ran a piece about O'Donnell on Sept. 16, 2007 and it is a scathing review of both the memoir as a whole and O'Donnell herself. One paragraph reads, "Hitting the shelves Oct. 2, the book is a Freudian frolic down memory lane that lays bare O'Donnell's man-hating and mummy-hungry adult ways, while revealing clues to a secret trauma from her troubled Long Island childhood, two shrinks say."
The O'Donnell memoir leak is reportedly just one instance where Walters allegedly had some role in the leak. Ladies Who Punch allegedly describes Walters' reign over the newsroom as a place that, in Ali's words, "allowed workplace misconduct and dysfunction to thrive at the program."
In the recent days, more and more details and excerpts from the book have been shedding light on the tenuous relationships at The View. Many of these involve O'Donnell. In one excerpt published in Variety on Monday, O'Donnell revealed that she didn't actually hate her co-anchor Elisabeth Hasselbeck, but rather she had feelings for her.
"There was a little bit of a crush. But not that I wanted to kiss her. I wanted to support, raise, elevate her, like she was the freshman star shortstop and I was the captain of the team," O'Donnell said.
Hasselbeck appeared on Tuesday's episode of The View and addressed the situation. "Lord, help me. This is how I believe this needs to be addressed—both truthfully and maybe where I would have addressed it with some grace in years past, and haven't, I will now," she explained on the show.
The commentator called the remarks "insulting" and "reckless" and then said, "But if you replace what Rosie said and you take her name out and you put in Ruben or Robert, then we would be in a situation where you would see the objectification of a woman in the workplace. And that's disturbing because where we may be really against that when it comes from a man to a woman, you don't get a pass because you're a lesbian objectifying a woman in the workplace. You just don't."
Later on Tuesday, O'Donnell took to Twitter to clarify her words. "hey eh - my crush on u was not sexual - sorry u got scared - surely u recall b4 it all went wrong - i never objectified u - i did find u fantastic - broadway shows - my pool -we were friends once. god love ya kid - i always did," she wrote.
O'Donnell also came out and said that Whoopi Goldberg was "as mean as anyone has ever been on television to me."
She added, "The worst experience I've ever had on live television was interacting with her."