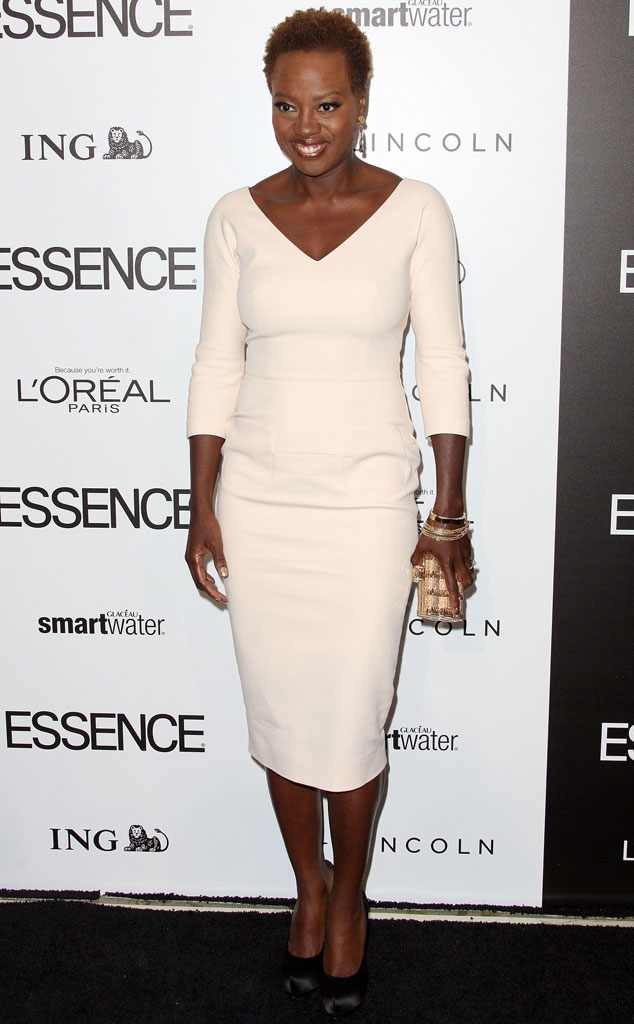 Frederick M. Brown/Getty Images
Viola Davis has officially been inaugurated into the "celebrities who skydive" club. 
The How to Get Away with Murder star shared a series of videos on her Instagram page on Wednesday that showed her gearing up for the big jump. She did the adrenaline-inducing activity in Hawaii and explained in her caption why she took the literal and metaphorical leap.
"So....I jumped out of a plane. Yup. I did it. 12,000 ft and 100mph drop," Davis wrote. "It was awesome and the ultimate exercise in letting go, tackling my fears and freedom."
The Oscar winner said she "loved it!!!!" and then shared a quote that resonated with her: "As a smart woman once said, 'Courage is fear said with prayers.'"
Davis poked fun at herself in her hashtags, which included #BlackGirlMagicOrBlackGirlCrazy, #GladIDidntWearAWig and #ForgiveMeForMyCussWordsAndJackedUpHair.
Before heading up into the plane, the instructor tried pumping her up as she was "getting ready" for her first skydive. It was a perfectly sunny day with blue skies and not a cloud in sight. 
The instructor asked how she felt and she said, "I'm feeling a little anxious, but I'm ready."
She even gave two thumbs up as extra confirmation. Davis added, "I feel alive. My will is done, signed, sealed, delivered."
She had one extra word to say to the instructor: "As long as you're not nervous, I'm good."
Once they were on the plane and hitting the right altitude, her instructor asked, "Still think this is a good idea?"
While some people might say "no" with some expletives sprinkled in there, Davis was assertive about her feelings.
"Yes," she replied.
She hadn't even jumped out of the plane at this point and it's clear she should one day soon author a book called How to Get Away with Skydiving.
Once the 53-year-old actress and her instructor made the big leap, she screamed, "Holy s--t! Holy s--t! Mother f---er" and more. Davis also started singing Montell Jordan's song "This Is How We Do It."
Yes, this is how you do it!
At the end of it all, Davis summed up the experience in one word: "Awesome!"
Many fellow Hollywood celebrities offered their congratulations to the star. Shonda Rhimes commented, "Go! Go! Go!" and Janelle Monae wrote, "Welcome to the club!! Isn't it amazing!!" Ellen Pompeo, Reese Witherspoon, Sinbad and Yvette Nicole Brown also praised her for doing this.
Will Smith and Jada Pinkett Smith are two of the most notable celebrity divers as of late. The Aladdin star decided to bungee jump out of a helicopter and did it as a dare to himself for his 50th birthday and made a whole series about it. Will jumped out over the Grand Canyon on September 25 and although he started off "a little shook," he felt totally alive after diving.
"Nothing will ever be scarier than that," he said afterwards. "It goes from complete absolute terror to the most magnificent bliss you've ever felt in your life...The whole Grand Canyon is mine."
The Red Table Talk host also went skydiving for her husband's birthday but she did it a few weeks after the fact. She said Will asked her to do it and so she made the jump in Dubai. Although the entire experience was "interesting" to her and she conquered her own fear, she told Jimmy Fallon she most definitely would not be doing it again.
Congratulations on the achievement, Viola!