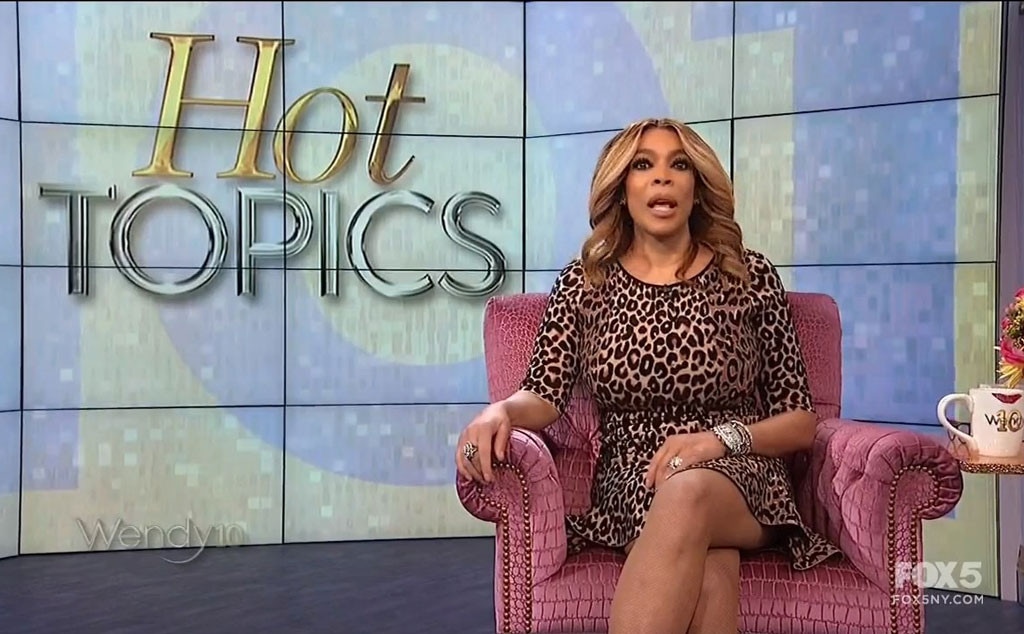 Fox
As someone who's been passing judgment on the issues of the rich and famous from the lofty perch of daytime TV for over a decade, Wendy Williams knows just how heated the demand for answers can get.
This time, it happens to be Williams who has everybody asking questions.
The latest perfect storm of natural and man-made disaster is currently flurrying around the veteran talk show host and author, who started 2019 on an at-first unexplained "extended break" from her eponymous syndicated show after closing out 2018 admittedly in pain and nowhere near the top of her game—which, when she's on it, makes her appointment viewing for anyone craving hot takes on the most pressing celebrity story lines of the day.
"I sincerely apologize if you feel that today's show was less than stellar," Williams wrote on Instagram, addressing an influx of concern for her well-being after a rough episode that aired on Dec. 20. "I'm on your TV screens every day wanting to spread laughter, entertainment and cheer. She had previously missed a taping on Dec. 17, and she fainted on her Halloween show, later attributing it to dehydration and overheating in her sparkly Statue of Liberty costume.
"As I reported earlier in the week," her post continued, "I have a hairline fracture on my upper arm, which hurts like hell. I've never broken a bone or experienced a fracture in my life. In the key place where the fracture is, and trying to scurry around and do too much, I am now paying the price. I've never taken a pain medication in my life (except when I got snatched over 20 years ago) until this week. I did that to power through and try to deliver a great show for you, against the better judgement of the many people around me who genuinely care for my well-being. I really do ride or die for my craft and give 200%."
She mentioned her ongoing battle with a thyroid condition ("don't cry for me, Argentina," she cheekily advised) and thanked her fans for their support and well wishes.
"I promise you a better Wendy in 2019. I will get some much needed rest and healing over these next couple of weeks...Sorry again. I love you all. Happy Holidays!"
But first she missed her scheduled Jan. 7 return date, and then her Jan. 21 return date passed by as well.
No explanation was available right away, but on Jan. 18 Williams' family let it be known that she was being treated for complications of Graves' disease, an autoimmune disorder she was diagnosed with a year ago, and was looking at "significant time spent in the hospital." She was taking an "extended break...to focus on her personal and physical well-being."
Show distributor Debmar-Mercury said in statement: "For over ten years, Wendy has been a vital part of the Debmar-Mercury family. We wholeheartedly support Wendy in this decision to take the time she needs and we will welcome her back with open arms the moment she is ready."
New episodes of The Wendy Williams Show were set to begin on Jan. 28 with guest hosts...and they eventually began with Nick Cannon as the first of a few fill-ins on Feb. 4.
"I spoke to Wendy," the former America's Got Talent host said in kicking off his week sitting in for Williams. "I talked to her! And honestly, she sounded amazing, y'all. We jumped on the phone and first thing she said," slipping into a Wendy impression, 'Nick Cannon, how you doin'?!"
"Honestly, I didn't know what to expect at first," Cannon continued, "but her spirit was so big, it was so amazing. And you know what was also really awesome? I had a conversation with her and her whole family, and she said they wanted to speak as a family unit—her, I talked to Kevin, little Kevin, they said they all good. The love and the passion is still there—'cause that's what you need at times like this, is you family to stick together with you!"
More on that later.
"She knows there are probably a lot of questions that haven't been answered and stuff," the guest host added, "but as someone who also deals with an autoimmune condition [Cannon has lupus], I know when you go through these things and these flareups and stuff, you never know. It's day by day, y'all."
And with that, the rumors started swirling even harder.
Since she missed her start date in January, inquiring minds were wondering whether Williams was really having health problems, or was it her personal life that demanded her full-time attention?
In September 2017, she acknowledged that she had become the hot topic in light of a Daily Mail investigation into her husband and business partner Kevin Hunter's alleged double life, which involved living part-time with another woman.
"One plus one does not equal three. This woman is a friend of Mr. Hunter but there is no 'there' there," a rep for Williams told E! News at the time.
"I stand by my guy," Williams said on her show, flashing her diamond ring. "We commuted this morning. The paparazzi was outside, catching me in the cutest negligee...All is well in Hunterville. Don't believe the hype and if there was hype, believe me you—I would let you know!" 
Williams and Hunter, her second husband, have been married since 1997 and are parents to 19-year-old Kevin Hunter Jr. 
Hunter is now also reportedly a father to a daughter with girlfriend Sharina Hudson, according to Page Six and Love B Scott (which revealed Williams had sent a cease-and-desist letter in response to a report that Hunter may have gotten Hudson pregnant).
E! News could not independently confirm that the baby is Hunter's. Hudson was discharged from a Philadelphia hospital on Sunday.
"There can be negativity our there, and she hears the things about people talking about her family unit," Cannon also said last month, "and what's goin' on...and she was like, 'you know what, we don't want to bring that negative energy when you're trying to heal.' And you need your family and you need your friends in moments like this, and that's when love is truly tested, when you know I'm gonna stick through this regardless of what's going on."
OK, but what was going on? Really?
Williams didn't return to her post until this month, leaving plenty of time for the "is she ever coming back?!" hysteria to settle in.
In fact, after just a few days of Cannon handily filling in, DailyMail.com reported that show staffers were clamoring for a hosting shakeup, and they felt that Cannon would fit in just fine.
"I mean it's probably time Wendy steps away from the show," claimed one fed-up source. "She's not authentic anymore. How can she discuss hot topics when the biggest topic involves her husband publicly cheating on her for years? It's really sad as you'd think that Wendy would have more respect for herself and she would stand up, dump her cheating husband, take control of her business and empower women who are going through the same thing."
In 2013, a source told the New York Daily News that Hunter had become a controlling presence on the set, requiring that guest bookings and other key decisions be run by him first, and it was unfathomable to those who knew Williams as the strong force to be reckoned with that she usually is that she was allowing him to act that way. Around that time Love B Scott also reported that show executives would rather Hunter not be there.
Meanwhile, the one insider told the Mail Online, "We all want Nick to replace Wendy. He has been an absolute dream. Everyone on the team adores him and he's such a professional."
Cannon was quick to shut that down, posting on Instagram on Feb. 8, "Nobody can replace Wendy!!! There is and will only be one Wendy Williams! I'm a fan. Sending Positive Vibrations & Praying for the Queen and her peace. She will be back on TV in no time!"
On the paperwork side, The Wendy Williams Show is renewed through the 2019-2020 season, and Williams herself has a contract with Lionsgate that lasts until 2022.
Also last week she received her fourth Daytime Emmy nomination for Outstanding Entertainment Talk Show Host.
Williams told Fortune in 2017, "I think authenticity is the name of the game" and she didn't have time to worry about being likable. On The Howard Stern Show that July, she said, talking about make her show's world go round, "The sauce is in a supportive staff. My staff, they can call me anytime they want, but I also have another life, and that other life" keeps her sane.
"I take a nap, I take care of our son, I make a dinner," Williams said. "This is the stuff...that keeps my mind sane, so when I get up in the morning, I'm normal."
And, two years later, despite the anonymous grumblings, it's not as if the staff is running for the hills.
Another show source told the Mail Online last month, "Just remember—the show is called Wendy. So it needs Wendy Williams back—but when she comes back, she better not bring Kevin back with her because we've all had enough of him."
Upon her emotional return to her show on March 4, Williams—who in early February was spotted in Florida, where her parents live, further fueling speculation that she was on the verge of ending her marriage—addressed the rumors swirling about her and Hunter, the state of affairs between them once again a hot topic.
After thanking her audience for waiting for her and talking about the hyperthyroidism and Grave's disease-related issues she had battled during her time off (and her weight, as always), she added, "I want to shout out to my husband. I'm still wearing my ring.
"Believe me you, when you've been with somebody for 28 years...married for 25 years...we know each other. He's my best friend, he's my lover, he's all this and he's all that. I know what you've been seeing and I know what the streets have been talking about."
Pulling up a photo taken "before any plastic surgery," she quipped, Williams said, "Let me show you who I fell in love with and who he fell in love with. It's still me in the head and I am still very much in love with my husband."
Bernard Smalls for The Hunter Foundation
But some fans, as well as her staff apparently, are wondering why. 
Hunter and Williams have a complicated, if extraordinarily devoted, history, and their volatility as a couple has extended to the set of her show, on which Hunter—who's also his wife's manager and partner in Wendy Williams Productions—serves as an executive producer.
She caught him cheating when their son was about a month old. As she detailed in her 2001 memoir Wendy's Got the Heat, she overheard a phone conversation between him and another woman while her parents were staying with them to help out with the baby.
Williams chose to forgive him, however, and insisted on Vlad TV in 2013 that his infidelity and her subsequent forgiveness "has made our marriage—and I know this is cliché, but it's true—it's made our marriage stronger. No, I'm not back to the girl I was before him, because when you get stung like that, you never go back to who you were. Only a fool does."
She acknowledged that a younger version of herself would have never entertained the notion of taking a cheater back, "but I did, and I don't regret it. I do think it's a double standard with cheating. I think that you men are just sometimes so neanderthal that you could never put up with your woman cheating, a man putting paws on your meat. But women have got to deal with that fact, many of us, at some point in our lives."
And so Williams unsurprisingly concluded on that first show back, "Anybody who's been married for 5 minutes or 500 years, you know marriages have ebbs and flows. Marriages are not easy. Don't ask me about mine until you see this [ring] gone and it ain't going anywhere—not in this lifetime."
Well, that bling is always on her finger when the cameras are rolling, but perhaps she didn't plan on photographers snapping her heading into work on March 25 with a bare left hand.
Fool her once, shame on her. That ring was back on when she was spotted meeting Hunter in New York after her Pilates class on Wednesday, following the reports that he had a new baby with his mistress.
But while she persists in putting up a strong front with Hunter, Williams has been opening up about other struggles with her audience.
On March 19, she shared that she had been living in a sober house "for some time now, and even today and beyond."
"When you see me come to work, glammed up, right after the show I go across the street, I do my Pilates. I told you, two hours a day or like to take care of my body. And you know I've had a struggle with cocaine in my past. And I never went to a place to get the treatment. I don't know how, except God was sitting on my shoulder and I just stopped."
(Williams' past "three-gram-a-day cocaine habit" features prominently in Wendy's Got the Heat, in which she wrote that she was "heavily sniffing and smoking" when she first met her husband. She also wrote that being around him "also made me not want to be around cocaine." She didn't go to rehab, but rather was "weaned off the stuff." )
A day in the life was going something like this: "After I go to the Pilates, I go to several meetings all around town in the Tri-state area. And I see my brothers and sisters caught up in their addiction and looking for help. They don't know I'm Wendy. They don't care I'm Wendy. There's no autographs, there is no nothing. It's the brothers and sisters caught up in the struggle. It's been really interesting. This ride."
Her husband and son were the only people in her inner circle who had known until that moment, she said. (Williams also revealed that her and Kevin's Hunter Foundation, which they started in 2014 to help people struggling with addiction, had just launched a 24-hour hotline, 888-5HUNTER (888-548-6837).)
"After I finished my appointments, seeing my brothers and sisters, breaking bread, I am driven by my 24-hour sober coach back to the home that I live in here in the Tri-state with a bunch of smelly boys who have become my family," Williams continued. "They hog the TV and watch soccer, we talk and read and talk and read and then I get bored with them. Doors locked by 10:00 p.m. Lights out by 10:00 p.m. So I go to my room, and I stare at the ceiling and I fall asleep to wake up and come back here to see you. So that is my truth."
Hence the rumors flying that Wiliams had fallen off the wagon in light of the baby reports. But not only was Williams back at work as usual on Wednesday, Hunter was on the set, too, according to TMZ.
"Today was a great taping," an audience member told E! News after Wednesday's taping. "Her energy was really high and you wouldn't be able to tell that she had all that stuff going on. She did look frail, though. She was being helped around on stage by her bodyguard. But she really seemed to be putting on a brave face. She never addressed what's going on with her husband."
Another member of the audience also noted the bodyguard helping Williams around.
Added another person, "Today was great. You wouldn't know she is going through so much." At the same time, multiple people noted that she didn't pose for selfies or otherwise interact with the audience, aside from thanking them for being there.
Next week the show will be on a planned hiatus for spring break and will return all new on April 8.
The audience didn't see Hunter yesterday, but that's not unusual, as he's usually behind the scenes.
After Williams talked about the sober house last week, he told Entertainment Tonight that—similar to what they all told Nick Cannon last month—they were all in it together.
"Wendy is doing well. We're doing well as a family," Hunter said. "We are moving forward with working on her sobriety and doing the work to help others, not just ourselves. It is a family process. Anybody that has to deal with this knows this a family process... and we are dealing with it and moving forward."
Wherever forward leads.
—With reporting by Jessica Finn