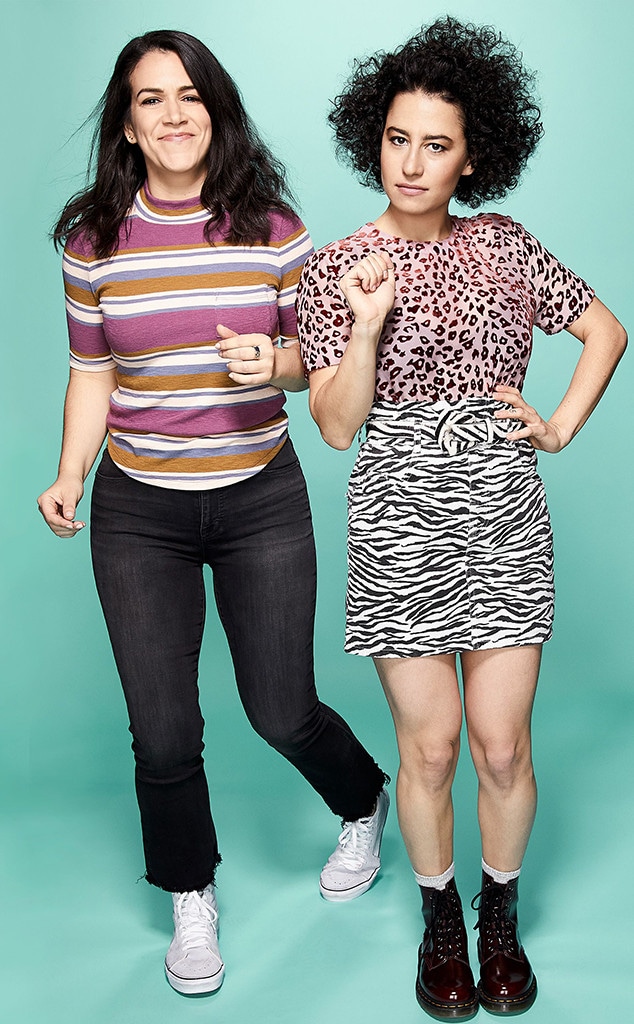 Comedy Central
When you know, you know.
Fans of Broad City have had nearly a full year to come to terms with the idea that the scrappy little comedy created by and starring Abbi Jacobson and Ilana Glazer would end its run with the conclusion of a fifth season. And yet, that still hasn't fully prepared us to say goodbye to their alter egos, Abbi Abrams and Ilana Wexler, with the series finale, airing Thursday, March 28 on Comedy Central.
But for the two multi-hyphenates at the heart of the series, who've been not only playing these characters, but also writing, directing, and producing their exploits to some degree or another since launching Broad City as an independently-produced web series a full decade ago, the decision to untangle themselves from their fictional counterparts couldn't have come at a more appropriate time or ring any truer to the heart of project that launched their careers.
"We're ending the show because we really feel like this series captures a certain moment in one's life, a young person's life. And we just wanted to stay true to that," Glazer told Variety on the red carpet ahead of the show's final SXSW screening in early March. "So as our lives related less and less to the characters, we wanted to keep the show going as long as it felt true to us, authentic, and as long as we felt that we were the people to represent the story."
As the pair explained during a Q&A with Comedy Central president Kent Alterman following that screening of the show's final three episodes, the decision was made as they got to work breaking stories for the fifth season, not prior. Of course, that meant they needed to let Alterman in on their plan. And so, Jacobson invited the exec to coffee to have "the talk." "I did it at Blue Bottle coffee," she whispered into her microphone. Luckily, he understood.
Watch:
"Broad City" Stars Play 'Broads Throughout History'
According to Glazer, that the decision came after an especially grueling fourth season—which saw the unabashedly progressive creators completely re-conceptualize most of their plans once Donald Trump was deemed the victor in the 2016 presidential election—was no coincidence. As she told the New York Times in a joint interview with Jacobson this January, the state of the country following that contentious period of time forced the pair to consider how their alter egos might begin to evolve. "Before, part of the joke was, ha ha, these white girls don't have to grow. Because in your early 20s, you're the same idiot, over and over and over again," she said. "And then Season 4, we couldn't help but grow because we were so angry and disgusted with ourselves."
"That's not why we needed this to end," she conceded. "It was more like, the fourth season was bizarrely political, the process of it, and I think that's why the product turned out that way. Season 4 really took it out of me, from beginning to end, and stretched on for so long. We couldn't do another one after 5. Couldn't do it."
While Jacobson admitted the show could've gone the route of Larry David's Curb Your Enthusiasm or their network sibling Inside Amy Schumer and just go on some sort of extended hiatus until inspiration struck again years down the road, Glazer was adamant that they had no intention of doing that. "Comedy Central was so understanding that we needed to set these personal and creative boundaries, to keep the show as high-quality as it remains," she told the newspaper. "That takes a limb. It takes an entire arm. I've got no limbs left. My head's cut off on the fifth. I've got nothing left to give. There's just a torso on the floor."
Despite the fact that the duo had been contracted to produce more seasons beyond the five, Comedy Central allowed the show to come to what its creators believe is a natural resting point. And they're grateful for it. "It just would've felt like we were forcing it," Jacobson told Variety in January, "and it's so much better for good content to end just a little before it expires."
It didn't hurt the pair had signed a first-look deal with Viacom that would keep them as producing partners for not just Comedy Central, but other Viacom-owned networks (MTV, VH1, and Paramount Network are but a few of the others in the company's cable suite). And as they begin to look to the future, it's the promise of shepherding new voices onto the medium that excites them the most. 
"Not only can we make double the content, but we can usher in more people," Glazer told Variety. "I want us both to bang out business, get shows and movies going that have other voices. I want to get the next generation of talent going. Like, Broad City is so f--king good, but we did it, and now we have other skills. Women need to be in more decision-making positions, and now we are." 
And while they have three new shows in the works as executive producers, they don't have any immediate plans to join any of them in front of the camera. 
"For right now, I think we have to take a break" from acting together, Jacobson told TV Line, "just because we are so associated with these two characters."
But that doesn't mean it'll never happen again. "I can't imagine a world in which we don't ever act together again," she continued. "That's the saddest part for me of ending the show, not getting to act opposite Ilana as them. It's so fun."
As Glazer explained to the NYT, everyone just needs a little distance. "It's like your first love. You're like, I'm going to be with this person forever! And then it's like, no, I'm not. But I'm going to learn from this forever," she told the newspaper. "We both need some space from this universe that we've lived in. We started the web series in 2009. At 31, that's like a third of my life. It's the longest relationship either one of us has ever had."
And until the day that the pair decide it's time to join forces in front of the camera once again, they're just looking forward to returning to a relationship that isn't consumed by a job that depends on it. "I can't wait to be real friends that aren't working all the time," Glazer said. "I'm saying this as a real intention: I really look forward to doing stuff that is not work and checking on each other for being accountable to live actual life, and not always working."
Broad City's series finale airs Thursday, March 28 at 10 p.m. on Comedy Central.