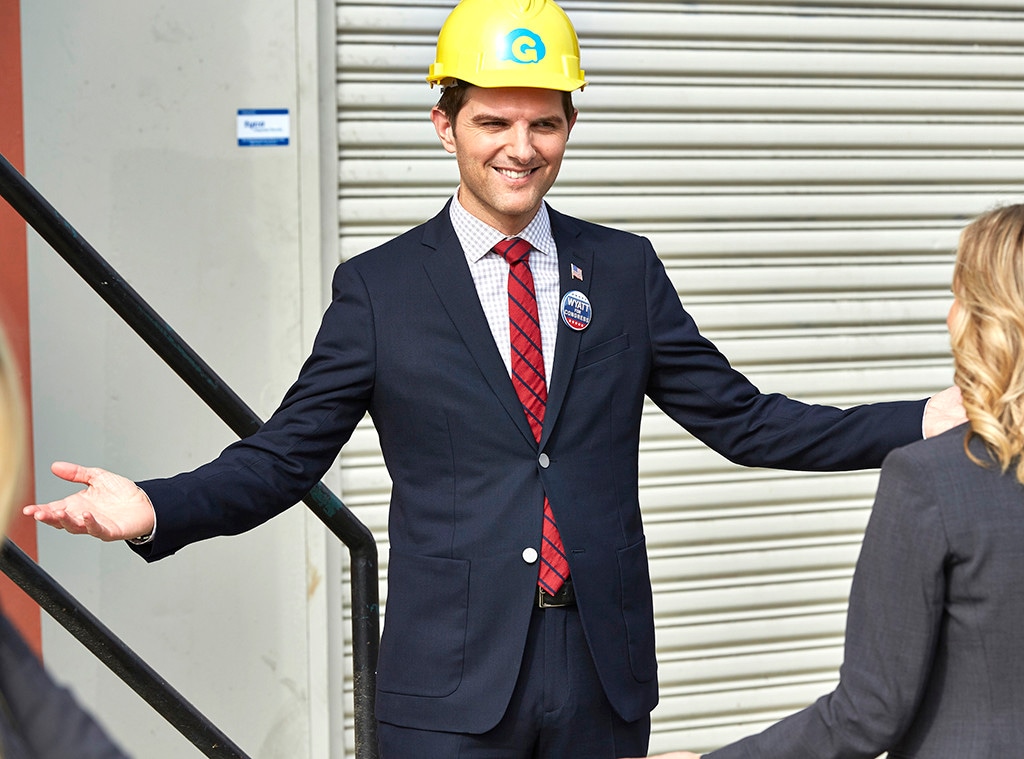 Ben Cohen/NBC/NBCU Photo Bank via Getty Images
We like him, and we love him.
Adam Scott AKA Parks and Recreation's favorite nerd, Ben Wyatt, turns 46 today and we can hardly wait to celebrate him. No, sadly we're not attending some super-secret bash for the actor that has guests like Amy Poehler or Rob Lowe, but we are celebrating him at our office.
It might not be the Parks Department in Pawnee, Indiana, but with a little help from our favorite TV moments from Scott's Parks and Rec character over the years, it'll definitely feel like it.
While Scott has a lot of great acting credits to his name including movies like Step Brothers and Leap Year and TV roles on Wet Hot American Summer: Ten Years Later, Ghosted and most recently Big Little Lies, there is one role that always stands out to us.
Can you guess what it is? Ben Wyatt on Parks and Rec, duh! 
When Scott first joined the cast of the NBC comedy in 2010 at the end of season two, he changed the show as we knew it. Fans of the Poehler-led comedy loved it from day one, but adding Scott and Lowe as recurring stars was a big move and a very good one at that.
Even though Scott's Ben was annoying in the beginning, because he was stern about cutting the Parks Dept.'s budget, season after season he grew on us and now we can't imagine the show without him.
His love story with Leslie Knope (Poehler), friendship with Chris Traeger (Lowe) and overall dorky persona are just a few of the reasons we love Scott and his most iconic TV role.
To see all of the actor's best moments on Parks and Rec keep reading. Trust us, you won't be disappointed.  
Greg Gayne/NBC/NBCU Photo Bank via Getty Images
1. Nerd to the Max
"Hey, Dr. Buttons! I mean, my old calculator. It doesn't have a name," Scott's character Ben said when he found his old calculator and we still can't stop laughing about it.
2. '90s Forever!
Ben is a total nerd who loves dress-up parties, which is why when his birthday party during season six was '90s themed it was totally on point. Sure, Leslie had to filibuster at the city council meeting throughout the bash, but she did manage to make one of his dreams come true after she won...by saying she'd wear her roller blades to bed. 
3. Snake Juice Problems
One of Ben's best moments is when he gets drunk on Snake Juice. Other characters have hilarious reactions after sipping the poison juice, but Ben can't stop saying, "Baba Bouyee" and making hilarious faces to camera and it was perfection.
4. Calzone Boy
Fun fact: Ben Wyatt is a mega fan of calzones. No, like he really, really loves calzones. Throughout the series he proves his love of this tasty food in different ways. When he's unemployed he decides to learn how to make the "cali-zoin-za, or as you Americans like to say, calzones." He also tries more than once to convince Leslie that they are wonderful and not pizza noting, "pizza is your grandfather's calzone." Plus, he has the brilliant idea for a healthier calzone establishment called, "The Low-Cal Calzone Zone."
5. Lil' Sebastian Confusion
Even though everyone in Pawnee is obsessed with Lil' Sebastian, the mini horse, Ben isn't buying it. His honesty about not getting what everyone is freaking out about is so relatable and funny. "It's kind of a small horse. I mean, what am I missing?"
6. Ice Town
The moment Ben breaks down about his past as the mayor of his small town in Minnesota and how he epically failed at it, was probably the moment we fell in love with him. His background was so bizarre and yet, it made perfect sense. "When I was 18, I ran for mayor of my small town and won. Little bit of anti-establishment voter rebellion I guess," he said. "Here's the thing, though, about 18-year-olds. They're idiots. So I pretty much ran the place into the ground and after two months got impeached. Worst part was my parents grounded me."
7. War Time
Just when we thought Ben and Leslie couldn't get more absurd they battled it out during a high school Model United Nations event. They were mad at each other, so they took it out on the imaginary United Nations event using dueling countries to do their bidding. Too funny!
8. Claymation Creation
Come on, this episode where Ben is unemployed and makes a Claymation video is so funny and outrageous. He spends all day working on the video and it's like two seconds worth of footage because it takes so much effort. No one else seems like they'd ever do this, but for Ben it's the exact type of distraction we'd expect.
9. Batman Forever
During one of Donna (Retta) and Tom's (Aziz Ansari) annual Treat Yo Self days they find Ben sadly eating soup on a bench and pull him into their day of fun. When he doesn't automatically get excited by the splurging day, the duo asks him what is the one thing he's always wanted. What does he answer? A batman suit, which he gets and proceeds to wear all day long!
10. Fantasy World Formation
He created his own fantasy game! Ben is so Ben sometimes it hurts, but when he made The Cones of Dunshire game and tried to explain it to his lady love he peaked as the real nerd of Parks and Rec. The game makes no sense and is totally complicated, but he tried so hard and put in so much effort, and we just love him for trying.
11. All Drugged Up and in Love
After being hospitalized for kidney stones, Ben is hopped up on morphine and his goofy side is out and ready to play. In addition to telling Leslie how much he loves her he also says "I want candy" before calling Leslie a "snuggerdoodle."
12. Game of Parks
When it comes to Ben, never joke about Game of Thrones getting canceled...don't do it. "They would never cancel Game of Thrones," he once said when Donna tried to suggest his bad mood was because the series was canceled. "It's a crossover hit! It's not just for fantasy enthusiasts. They're telling human stories in a fantasy world." Plus, he was once gifted a literal iron throne and he geeked out hard, which was adorable.
13. Star Wars Forever
OK, Ben has a lot of nerdy obsessions including Star Trek and Game of Thrones, but he is a total fanboy when it comes to Star Wars as well. In fact, he would reveal how stressed he was about the franchise all the time and it was too funny. "I have been kinda tense lately. Just thinking about the new Star Wars sequel. I'm worried they'll rely too heavily on CGI and I'm carrying it all in my shoulders," he admitted.
14. I Like You, and I Love You
During season five, Ben and Leslie finally tied the knot and it was as magical as we could've hoped for. Need proof? Well, Ben's vows were, "In my time working for the state government, my job sent me to 46 cities in 11 years. I lived in villages with eight people, rural farming communities, college towns. I was sent to every corner of Indiana. And then I came here, and I realized that, this whole time, I was just wandering around, everywhere, just looking for you."
Oh, and Leslie didn't do too bad herself replying, "The things that you have done for me to help me, support me, surprise me, to make me happy, go above and beyond what any person deserves. You're all I need. I love you and I like you."
15. Perfect Proposal
Before marrying Leslie, Ben proved once again how much he loved her when he proposed. She didn't see it coming and even though he had the perfect speech laid out, he stopped when she asked so she could take it all in. He didn't start again until she was ready, which made us love him and their relationship even more.
16. As You Wish
When it comes to romance, Ben and Leslie know what's up. Even though their wedding was the cherry on top of their romance, the time they almost got tattoos together sort of sums up their relationship even better.
After getting really drunk together, while wearing costumes from The Princess Bride, the two found themselves at a pawnshop about to get matching tattoos, because that's true love (not really, but drunk Ben thinks so) and it's adorable. The good news is that they don't get tattoos, but they do solidify their love once again by being prepared to do it.
17. Whip It Good
"They call me Devo, because I can whip 'em good," Ben once said, which we're sorry, is just too good. 
18. Jokes on Jokes
Throughout the comedy, Ben would quit his accounting job and then go back and get it again all the time. While most people would be annoyed by this, his accounting firm didn't care because whenever he was back he brought out all of his accounting jokes and they loved each and every one of them. Seriously, Ben had so many accounting jokes including, "I'll cal-cu-lator!"
Happy birthday Adam Scott! We love you, your great comedic timing and all of the times you made us laugh as your alter ego Ben Wyatt.