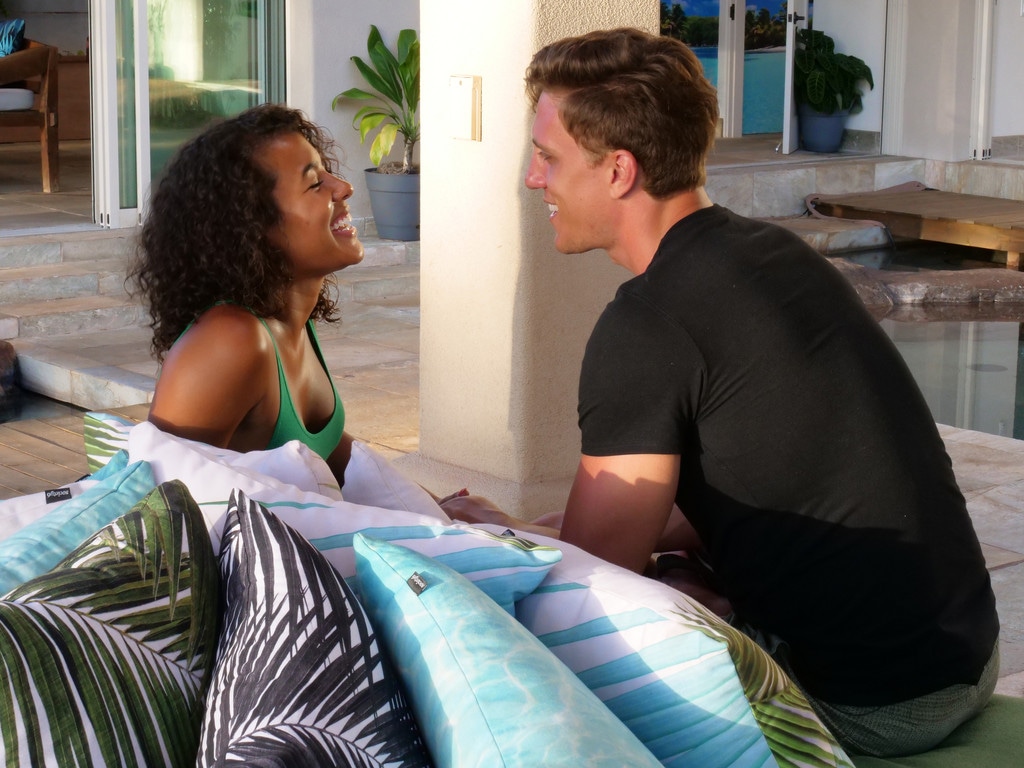 Mario Perez/USA Network
We've said it before and we'll say it again: Temptation Island did not end the way we thought it would based on how it began. 
After the smiley way they picked out dates for each other on that first night, would never have guessed that it was Evan and Kaci who fell apart the hardest, though now in hindsight, those jokes feel a lot more like over compensating. And on the other hand, Shari and Javen couldn't stop fighting long enough to say goodbye to each other. Now, Shari and Javen are together, engaged, and happier than ever, and Evan's engaged to another woman while Kaci's got new hair and a new dog. John and Kady also said goodbye tonight, and we saw Karl and Nicole break up and leave alone last week. 
This week, we also got to see where everyone is now, and there were some slightly sad developments to reveal. 
Karl and Nicole
After first saying they'd leave together and then figure it out at home, even though they both hooked up other people, Karl and Nicole each chose to leave alone. Karl moved out of their home and was working on his personal training clients, but had no plans to go to LA to visit Brittney. 
Nicole moved out of her apartment and bought a new one, and says she's still in touch with Tyler and wishes Karl the best. 
John and Kady 
Tonight's episode picked up in the middle of their final bonfire, and after Kady once again declared that John made her not want to have kids because of how immature he is, they both decided to leave alone.
When they got back to the house they lived in in Texas, John revealed that he wanted to work on things and Kady was into it, right up until Kady told him she was going to visit Johnny in New York. So John kicked her out of the house and got a roommate, and said he occasionally talks to Katheryn, though she lives in Nashville.
Kady revealed that she and Johnny continued their relationship for a bit, but the distance was hard, and so the romance fizzled out. She now has her own apartment and no regrets. 
Shari and Javen
Neither Shari or Javen really made a major connection in their respective villas, but they did open up make friends, which only made them more sure of each other than they were when they went into this. Javen was so excited to see Shari when they were back together that he could barely contain himself, and they chose to leave together, even if Shari made us a little nervous by saying she wanted them both to have their own lives. Turns out she wanted them to have their own lives together. 
Once they had a chance to chat alone (in front of cameras), Javen proposed, and six months later, they were planning their wedding, and thinking they'll be married within another six months. 
Evan and Kaci
After 10 years, these two are dunzo. Kaci wanted to go home with Evan and figure things out, but Evan had moved on with Morgan, and so he chose to leave with Morgan, even as Kaci begged. 
Six months later, Kaci had dyed her hair brown and got a new dog, who was way better than Evan. She said Evan DM'd her and said "I'm sorry for the way things have shaken out," which was her only apology after he destroyed a 10 year relationship, so she definitely sees it as a blessing in disguise. 
Evan then moved to DC and now he lives with Morgan in an apartment filled with pictures of the two of them. They're also now engaged! How nice for them. 
Temptation Island aired on USA Network. 
E! and USA are both part of the NBC Universal family.