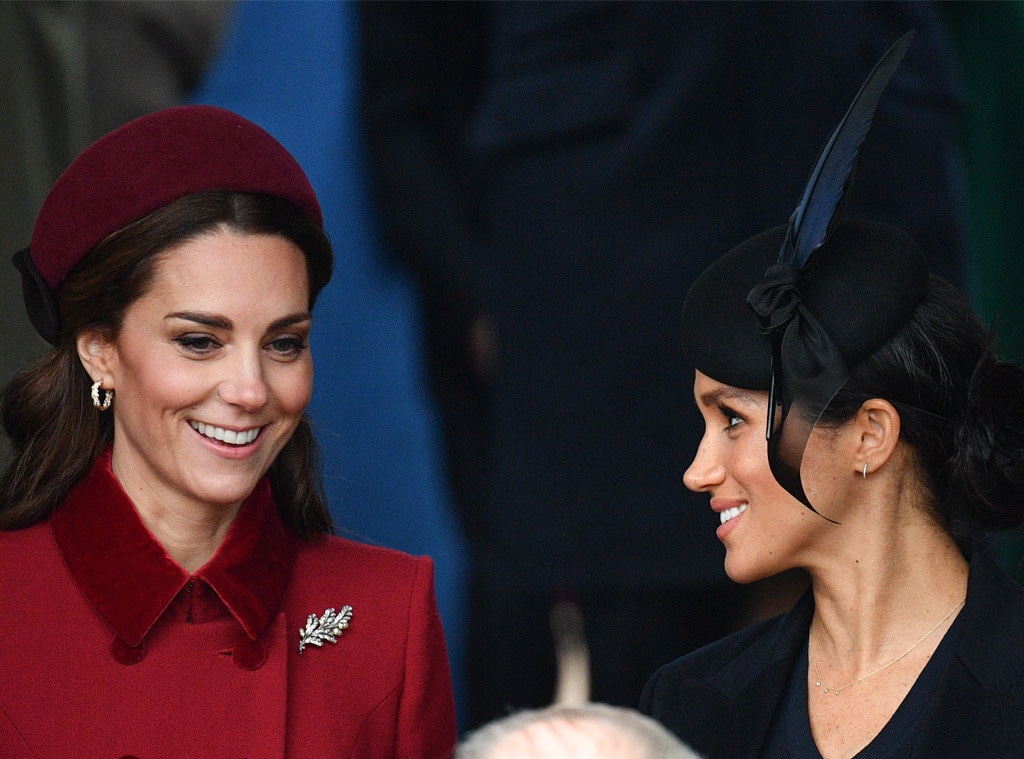 Tim Rooke/Shutterstock
It was inevitable, really. 
An established British princess, envied for her posh style and dedication to children's causes and the American upstart making a play for her crown. Not the actual one, of course. As Prince William's wife, Kate Middleton is destined for a future as queen consort while Meghan Markle will always be a rung below in the pecking order with Prince Harry currently sixth in line for the throne and set to slide down as his niece and nephews begin families of their own. But the California-bred former actress has challenged her sister-in-law for more than a few titles: Most Intriguing Duchess, Biggest Royal Influencer, Best Use of Designer Fashions, Bounciest Blowout... 
So of course they would be placed at odds with one another. At least, by those on the outside looking in. 
"Women, in particular, are constantly pitted against and compared with each other in a way that reminds me of how people tried to portray Diana and me all the time as rivals, which is something neither of us ever really felt," Sarah Ferguson, Duchess of York, wrote in a February essay published by Hello! 
Though Prince Andrew's ex wife doesn't explicitly name Meghan or Kate, the clear implication is that she's commenting on the continued saga of a war between the duchesses. 
The difference here, though, is that while Fergie and Princess Diana did have some dark periods—"It is true that our friendship was periodically strained," Fergie wrote in her 2011 book Finding Sarah. "Sadly, at the end, we hadn't spoken for a year,"—Meghan and Kate haven't so much as looked cross with one another in public. The whole of their supposed feud can be broken down to a lot of assumptions (surely Kate bristled at the idea of being upstaged by a new, charismatic, designer label-wearing royal) and rumors of shouting matches that have been shot down by the palace. 
And to hear royal insiders tell it, not only is the rivalry not real, it's muffling the true issues between the Cambridges and the Sussexes, which are largely more interesting than the fiction. As filmmaker Nick Bullen recently revealed it was the actually the brothers who have been having a bit of a squabble of late as siblings are wont to do from time to time.
Samir Hussein/Samir Hussein/WireImage
During an episode of his TrueRoyalty.tv talk show, The Royal View, biographer Katie Nicholl shared that the boys' tiff had caused a bit of a chasm amongst the so-called Fab Four that onlookers interpreted as trouble between their wives. 
"That's the story, that wasn't coming out because it was a sort of, to be frank, sexier media story to have two princesses at war rather than royal brothers," Bullen, who's worked with many a royal producing documentaries over the years, told E! News, "and to be able to pit English rose against American actress was, in many ways, the stronger story."
Not that chatter of a brotherly blowup isn't interesting it's just, perhaps, less palatable to royal watchers who love the charming tale of two close-in-age siblings brought even closer by the tragic death of their beloved mom. "I think people don't want to think about that with these two boys," Bullen admitted to Fox News. "These are two boys who lost their mother at a really early age, and the fairy tale is that they are closer than ever, and need each other, and I think that's probably true, but equally they are two grown men in their 30s, starting their own families, different wives, they are moving to different parts of the country, different duties."
And it's not as if they've never fought in their shared three-plus decades together. In fact, the boys had a bit of a doozy more than a decade back, Nicholl reported for Vanity Fair, when a teenage Harry was outed by the press for smoking and drinking. 
"William had not been perfect during that period either. He was also drinking when he shouldn't have been, but because he was the heir, he got away with it, and Harry was the one who took the flak," Nicholl wrote. "It took one of their aides to actually coax Harry into speaking to William again, because Harry was so angry."
The siblings eventually mended fences, of course, and when William finally decided to wed his longtime college sweetheart, "two became three," Nicholl noted. "They were the royal trio, joking that Harry was the spare wheel, but actually, they fit very comfortably as a trio. I think it was the hope and expectation that three would become four and we would have this fab foursome. It was a perfect headline for the press."
Andrew Parsons - WPA Pool/Getty Images
Of course real life doesn't always tie up so neatly in a bow. When Harry brought home his new girlfriend, the woman who'd left him so smitten he'd whisked her away to Botswana for their third date, he was expecting to receive a full-throated approval from his older sibling. Instead, he got a note of caution. 
"During the early stages of the relationship, ahead of the engagement announcement, William did speak to Harry, just wanting to make sure Harry knew what he was getting himself into," Nicholl told Vanity Fair. "He voiced some concerns that things were moving too quickly…I was told when Harry first brought Meghan back to the palace, he was desperate for Kate's approval. He so wanted Kate and Meghan to become firm friends and allies. I don't think it ever crossed his mind that he perhaps wouldn't get it unconditionally from his brother."
Hearing his brother cast any doubts on the romance that he was so confident in stung. On his show, Bullen tells E! News, "Some of the other guests talk about how William was concerned at the speed at which Harry and Meghan's relationship was developing and suggested to Harry that he might slow down and I think that went down very badly." 
Or, as Nicholl put it to Vanity Fair, the ginger prince was crushed: "I think Harry felt that he didn't have the backing from the one person he really wanted it from."
Enter Dad. Equally fond of both Kate ("As the mother of his grandchildren, of course the prince dotes on her," a source told Britain's Telegraph) and Meghan (the pair are said to have bonded over shared interests in art, music and architecture), Prince Charles found himself in the role of mediator, instructing his boys to knock off any quarreling and make nice. His suggestion to William that he make more of an effort reportedly led to he and Kate extending an invite to the newly affianced pair to spend Christmas with them at their Norfolk home. 
KGC-22/STAR MAX/IPx 2017/AP Images
Faced with reports of an increasingly frosty relationship between Kate and Meghan this holiday season, Charles was forced to step in once again, with biographer Robert Jobson speculating on the Australian morning show Sunrise in January that the Prince of Wales was surely "knocking heads together" at Christmastime when they were at Sandringham, "and you can see that by those photographs of them all walking together in a line." 
With the fierce foursome walking just a step behind Charles, smiles affixed, said Jobson, "they looked like they had been pushed together in a line, to be honest." 
By all accounts, though, Kate didn't require any reminders about her responsibility to toe the line. Where William may have been cautious, having an innate understanding of what it meant to choose a lifelong mate when your job description includes representing all of England, Kate was largely welcoming. The daughter of former flight attendants who happened upon a romance with a prince when they were both undergrads at the University of St Andrews, she was well aware of how tricky it is to make the transition from commoner to member of The Firm. 
"Harry and Kate are very close, she's been like a mentor to him and he wanted her seal of approval," a source shared in Grazia UK. "Kate is different to Meghan in many ways, but she has made great strides to help Meghan settle in."
Indeed, after the success of their initial 2017 meeting, in which Meghan went a long way towards making a good impression by gifting Kate a dream journal for her birthday, Kate has made it a point to make Meghan feel welcome. "Since very early on she made it clear that should Meghan ever need something, or just want to chat, she shouldn't hesitate to get in touch," an insider told E! News. "Kate knows how difficult it is navigating one's way through this very different world."
As a sign of their burgeoning relationship, Meghan reportedly presented Kate with a gold friendship bracelet at her May vows and by July they were taking in a Wimbledon match together, appearing the closest of friends as they watched Meghan's pal Serena Williams do her thing. 
James Gourley/BPI/Shutterstock
"The truth is, there hasn't been a feud between Kate and Meghan," Nicholl noted to Vanity Fair. "There's not a huge amount of closeness between them, but there's also not been an active fallout, either. Kate has gone out of her way to be kind to Meghan—she invited her over for tea, at Apartment 1A in the summer; had an outward show of togetherness at Wimbledon; and gave her advice on palace protocol and etiquette. I think she probably did as much as she could."
Sure, on the surface, the boys' brides don't seem all that similar. Meghan, a former actress, gravitated to life in the public eye both as an artist and a philanthropist well before she was set up on that fateful 2016 blind date while Kate has long appeared more reserved. The art history grad seems no less keen to make a difference and really create effective change with the platform that's been thrust upon her, but the pageantry that's involved with royal life, the performance aspect has taken a bit more practice. 
"Kate is very dignified and she knows what her position is," royal biographer Sally Bedell Smith explained to Vanity Fair. "She's training [to become queen consort]. She's not putting a foot wrong. She's careful, cautious, and by nature reticent. I don't think she likes to speak in public terribly much. She does it, but I don't think she enjoys it. Meghan loves having a platform. She loves speaking."
In other words, Bedell Smith summed up to the magazine, "You can look at Meghan and Kate and see that they're two very, very different women, with different backgrounds, different interests, temperaments, and personalities."
And those varied personalities made it easy to buy into the idea that the two women were at odds.
"I anticipated that the narrative would change to 'sisters at war' after a honeymoon period," biographer Andrew Morton told Vanity Fair. "Why was it predictable? Because young royal sisters-in-law, as it was with Diana and Fergie, are set up for failure. They're compared to one another incessantly—in what they wear, how they behave—in a way that never happens to royal men. In many respects, it says more about the way we deal with women in the media than it does about any big row going on."
Yui Mok/PA Images via Getty Images
But the rows that were reported on were certainly large in nature. There was the chatter that a bridesmaid fitting for 3-year-old Princess Charlotte, the middle of Kate's three kids, had left the duchess "in tears" ahead of Meghan and Harry's May vows. And in December Kensington Palace, generally happy to avoid comment on the more tawdry exploits reported in the press, even made the atypical step of issuing a denial about a story that the two had an "explosive row" pre-wedding that left an angry Kate instructing the future duchess not to make demands of her staff. 
Through it all, though, the women have managed to maintain a stiff upper lip, doing what they can to shut out the narrative that reduces both of them down to vindictive sisters unable to put petty grievances behind them. 
They certainly kept up appearances at March's Commonwealth Day service, thought to be the final time the foursome would gather before Baby Sussex makes his or her arrival. The two made it a point to accompany their greetings with the traditional Euro double kiss, either as a way to signal, "Nothing to see here! We get along just fine!" or because that's how they've always said hello as polite, well-mannered women, who, despite any aberrations in their personalities are family. 
Richard Pohle - WPA Pool/Getty Images
"They might not have a huge amount in common but Kate has no issue with Meghan," an insider recently shared with Vanity Fair. "She wants them to get along, not just for Harry's sake but because two royal sisters-in-law at loggerheads wouldn't be good, and Kate knows that. For Kate, it's about keeping their relationship professional and putting on a show of togetherness."
And it's more than just displaying a shiny, happy appearance. The source says Kate has been keeping regular contact with the mom-to-be, doubtlessly offering up any number of tips she's built up over the past half a decade as she and William work to raise their tiny heirs, Prince George, 5, Charlotte and Prince Louis, 11 months. And though her older children's school breaks kept her from making the trip out to New York for Meghan's lavish baby shower with friends, reports pin her as the host for the duchess' British affair in just a few weeks.
With both the baby's arrival and the Sussex's move to Windsor imminent, the foursome have been making extra efforts of late to play nice. 
"It's not always been easy, there have been issues behind the scenes, but Harry and Meghan want to leave on good terms and Kate especially has been making a real effort," a second source tells the outlet. "There are no bad feelings and I think Kate was keen to put an end to these rift rumors. She has no problem with Meghan and she has made it clear to Meghan that she's there for advice or whatever Meghan might need."