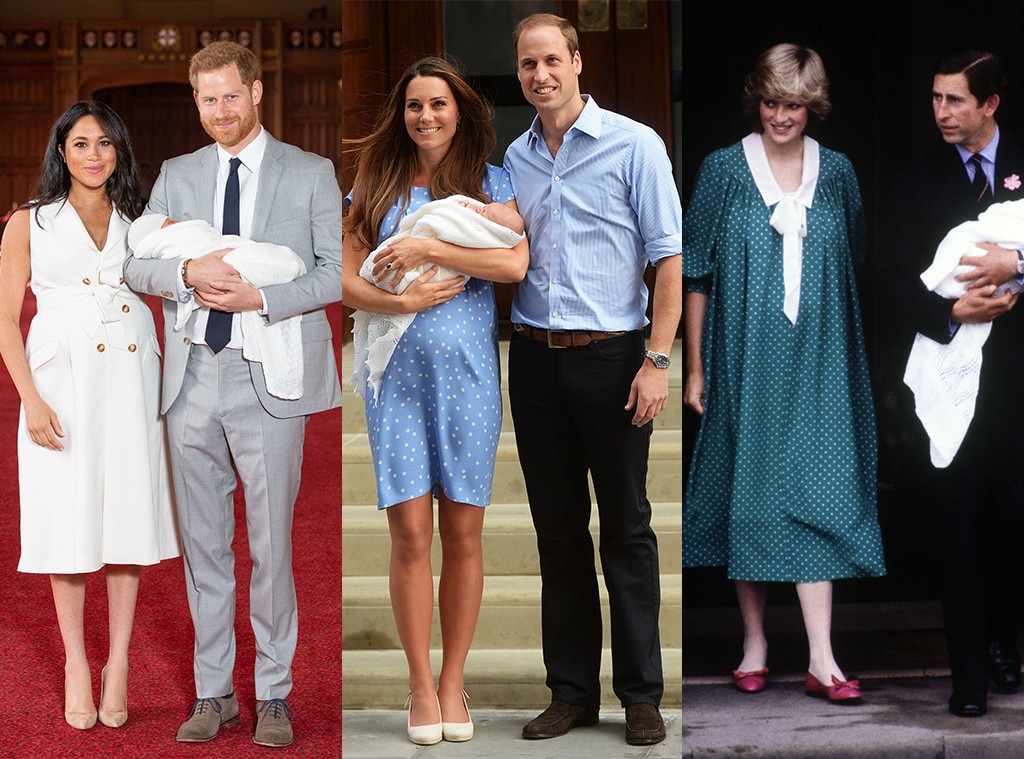 PA Wire, Getty Images
Prince Harry and Meghan Markle's baby has finally arrived!
The Duchess of Sussex gave birth to a baby boy on Monday, May 6 and the new parents debuted him two days later inside St. George's Hall at Windsor Castle near their home, Frogmore Cottage.
Unlike Prince Harry's brother and sister-in-law, the new parents didn't make their debut outside the famous Lindo Wing at St. Mary's Hospital in London—the same place where Kate Middleton gave birth to her and Prince William's three kids: Prince George, Princess Charlotte and Prince Louis. Kensington Palace remained mum about Meghan's birth plans, as they said they would. Although it has not been announced where exactly the duchess gave birth, some people believe she had the baby at Portland Hospital in London.
Meghan's appearance at Windsor marks her first public one since she went on maternity leave in March and was, as could have been expected, a stylish one. 
Since the debut of a royal child is historically a highly publicized event, royal enthusiasts can probably recall what famous moms like Markle chose to wear as they appeared on the world's stage with their little one for the first time. 
For the Duchess of Sussex, it was a white, double-breasted sleeveless midi dress tied at the waist and paired with nude pumps. The new mom accessorized with a necklace accented with turquoise beads. The color choice was reminiscent of the white coat by Line she wore the day their engagement was announced. As for the new dad, Prince Harry donned a light gray suit and navy tie. 
Meanwhile, sister-in-law Kate and their famed late mother-in-law Princess Diana opted for shades of blue for their first baby debuts. 
The Duchess of Cambridge gave birth to Prince George on July 22, 2013 and appeared with the new prince not long after in a short-sleeve light blue Jenny Packham dress with white polka dots. She paired it with white espadrilles. Prince William opted for the same color scheme and wore navy blue pants and a light blue shirt.
Kate's look bore a striking resemblance to Princess Diana when she and Prince Charles introduced Prince William into the world on June 22, 1982. Diana, too, wore polka dots. She had on a long-sleeve and calf-length green flowy dress with white polka dots.
Prince William even echoed something that was said about him at his christening when he and Kate presented Prince George to the world. The Queen Mother—Queen Elizabeth II's mother—said when William cried, "He certainly has a good pair of lungs."
The man second in line to the throne joked on the steps of the Lindo Wing, "He's got a good pair of lungs on him, that's for sure. He's a big boy, he's quite heavy."
Kate's look when she debuted Princess Charlotte on May 2, 2015 looked like a shout-out to another royal: Princess Anne. She's Queen Elizabeth and Prince Philip's only daughter and is mother to Peter Phillips and Zara Tindall. Princess Anne donned a knee-length floral dress when she walked out of the hospital holding Zara in 1981.
The Duchess of Cambridge went with a similar pattern when she walked out of the Lindo Wing in 2015. Much like Princess Anne, Kate wore another Jenny Packham dress but this time it had yellow flowers on it. Both women wore nude heels.
Perhaps the most apparent homage to Diana was after the birth of Prince Louis on April 23, 2018. 
Anwar Hussein/Getty Images
When Diana and Charles debuted Prince Harry after his birth in 1984, Diana wore a red coat with a white top that had a red bow and white Peter Pan collar. She wore the same red kitten heels as a few years earlier when she debuted Prince William. Prince Charles had on a navy blue pinstripe suit.
Kate and Williams' outfit choices 34 years later were clear tributes to the prince's parents. The 37-year-old wore a red Jenny Packham shift dress that had a white lace Peter Pan collar. Prince William wasn't as formal as his father that day, but he also wore a blue sport coat and navy pants. That seems to be his look du jour when introducing the royal babies to the world.
If the newest royal kiddo is anything like his parents and relatives, good style is definitely in his very near future.
Congratulations again on the royal baby!