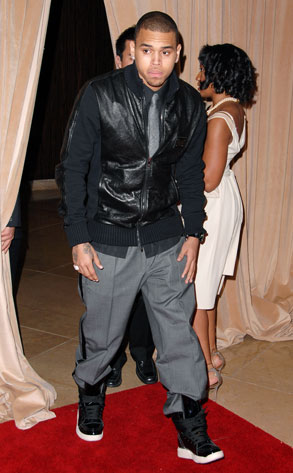 Steve Granitz/Getty Images
Chris Brown is out and about, but it's the behind-the-scenes action that may determine where he goes in the future.
Sources close to the negotiations tell E! News that the R&B star's attorneys are in talks with the Los Angeles District Attorney's Office about a possible plea deal that would see Brown wind up with probation—rather than jail time—for allegedly assaulting his girlfriend Rihanna on Feb. 8.
Although the D.A. just received the case from the Los Angeles Police Department today, Brown's A-list defense attorney Mark Geragos began powwowing with prosecutors earlier in the week.
"Geragos was downtown meeting with the D.A. on Monday," says a legal source.
The source says lawyers are discussing a deal that would keep Brown a free man if he pleads guilty to a misdemeanor, but it's unclear whether prosecutors, who had been asking for felony-caliber evidence against the singer, and Brown's team will compromise.