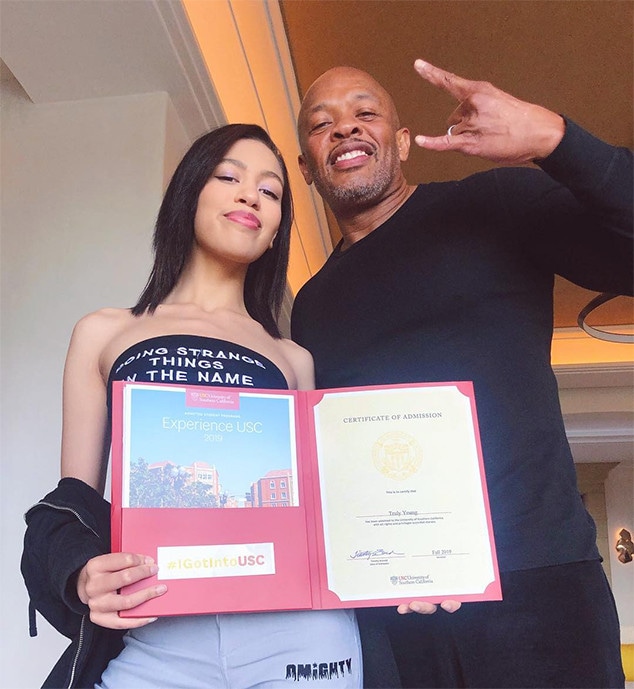 Instagram / Dr. Dre
Shade by Dre!
Dr. Dre is one proud dad—his daughter Truly Young, 18, got into the University of Southern California (USC). He praised her on Instagram over the achievement on Saturday night, and couldn't help but also throw some shade at the people who were recently indicted in a college admissions scandal, which include Lori Loughlin and Felicity Huffman.
"My daughter got accepted into USC all on her own. No jail time!!!" the rapper wrote alongside a photo of him standing with his daughter as she holds a folder containing her USC certificate of admission and college brochures.
Several fellow rappers congratulated Dre's daughter on her acceptance to USC, including Sean "Diddy" Combs, Busta Rhymes, T.I. and Timbaland. Fans also expressed their congratulations, while others pointed out a curious fact: In 2013, Dre and music executive Jimmy Iovine donated $70 million to USC to establish the college's Jimmy Iovine and Andre Young Academy for Arts, Technology and the Business of Innovation.
Dre's daughter also posted the photo of her and her dad on her own Instagram page, writing, "I got accepted into USC all on my own. No jail time!!!"
"ALL MY HARD WORLD PAID OFF," she wrote on her Instagram Story. "IM GOING TO FILM SCHOOL."
Earlier this month, some 50 people, including Loughlin and Huffman, were charged in an alleged $25 million racketeering scheme to help wealthy American parents get their children into elite universities, including Yale, Stanford and USC. 
The scam, the largest in U.S. history, allegedly involved bribes given to coaches and stand-in test takers, as well as doctored photos misrepresenting applicants as elite athletes.
Dre's post has since been deleted.
Dre is not the first celeb to joke about the college admissions scandal, or the first to praise their child over their admission to a top college. Earlier this month, Rob Lowe's son John Owen Lowe, who attended Stanford University, tweeted that he "studied for MONTHS for the SAT" and that he is "incredibly grateful that I had the privilege and opportunity to have a tutor and to afford practice test programs."
"Still proud of this achievement," he wrote with a photo from graduation day. "Happy for everyone out there who earned their accomplishments...and really sad for those who were never allowed the opportunity."
Rob retweeted one message, adding, "Very proud of my honest, hardworking sons."