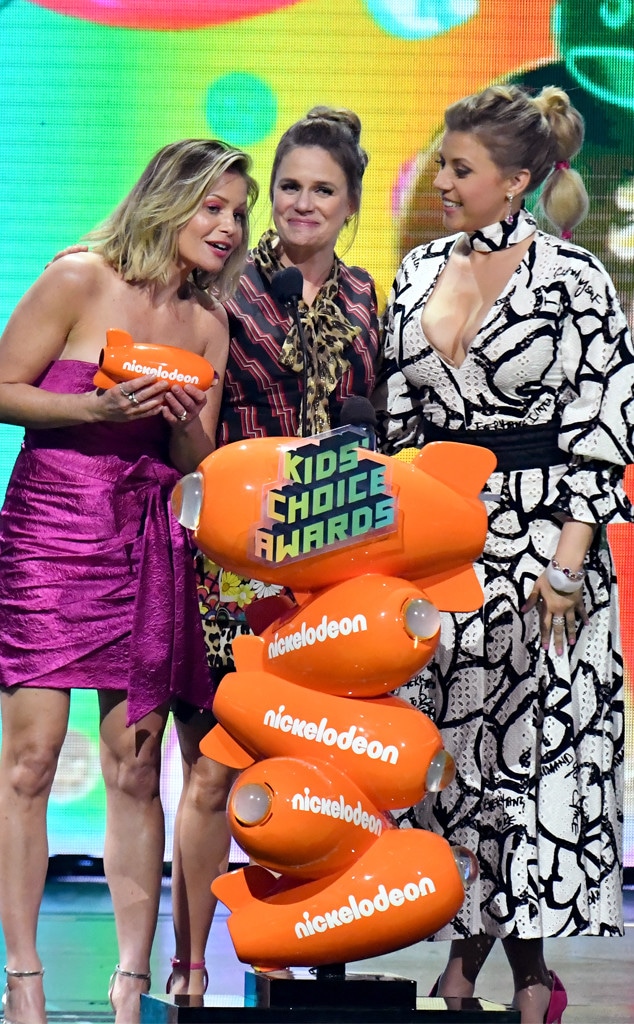 Jeff Kravitz/FilmMagic
Many celebs arrived at the 2019 Kids' Choice Awards, however, there was one star noticeably missing from the event: Lori Loughlin.
The 54-year-old actress skipped the star-studded event amid the college admissions scandal. While she's reportedly not expected to return to the fifth season of Fuller House, the TV series was nominated for Favorite Funny TV Show. In fact, they won the award. 
Candace Cameron-Bure, Jodie Sweetin and Andrea Barber attended the ceremony, and took to the stage to accept the award. If anything, they subtly referenced Lori, saying a family "sticks together through the hard times." While they never mentioned her name, their sentiments echoed everything happening to their co-star.
"Thank you for voting Fuller House as your Favorite Funny TV Show," Andrea starts off the speech. "You have been laughing alongside our family for four seasons and this family has a lot of heart."
"And where there's a lot of heart, there's a lot of love," Candace chimes in. "And a loving family sticks together no matter what."
Continuing her speech, the 42-year-old star says, "They stick together through the hard times, they support each other, they encourage one another, they pray for each other and they stand by their side no matter how tough it gets."
Adding, "And a loving family that also sticks together, also celebrates the really good times."
"This is one of those good times," Jodie cheers. "You've stuck with us for 30 years and we love you all so much. We promise the fifth and final season is gonna be amazing."
In the wake of the college admissions scam, the 54-year-old actress has kept to herself.
"She's laying low and in seclusion," a source previously told E! News. Adding, that she and her daughters—Isabella Rose Giannuli and Oliva Jade Giannuli—are "stressed" right now.
Lori and her 19-year-old daughter "have been spending their days very upset and stressed being cooped up," the source added.
As of now, E! News can confirm the Fuller House actress filed a request to move her March 29 court date to April 3, and it was approved.
"Ms. Loughlin filed the request with the court," a USDOJ spokesperson told E! News on March 21. 
In addition, the U.S. Attorney MA Twitter account posted an update, writing, "Lori Loughlin and Mossimo Giannulli will appear in federal court in Boston on April 3 at 2:30 pm."