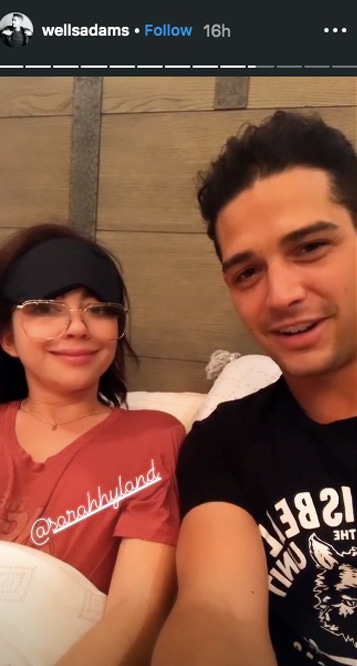 Instagram
Sarah Hyland is taking things day by day as she recovers from pink eye and a respiratory infection.
"I'm still sick, I just want to be better," the Modern Family actress shares on her most recent Instagram Stories. "What's happening?!"
Adding, that despite not feeling well, she took some time to pamper herself. "I got my roots touched up yesterday," she says as she's playing with her newly chopped hairdo.
Luckily, her boyfriend Wells Adams has been there to cheer her up. The two celebrated #NationalPuppyDay a few hours early on Friday night, even though they both agree that "every day is National Puppy Day."
"Well, I'm out of the hospital," the 28-year-old star begins her Instagram Stories. "Wells just informed me that it's National Puppy Day." 
Along with her Stories, the former Bachelorette star posted a series of videos, including one of the them belting out a song they "rehearsed" earlier that day.
It seems the 28-year-old actress is in better spirits since being admitted into the hospital earlier this week.
The Modern Family star took to Instagram Stories to reveal her symptoms.
"When you stressed from having pink eye and a viral respiratory infection so yo #endo decides to kick down the door and say HELLO," she captioned her selfie, which she took from the hospital bed.
In the past couple of years, Hyland has sadly been in and out of the hospital. 
Last December, she opened up to Self about her health, revealing she had undergone a second kidney transplant after her body rejected the first donor kidney, which was from her father.
"When a family member gives you a second chance at life, and it fails, it almost feels like it's your fault. It's not. But it does," she told the magazine. "For a long time, I was contemplating suicide, because I didn't want to fail my little brother like I failed my dad."
Although, it seems the 28-year-old star is in a much better place, especially with the amount of support she's received from her friends, family and boyfriend.
"He's seen me at my worst," she told Self of their relationship post-transplant. "I think that's why I feel the most beautiful in his eyes, because he still finds me beautiful after seeing all that."
It's good to see Hyland is feeling better!