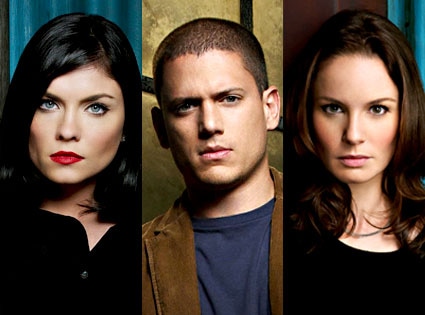 Michael Lavine/FOX
Fox canceled Prison Break a few weeks back, but as we speak, producers are casting and shooting two additional hours of the show.
What does that mean?
Are they finally creating that women's prison spinoff?
Is evil (but hot) Company babe Gretchen getting a spinoff?
Here's what we're hearing...
Despite what many of you fans have emailed, Fox is not cooking up a show around Gretchen, nor is it working on a ladies-behind-bars spinoff. The Prison Break creative team is finally making that much-discussed two-hour wrap-up film.
The two bonus eps are titled "The Old Ball and Chain" and "Free," and they take place a couple of days after the events of the season finale. A studio source tells us exclusively that they're "a self-contained Prison Break adventure in which Michael faces the most challenging break ever." And yes, Gretchen is involved, but so is the rest of the Prison Break cast you know and love.
No word yet about when or where the eps will premiere, but will you be watching when they appear? What do you expect from Michael and Sara's final hours together?
Post in the comments!
—Reporting by Jennifer Godwin