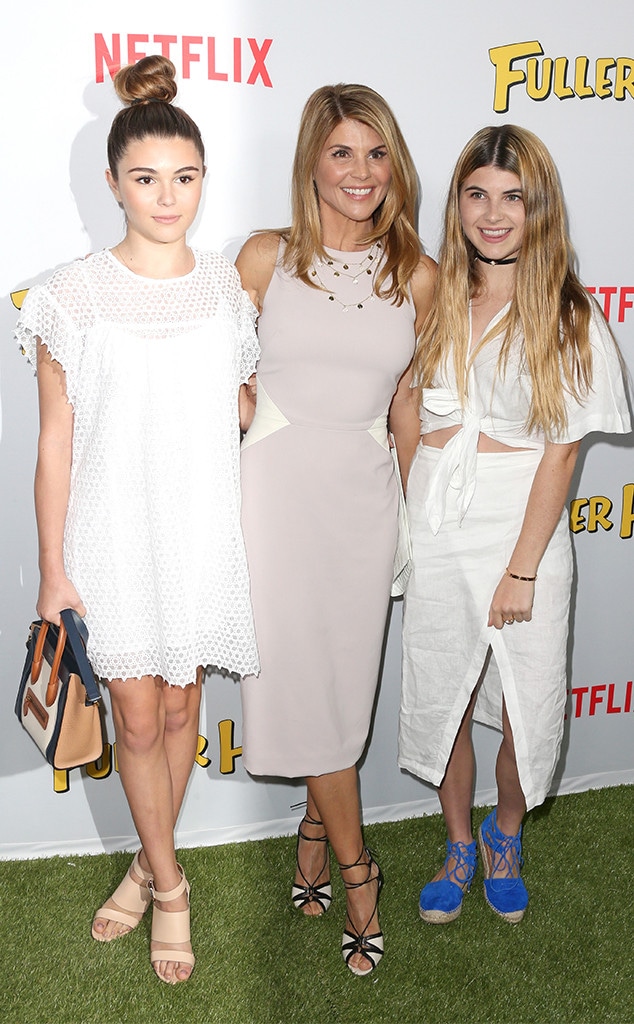 Frederick M. Brown/Getty Images
In wake of the college admissions scandal, it's safe to say Lori Loughlin's cushy and lavish life has turned upside down. If anything, the 54-year-old actress is "very stressed" over her and her husband, Mossimo Giannulli's, current situation with authorities.
In fact, the Fuller House star's daughters, Isabella Rose Giannuli, 20, and Oliva Jade Giannuli, 19, have also been affected by the news. So much so, the 19-year-old YouTuber and social media influencer lost major partnerships with brands, including Sephora.
That said, Lori's daughters are feeling "devastated" over everything that's going on with their family, according to a source.
"The girls are devastated and scared for their parents to take the fall," a source tells E! News. "They have been advised not to talk to anyone and are only in communication with their lawyers and their family."
As for the 54-year-old actress? "She's laying low and in seclusion," the source reveals.
"They are feeling very stressed and uncertain about the future," the insider adds about the family's state of emotions. "They have no idea what to expect."
Gabriel Olsen/Getty Images
Furthermore, another source tells E! News the 19-year-old influencer will not return to school.
"Olivia Jade has decided to not return to USC and wants to take a full break from going back to school."
"She is very distraught and is in crisis mode," the same source explains. "Olivia is more embarrassed than anything and doesn't know how to handle all of the stress and scrutiny that has been surrounding her and her family."
Adding, "She feels completely lost. Her and Lori are leaning on each other a lot for full support right now."
If anything, the two "have been spending their days very upset and stressed being cooped up."
As for updates on Lori's case, E! News can confirm the Full House actress filed a request to move her March 29 court date to April 3, which was approved.
"Ms. Loughlin filed the request with the court," a USDOJ spokesperson tells E! News. 
In addition, the U.S. Attorney MA Twitter account posted an update, writing, "Lori Loughlin and Mossimo Giannulli will appear in federal court in Boston on April 3 at 2:30 pm."
For those who need a refresher on the scandal, the actress and her fashion designer husband were recently indicted for allegedly paying $500,000 in bribes to have their two daughters admitted to the University of Southern California (USC) as recruits to the crew team, despite not being rowers.
If the 54-year-old star is convicted, she could face up to five years in prison. She and her husband are currently out of jail on $1,000,000 bond and, as mentioned above, are expected to appear in a Boston Federal court in April.
Actress Felicity Huffman is also part of the racketeering scheme, along with about 50 others.