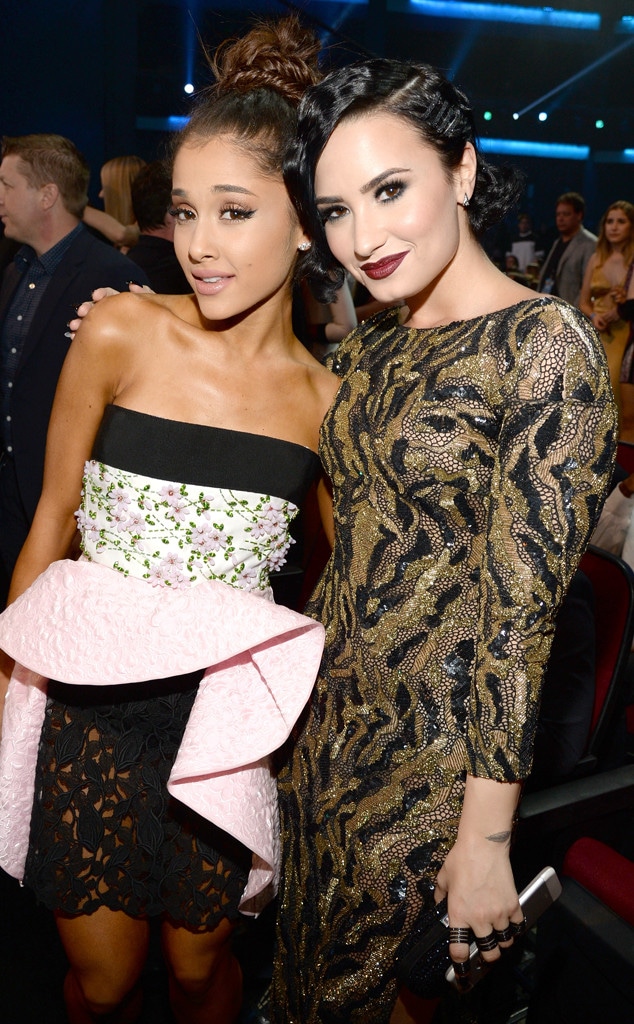 Kevin Mazur/AMA2015/WireImage
Ariana Grande is missing her pal Demi Lovato while she's away on tour.
On Monday night, the "No Tears Left to Cry" star kicked off her Sweetener World Tour, which will keep her on the road until October. Amid her new venture, Grande took to her Instagram Story to repost a selfie of Lovato, writing, "U are so pretty imu."
"Why are you so cute?!" Lovato replied on her Instagram. "ImyMORE [hearts emojis] keep killin it sis."
Grande and Lovato, who both grew up in the entertainment industry on Nickelodeon and Disney, have been very supportive of one another over the years. In the last 12 months specifically, the superstar duo has shared a number of sweet exchanges on social media.
So, in honor of this supportive friendship, let's take a look back at how Grande and Lovato formed their strong bond!
Feb. 2013: Grande showed her love for Lovato's new song, tweeting, "Demi sounds amazing on her new single #HeartAttack."
May 2013: Lovato and Grande both appeared at 2013's Wango Tango concert, where Grande told reporters that she was "excited" to meet Lovato.
July 2013: During an interview on the Zach Sang Show, Lovato confirmed she wanted to collaborate with Grande.
"We've already talked about it," she shared. "I love her so much, she's so sweet and she's so talented. I'm excited, I'm definitely gonna collaborate with her at some point."
Oct. 2015: Grande took to Twitter to compliment Lovato's new song, writing, "had to hit up @ddlovato last night and text her a bunch of 'yaaaas'es & 'werrrrrk's because of these vocals on #confident! you diiiid that!"
Nov. 2015: Lovato and Grande struck a pose together while at the 2015 American Music Awards.
May 2017: Following the devastating Manchester attack at Grande's concert, Lovato tweeted, "My prayers are with you Manchester."
She also wrote, "Tearing up imagining innocent concert goers losing their lives.. praying for everyone and all #arianators."
March 2018: Lovato opened up about her friendship with Grande in an interview with Billboard, sharing, "The people that aren't willing to chill with you at home are the type of people that just want to be seen with you. When Ariana Grande and I hang out, it's super chill."
July 2018: On July 24, 2018, news broke that Lovato had been hospitalized following an apparent overdose. After hearing the news, Grande tweeted, "i love u @ddlovato."
The following day, Grande's mom, Joan Grande, wrote a message on social media praying for Lovato's recovery.
"She has always been so supportive of Ariana as well, sharing her experiences with the fame and celebrity and notoriety of growing up in a very public space," the message read. "Women supporting women, what a fabulous idea!"
Grande posted her mom's message on her Twitter, telling her fans, "mom wrote something beautiful. check it out. much love."
Feb. 2019: After seeing a tweet from a social media user about supporting Miley Cyrus' music but not Lovato's, Grande set the record straight.
"It's so funny how Ariana be supporting Miley so openly but stays quiet if Demi has music out," the tweet read. "This is why I don't really like Ariana."
"i talk to her everyday u psycho," Grande replied, later adding, "that itched me. she's my friend friend."
Days later, Lovato showed her support for Grande's tour. In response to Grande's countdown post on Instagram, Lovato commented, "I'm happy you're getting to tour but can you not leave me? Thanks."
March 2019: Missing each other. Maybe Lovato will join Grande on the stage during one of her tour stops?
We'll have to wait and see!