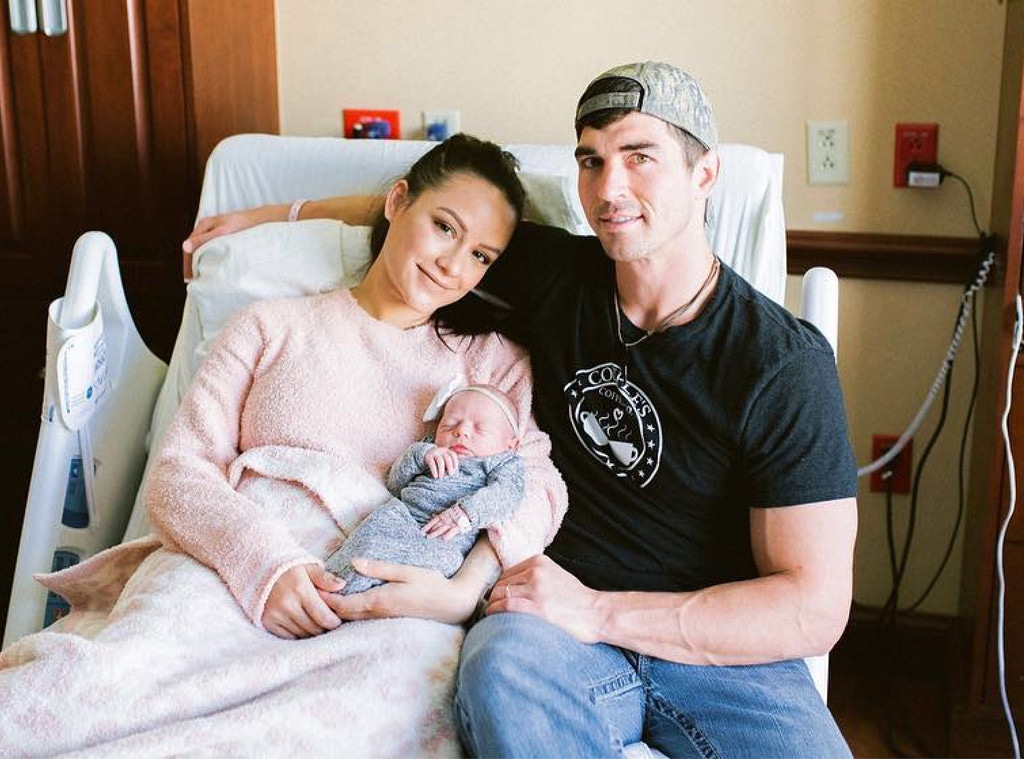 Angelica Marie Photography
Cody Nickson and Jessica Graf have a lot to celebrate. 
The Amazing Race and Big Brother stars announced on their PodcastOne and Direct Message podcast Now What?! that they just welcomed a baby girl named Maverick Nickson. She even has her own Instagram account already!
Maverick was born on March 17 and weighs 6 pounds, 7 ounces and is 18 1/2 inches long and they "couldn't be happier."
Nickson explained on their podcast that his wife had to have an emergency C-section because the new mom had "not been feeling good" for a bit and her blood pressure was extremely high. 
"So, sure enough after all the prep and everything, 15 minutes later on St. Patrick's Day, our little bundle of joy arrived," Nickson said.
The new parents revealed on Sept. 24 that they were expecting their first child together. They posted a heartwarming series of photos that showed them holding up a sonogram. "WE'RE PREGNANT! And I'm over the moon! I'm so excited to bring our first child into this life we have created together!" she captioned it. When Graf shared the update on social media, she said the baby's due date was April 11, "just two days before Cody's birthday." However, little Maverick came a bit earlier than expected.
The happy parents and Maverick all posted photos on social media of the newborn, which were taken by Angelica Marie Photography.
The 33-year-old former Marine said the "surgery went great." The Amazing Race winner said his wife is "still recovering" and he didn't plan on leaving her side.
"I know she kind of wanted me to take the reins and tell the story.  Right now, she's laying down next to me," Nickson continued. "They just have her on a few meds. They're trying to get her blood pressure down still. For the most part, she's doing really good."
Graf divulged to E! News earlier how she broke the news to Nickson, and it felt fitting given their own television history.
"We actually found out while watching the finale of The Bachelorette. I wasn't feeling well at all and decided to take a test even though I was pretty sure I wasn't pregnant! I didn't tell Cody I was taking a test. I just went and laid back in bed with him, pregnancy test in my hoodie pocket," she shared.
Once those few minutes after taking the test went by, she looked at the stick and "gasped" upon seeing the results. 
"He immediately burst out into laughter and I burst into tears!" Graf explained. "It was the best surprise!"
The couple found out the sex of their baby right after a very special day: their wedding.  They tied the knot on Oct. 14 at a romantic ceremony in Malibu and explained earlier that they wanted the reveal to be around the same time as their nuptials "so that all our family and friends can celebrate with us."
Graf posted a photo of herself cutting into a cake with a pink interior, confirming that "ITS A GIRL!!!"
The 28-year-old shared updates about her pregnancy journey over the last few months, including tributes to her baby as she cradled her baby bump as well as pictures of her ultrasound.
Maverick will be a little sister to Nickson's daughter, Paisley, whom he had from a previous relationship.
Nickson said on the podcast, "We already can't wait until the next one comes." His wife, however, "can wait."
Congratulations on the newborn!