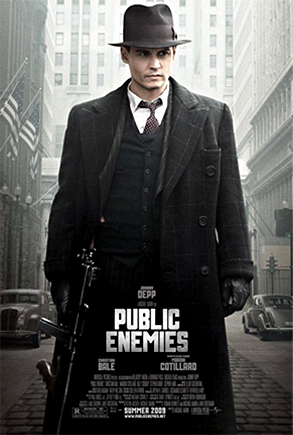 Universal Pictures
• That would be the first movie poster for Michael Mann's Public Enemies to your left, starring Johnny Depp as gangster John Dillinger. Mr. Depp looks quite awesome with his fedora and tommy-gun, wouldn't you say?
• This is what Britney thinks you'll buy to remember her tour. So far no mention of merchandising the nipple tassels she wears in the extended preview, but who knows?
• Twitter isn't all good times and fun. Lindsay Lohan's father twittered Lily Allen with this message: "Dear Lily, I think you have an alcohol problem that needs addressing. From Michael Lohan." Yep, shut it down.
• Oh no, the Octomom is now videoblogging for Radar Online. In today's edition, she talks about how much the six original kids hate the new eight. How can she possibly believe this is in any way good for her?
Heidi Klum rubbing her perfection in our faces as we browse the Big Pic gallery isn't cool.