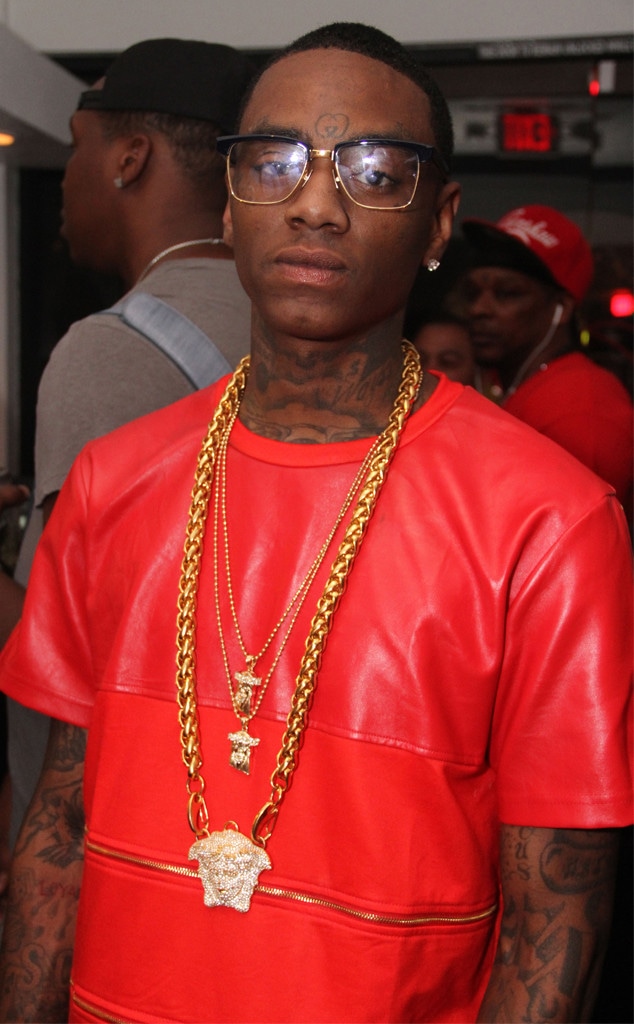 Mediapunch/Shutterstock
Soulja Boy has been sentenced to 240 days in jail for a probation violation, E! News has learned.
On Tuesday, a spokesperson with the Los Angeles County Superior Courts told us that he will not only serve jail time, but he will have to do "265 days of community service."
"He has been credited for 40 days served," the spokesperson added.
Of the sentencing, the 28-year-old rapper's attorney Fred Minassian told E! News, "We're very thankful to the judge. The judge initially indicated that he would be sentenced for two years. We're very grateful the judge sentenced him to 240 days."
He continued, "My client is pleased that this situation is behind him, he accepts the judge's sentence and is going to comply with all rules, regulations and directives of the court and the probation department."
——–—
Pop culture lovers know that Soulja Boy is making a major splash in 2019.
In January, the "Pretty Boy Swag" rapper went viral for throwing shade at Tyga, Drake and Kanye West. Not long after, the 28-year-old star found himself in love after briefly dating Blac Chyna.
Now, the "Turn My Swag On" rapper is making headlines for a vastly different reason: E! News confirmed with authorities that DeAndre Way—AKA Soulja Boy—was taken into custody on Friday, March 15 for probation violation.
TMZ reports he was arrested in the San Fernando Valley area on Friday morning for allegedly having firearms and ammo.
"Soulja went to see his probation officer," TMZ states, adding that when he visited the officer, he was then "cuffed and taken to jail."
As mentioned before, the 28-year-old musician is currently on probation and his offenses apparently date back eight years, according to the publication.
Moreover, many fans of the star know this isn't the first time he's violated his probation.
In 2014, he copped a plea for carrying a loaded gun in a vehicle. He was sentenced to 24 months of probation, which he breached in December 2016, Pitchfork notes.
In 2016, while Soulja Boy was on probation, TMZ claims cops found at least one weapon in his possession after they searched his home due to the rapper threatening people online. He was charged with two felonies and one misdemeanor.
At the time, a judge granted an extension on his probation, however, it was made clear that he couldn't possess any weapons. In March 2017, he was convicted of one of the felonies and given five years probation, which he broke Friday morning.
Before the arrest, the star took to Twitter eerily writing, "If you heard some s--t about me come ask me first." 
On his Instagram Stories, he also posted a statement before authorities took him into custody. "Performing today at the Clippers game vs Bulls game at halftime Staples Center." It's unclear if he'll perform at the NBA game.
TMZ claims the rapper is currently in jail in Van Nuys. He'll reportedly appear in court later today to face a judge.
(Originally published Friday March 15, 2019 at 1:33 p.m. PST)