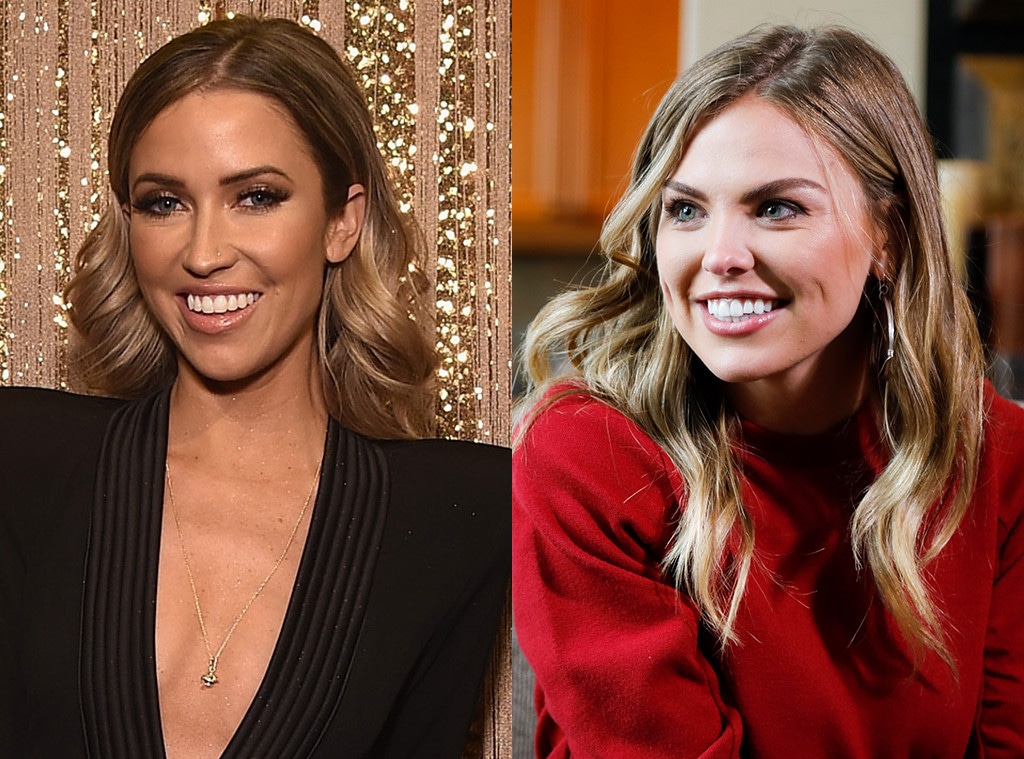 Bryan Bedder/Getty Images for Pandora Jewelry, Josh Vertucci via Getty Images
Former The Bachelorette star Kaitlyn Bristowe fully endorses the choice of Hannah Brown to follow in her footsteps...and speaking of which, she has some choice words for people who don't.
Earlier this week, ABC announced that 24-year-old Hannah, Miss Alabama USA 2018 who had competed on the recent 23rd season of The Bachelor, will be the star of the upcoming 15th season of The Bachelorette.
"This world that we live in, of Bachelors, Bachelorettes, it's always, your 'All-American Hero,' your 'All-American Sweetheart,' the 'Girl Next Door.' It's always like, the same cookie-cutter. Hannah B, to me, is deprecating," Kaitlyn, the star of season 11 of The Bachelorette, said on her Off the Vine podcast on Friday. "She's like, she's got like this right amount of insecurities, she's awkward, but it's her. Like, I don't feel like she's faking that."
Public reactions from members of Bachelor Nation to the naming of Hannah as the new Bachelorette have been favorable. But many viewers are not happy with the choice.
"People are giving her s--t, they're being so mean to her, [saying] 'She smiles too much,' Kaitlyn said. "I'm like, really? That's what you're gonna pick her apart for? Smiling too much? What a psychopath! Stop smiling, you psycho!" 
"This is going to help her grow, this is going to help her realize who she is and come into herself and we need to support her along that journey, because it's gonna be a beautiful thing," Kaitlyn continued. "And we can turn it into her being an actual, like, you know, 'pageant nightmare' if we're all hard on her and trolling her. If we support her, it can be a beautiful thing."
Kaitlyn slammed the online trolls who have criticized Hannah.
"And I am so sick of little...trolls on the Internet, just jealous of...God damn, she's just being herself! People are like, 'She's so awkward.' I'm like, 'Of course she was. She just got thrown into being the Bachelorette, she's not used to being on TV—so what [if] she does pageants?—and all of a sudden, she meets five guys that could be her potential husband and she loses her words. You would too, bitch. God, I get fired up."
"I'm like, God, what are people not just rooting for people's happiness?" she said. "I'm so sorry that she was chosen as the Bachelorette and you don't like her for these reasons that don't make any sense to me, but give her a god damn chance." 
Kaitlyn joked that Americans had better warm up to Hannah, "Or they'll have me, the Canadian, to deal with. Watch out, America. This 101-pound Canadian will getcha."
See what Bachelor Nation stars have said about Hannah being chosen as the new Bachelorette.
Don't miss E! News every weeknight at 7, only on E!