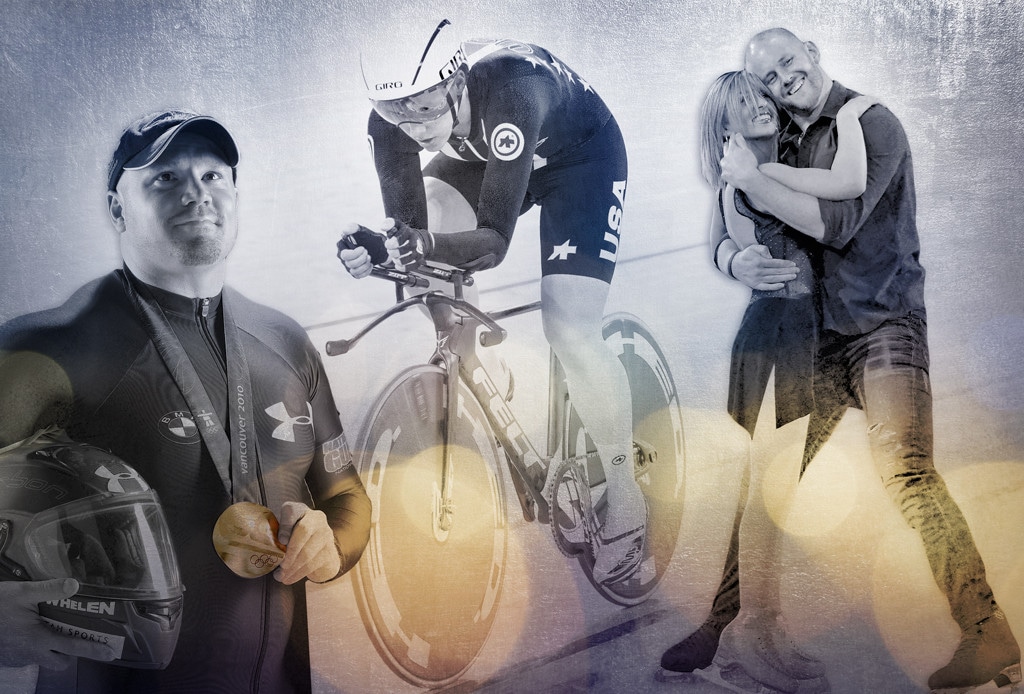 Getty Images, AP/E! Illustration
Michael Phelps had one of the most glorious Olympic careers imaginable.
His 28 medals makes him the most decorated Olympian of all time. Not even retirement stopped him, the swimmer instead choosing to make a roaring comeback in 2016 in Rio de Janeiro, where he won five more gold medals to bring him up to 23 first-place finishes. He had a new wife and a new baby, whose cuteness provided the only real competition for Phelps' spotlight.
Yet mastering his sport proved easier than achieving basic contentment. Despite his sheer dominance in the pool over the years, every trip to the mountaintop was met with the inclination to jump off the side.
"I wanted to die. I straight wanted to die," Phelps reflected on David Axelrod's Axe Files podcast a year ago, recalling feeling suicidal after the 2012 Summer Olympics, where he won six medals, four of them gold. "We were prescribed Ambien because we were traveling the world and I actually looked back and I had one Ambien left and I'm actually happy I only had one because you had a full prescription you know. Who knows?"
Any sort of high followed by, not even a steep low, but just a return to basic-speed normalcy can trigger despair and anxiety, and that is in no way limited to sports. But after years spent basically living for the adrenaline rush that comes from training and competing to reach the pinnacle of one's sport, athletes can be especially susceptible to being rocked by a change in their daily routine, whether they've been sidelined by an injury or are finished with the game altogether.
And when the event you're really training for only occurs for a couple of weeks every four years, that's a lot of downtime to be alone with one's thoughts. Or to just feel dreadfully alone, no matter how much life seems to be going a person's way from the outside.
Agencia Estado via AP Images
"What you see is just a roller coaster ride. It is training hard, world championships, training hard, Olympic trials, training hard, Olympic events," Dr. Scott Goldman, director of the Performance Psychology Center at the University of Michigan, told Boston's WBUR last year while the 2018 Winter Olympics were underway in Pyeongchang, South Korea. "And that roller coaster is an onslaught on the senses. They are just going, going, going. And when it all ends, it ends quickly. I think many of them are really just exhausted, and they just need a recovery period."
"You know, as Olympians, you set four years to build up to this moment," Phelps also told CBS News. "And then, after it's over, you're kind of lost in a way. You don't really know what to do. You don't know where to go. You don't know who to talk to. And a lot of us do suffer from depression."
Through the Michael Phelps Foundation, he's hoping to educate and help athletes with their mental health struggles. And speaking up, which he finally started to do heading into Rio, he said, is the first step. After he retired for good, Phelps started seeing therapists and giving talks about his own experiences with depression.
"For me to be able to go through that, if I can save one life, two lives, a hundred lives, that's way better than winning a gold medal," he said.
Swimmer Allison Schmitt suffered severe depression after winning three gold medals in London in 2012 and, after opening up about her struggle in 2015 and winning another gold in Sochi in 2016, she became a mental health advocate, speaking to students, fellow athletes and other audiences about her experience.
"Coming back down from that and not being surrounded by those teammates and athletes from other countries that have the same goals as you, the same drive as you, and being thrown back into the real world—it's a huge adjustment, whether you win or lose," she told Forbes last year.
CHRISTOPHE SIMON/AFP/GettyImages
She ended up enrolling at Arizona State to get a master's in social work.
"A lot of great therapists have experienced what their patients or clients are experiencing. I think it will allow me to relate," Schmitt, who as of last year was hoping to compete in Tokyo in 2020. "If I can be that therapist for a person who's like, 'No one here understands me. No one understands this,' that's another person that can be saved."  
In 2016, buoyed by the renewed conversation started by the athletes about their struggles, the United States Olympic Committee also started a program called Pivot to help ease athletes into their post-competition lives.
But it isn't only the end of a career that can deliver a crushing blow. Any number of factors, some of which—the exhaustion, the pressure, the inherent loneliness of dedicating most of your waking hours to one activity—are part of the deal for everybody, can leave a person feeling hopeless.
The suicide last week of 23-year-old Kelly Catlin, a world champion cyclist who helped the U.S. win silver in the team pursuit at the 2016 Summer Olympics, is yet another reminder that depression and mental health issues can be deadly—and, sadly, even when a person's loved ones know that they're suffering, that may not be enough to stop the worst from happening.
Catlin was found dead March 7 in her dorm room at Stanford University, where she was working on a master's degree in Computational and Mathematical Engineering. The St. Paul, Minn., native was also training with the U.S. track cycling team and racing professionally. She was an accomplished violinist and artist, and had just taken up cycling when she was 17 after injuries from running prompted her to try something new. 
Like seemingly everything else she put her mind to, she excelled. She was also getting treatment.
Power Sport Images/Getty Images
Ten days before she died, Velo News published an essay she wrote about balancing all of her pursuits. Lesson one: balance was a misnomer.
"Being a graduate student in Computational Mathematics is easy," Catlin wrote. "Being a graduate student while simultaneously competing for the National Team on the track is often more difficult. It's most difficult when you have to retake a three-hour final exam the moment you step out of the final round of a team pursuit. Being a graduate student, track cyclist, and professional road cyclist can instead feel like I need to time-travel to get everything done. And things still slip through the cracks."
Her family revealed this past week that she previously tried to take her own life in January. They will be donating her brain to the Veterans Affairs-Boston University-Concussion Legacy Foundation Brain Bank, for use in its ongoing research into the effects of traumatic brain injuries.
Mark Mainz/Getty Images for T-Mobile
Aaron Hernandez, the fallen football star who was sentenced to life in prison for murder, was found to be suffering from what was described as a shockingly advanced case of CTE, a chronic brain disease linked to head trauma, for a 27-year-old when he committed suicide in 2017. But NFL players are hardly the only ones affected. BMX star Dave Mirra, a 14-time X Games gold medalist, was also found to have had CTE when he shot himself in 2016.
Catlin had been in two fairly recent cycling crashes, breaking her arm in October and suffering a concussion in December.
"She was not the Kelly that we knew," her father, Mark, told the Washington Post about how his daughter behaved following the December crash. "She spoke like a robot. We could get her to talk, but we wondered, 'what has happened to our Kelly?'
"...Everything was open to her," he continued, "but somehow her thinking was changed and she couldn't see beyond, I guess, her depression. After her concussion, she started embracing nihilism. Life was meaningless. There was no purpose. This was a person with depression. For her, she could no longer concentrate on her studies or train as hard. She couldn't fulfill what she felt were her obligations to herself, she couldn't live up to her own standards. She couldn't realize that what she needed to do was get away and rest, heal. We were all searching for the magic words, that life was worth living."
EMMANUEL DUNAND/AFP/Getty Images
Describing what happened when Kelly attempted suicide in January, her sister Christine (they were triplets with brother Colin) told the Post, "She had written this lengthy email [to her family] and said her thoughts were racing all the time. She was suicidal, her thinking was really dark, and she had taken to nihilism. We called police the moment we got the email and they got there in time to save her that time."
Christine also said that Kelly was "a really special person—kind, funny, empathetic, and talented at literally everything she did. She just felt like she couldn't say no to everything that was asked of her and this was her only escape."
Added Colin, "I always saw myself as the planner and [Kelly] was the doer. I could always see the three of us taking over the world. We were a massive ball of energy and we supported each other in everything...Just a week or two ago, we were making plans, and I was optimistic about her future. She did have plans for the future, it turned out. Her plans.
In her Velo News post, Catlin wrote of her packed schedule, "This is probably the point when you'll expect me to say something cliché like, 'Time management is everything'...But the truth is that most of the time, I don't make everything work. It's like juggling with knives, but I really am dropping a lot of them. It's just that most of them hit the floor and not me."
Describing how she systematically managed her time, broken down into days dedicated to school or cycling, she continued, "Life happens, and of course, cycling and Murphy's Law are practically synonymous. Broken arms, concussions, mechanicals, lost books, bad Internet speeds, you name it. You cannot plan for the unplannable, and—to go back to the juggling analogy—sometimes those knives will hit you. What do you do when that happens?
"Now I am going to say something cliché: The greatest strength you will ever develop is the ability to recognize your own weaknesses, and to learn to ask for help when you need it. This is a lesson I have only just begun learning, slowly and painfully, these first few months as a graduate student. I still fail." 
She had found that giving herself the occasional day off was crucial. "Ask for a rest day," Catlin concluded, "or, if you're fortunate to be your own taskmaster (er, coach), give yourself a rest day. Unlike everything else in life, it cannot possibly do you harm."
Mark Catlin theorized that a "perfect storm" of factors led to his daughter's death: depression, lingering concussion symptoms, "not being able to say no," training too hard and then, "the final straw," not being able to train because of a rapid heart beat.
Overall, Catlin's family paints a picture of a supremely intelligent, dedicated and determined competitor whose life rapidly spiraled out of her control. And while the desire for explanations makes us inclined to trace the whole of a person's life looking for clues, there can be reasons why a person could within a short period of time come to believe that all hope is lost.
Dean Mouhtaropoulos/Getty Images
In January, retired figure skater turned coach and TV commentator John Coughlin  committed suicide a day after being temporarily suspended by U.S. Figure Skating and the U.S. Center for SafeSport, a sporting community watchdog working to prevent abuse and misconduct and respond to complaints of such behavior, in the wake of misconduct allegations involving three people, including two minors.
The 33-year-old Coughlin, a U.S. pairs champion in 2011 and 2012, hanged himself in the home he shared with his father in Kansas City, Mo., on Jan. 18. SafeSport had imposed an interim restriction on him on Dec. 17 and he was said to be distraught in the weeks leading up to his suspension. His dad, Mike Coughlin, told the Kansas City Star that he had asked his son if there was anything to the allegations and "he said, 'Dad, there's nothing there.'"
Meanwhile, Coughlin's family felt that his name had been wrongfully dragged through the mud.
"John was innocent. John was innocent in all of this," his sister, Angela Laune, also insisted to the paper. "The accusations were made anonymously. John had no way to defend himself. There was no due process." Family and friends detailed what Coughlin told them about the allegations: he was involved in a peer-to-peer, not student-coach, relationship with a girl in her late teens, over the age of consent, while he was in his early 20s; and regarding the two minors mentioned, he too was young, no more than a few years older than they were, when any relationship occurred.
But Coughlin is no longer here to explain himself. SafeSport also said it was shutting down its investigation into Coughlin's conduct due to the absence of any further potential threat, the Star reported last month, meaning there would be no satisfactory outcome for anyone involved. The athlete's family and friends were appalled by that decision.
"I think there needs to be a congressional hearing, or a congressional investigation," Laune said. "SafeSport as it operates now is clearly unconstitutional," wrote skater and coach Stephen Chasman, a friend of Coughlin's, in a Change.Org petition demanding reform of how SafeSport investigates accusations of misconduct.
"John felt like his life was crumbling around him and he had no way to escape," Laune told the Star. On the day Coughlin died, "I said to him, if you ever feel like it's getting too much and doing something stupid, call me and I'll be there," remembered skater Geoff Varner, a friend for 20 years. "He said, 'No, I'm OK.'"
According to the Star, as part of his continued involvement with skating after hanging up his own blades, Coughlin had conducted skating seminars for kids with his friend Gracie Gold, an Olympic bronze medalist and two-time U.S. national champion.
Gold, who has also struggled with depression, paid tribute to Coughlin on Instagram when he died: "We all have our own truths. John Coughlin was my friend-a wonderful friend. I was 9 years old when we met, just learning to skate. Over the years I knew him, he inspired me, supported me, and made me laugh. During my darkest days, his was an encouraging voice, telling me things would be okay. Recently we teamed up, providing seminars to a new generation of skaters. I loved every minute of it. I remember John's exuberance and passion for the sport and the people in it. John Coughlin made a positive difference in my life and many others. This is the truth I know.
"Rest in peace, my friend, I will miss you."
Gold, who won team bronze with the U.S. women in Sochi in 2014, checked herself into treatment for an eating disorder in the fall of 2017, putting a stop to her goal of competing in the 2018 Winter Olympics. She skated in the short program at the 2018 Rostelecom Cup in November but pulled out of the free skate program, sensing it might be too much for her.
"I thought checking into treatment last fall was the most difficult thing I've ever done, but skating my short program last night might have topped it," Gold tweeted. "I do not want to undo the tremendous progress I've made in these last few months and I feel that competing the free skate would be damaging to both my confidence and mental health going into Nationals. I thank you all for your support, and I am so sorry if I have let you guys down. This is just the start for me, and I know that greater things are yet to come."
She ultimately withdrew from the Nationals in January as well.
"I was suicidal for months," Gold told the New York Times last fall about what led her to treatment in 2017. "If I had just continued the way I was in Detroit [training], I'd probably be dead."
Similar to what Phelps and other athletes have said about their resistance to speak out about depression or other mental health issues, because they had it ingrained in their minds that they had to be tough, Gold recalled her downward spiral in 2016: "You want people to see your pain so they see you need help, but you don't want to ask for help. So you live in this kind of terrible limbo."
Earlier in her career, she told the Times, "I almost created this other person. I wanted to be the most flawless, angelic, plastic, Barbie-doll-face human who just says all the right things and does all the right things and is sterling. And people just don't like her because she's so perfect."
Gold hit the level of name-brand recognition reserved for relatively few Olympians after the 2014 Winter Games (like hanging out with Taylor Swift-level).
Allison Schmitt had told Forbes that, after her golden showing in London, she returned to her home state of Michigan and "wasn't necessarily ready to face the world and reality. What I wasn't prepared for was people knowing me. Random people on the street coming up to me, whispering about me, knowing that I was an Olympic gold medalist."
After about two years of post-Olympics excitement, Gold returned to the ice in 2016. And though she won her second national title that year, when she didn't medal at the World Championships in 2016, she was devastated.
Marilyn Indahl/Icon Sportswire/Corbis via Getty Images
"It wasn't just her pain," mom Denise Gold told the Times. "It was her family's pain. It was her agent's pain. It was the country's pain. It was that she was letting everyone down."
2017 didn't get any better, as her emotions and weight unhealthily spun out of control.
Gold didn't feel all that confident that treatment would help, but she checked into the Meadows in Arizona "because I thought it literally can't get any worse or I'm going to die, and I want to live."
She tweeted out the NY Times story on Jan. 27, adding, "Being honest about my story is so freeing...It is my hope to show future athletes that they are never alone, and it is always okay to ask for help."
Michael Phelps said that he turned to drugs and alcohol after the Olympics concluded every four years to numb the feelings he'd be having—and substance abuse often goes hand in hand with depression. And depending on the substance, that can end up being one more secret a person carries.
The sporting world was rocked in May 2017 by the sudden death of bobsledder Steven Holcomb, a gold medalist in the four-man event in Vancouver in 2010, a two-time bronze winner in Sochi in 2014 and seemingly headed for his fourth Olympics in 2018.
The likely cause was pulmonary congestion, and he had alcohol and, according to a toxicology report, more than the typical dose of the prescription sleeping aid Lunesta in his system when he was found dead in his bed at the Olympic Training Center in Lake Placid, N.Y. His family, meanwhile, was quick to slam any perceived speculation that they felt was in the autopsy report.
But even if the 37-year-old from Park City, Utah, had every intention of waking up in the morning, he had had his struggles, all while being a fierce competitor and beloved teammate, friend and family member. In 2007, Holcomb—who was competing despite failing eyesight due to a condition called keratoconus, which he was keeping a secret from the rest of the team—took 73 sleeping pills, washed down with a bottle of Jack Daniel's. He wrote about the incident and his battle with clinical depression in his memoir But Now I See.
Before he died, he had inspired a project by filmmaker Brett Rapkin, which came together when Rapkin, also suffering from keratoconus, went to the doctor who had treated Holcomb with a pioneering procedure. A copy of Holcomb's autobiography was in the office.
"Our plan was to tell the inspiring story of a guy who had survived [a suicide attempt], miraculously woken up, gotten his legal blindness fixed and won a gold medal," Rapkin, who ended up expanding the film to be about Olympians and mental illness, told Boston's WBUR last year.
He had interviewed Holcomb in April 2017. "He was an incredibly friendly guy, soft-spoken," Rapkin recalled. "Doesn't look like your typical Olympian. Kind of stocky. We had dinner in Santa Monica, chatted for a bit, and the next day we did the interview. It lasted, I want to say, close to three hours, and there were some pretty emotional moments."
Competing with the weight of his secret on his shoulders, knowing that to come clean meant losing the career he'd had since 1998, "I had to withdraw from my friends and my family and society in general and just really kind of became closed off," Holcomb told Rapkin about the events leading up to his suicide attempt in 2007. "And I began to kind of slip into depression, knowing that this was inevitable and it was going to happen.
"It just made sense to me—I mean it just made sense that if I just end it now, it solves so many problems, and everything will just get better, and I'll be doing people a favor," Holcomb told Rapkin. "They won't waste their money on me. They're not going to waste their time. And then my eyes—my eyes are going bad, and I don't want to go blind, so I'm just kind of, you know, killing 10 birds with one stone, and it just seemed, like—to me it was completely logical. And it made sense, and that's what's scary about depression, is that stuff does make sense. And you just end up doing crazy things.
"I did. I had a whole bunch of sleeping pills on hand; that should have worked. I don't know why it didn't work. It should have worked. And maybe there's something else I'm meant to do."
Alexander Hassenstein/Bongarts/Getty Images
Holcomb's life seemingly took a 180. The doctor fixed his eyes, he won gold in Vancouver, the first time the U.S. men won a bobsledding gold since 1948. He was on top of the Olympic world.
But with what he figured would be his last Olympics approaching, Holcomb didn't know yet what he would do next, Rapkin recalled.
"After he went to Pyeongchang, he was going to have to move into his mom's basement and figure out the rest of his life," the filmmaker said. "That was his head space a few months out from the Winter Games. And 12 days later I got a call from his longtime agent, that he was dead."
Noting Holcomb's family's confidence that his death was an accident, Rapkin acknowledged that he didn't feel any indication that the athlete was suicidal and that Holcomb seemed excited about the months ahead. "So we may never know exactly how he died. But we know that he was someone who had suffered."
It isn't necessarily that being an Olympian ends up being depressing, but some of the people with the talent to make it as a top athlete with the focus and competitive drive that requires may be more prone to experience intense lows when the high fades.
"Some of it is predestined," sports psychologist and former competitive skater Caroline Silby told the New York Times. "The DNA is such that these individuals would be faced with these issues regardless of their Olympic prowess. Some of it is developed through habits and practices that feed the athletic quest for excellence but drive these individuals further away from being healthy, productive non-athletes."
Among the people Brett Rapkin spoke to for his film, The Weight of Gold, were Phelps; ice skater Sasha Cohen, who didn't suffer from clinical depression but spoke to the intense pressure of competition; and world champion skier Jeremy Bloom, the only athlete to ever ski in the Olympics and be drafted by the NFL.
In 2006, Bloom was the favorite in the freestyle moguls at the Turin Olympics, but finished sixth. "When I returned to my apartment in Torino, I closed the door, sat down on the bed, and, well, that was it. I lost it," he recalled the moment to Colorado's Durango Herald last year. "Tears flowed down my face. A torrent of emotion flooded over me. I wanted to crawl outside of my body because the pain was so unbearable. It was the lowest moment of my athletic life; I felt totally defeated once again on skiing's biggest stage."
Richard Schultz/Getty Images
He dusted himself off pretty quickly and sped right into the next thing—the NFL combine. But having seen depression befall many of his fellow athletes when their playing days were over, he used his own fear of the unknown to fuel his fire for the future. A born entrepreneur, he's CEO of a marketing software company and founded the Wish of a Lifetime Foundation, which gives seniors the chance to have a long wished-for experience.
In 2014, Bloom joined forces with the NFL and Penn's Wharton School, where he studied as a NFL rookie through a partnership program, to bring 40 football players out to Silicon Valley to expose them to some post-retirement possibilities in the business world. Talking about the Wharton program and others like it, Bloom said that providing that first step is key. "And those programs are great connectors—not only to the things that matter, but the people that matter," he concluded.
And there can never be too many lifelines available, and the need for help often starts long before an athlete has had a chance to contemplate what sort of business he or she wants to go into in the future. 
"Every single athlete I've talked to, some of whom still have strong affiliations to the USOC, have been not just willing, but enthusiastic about telling me that we need more help," Brett Rapkin said. "There's no doubt that Olympic athletes need more help."
If you or someone you know needs help, call 988 to reach the Suicide and Crisis Lifeline. You can also call the network, previously known as the National Suicide Prevention Lifeline, at 800-273-8255, text HOME to 741741 or visit SpeakingOfSuicide.com/resources for additional resources.