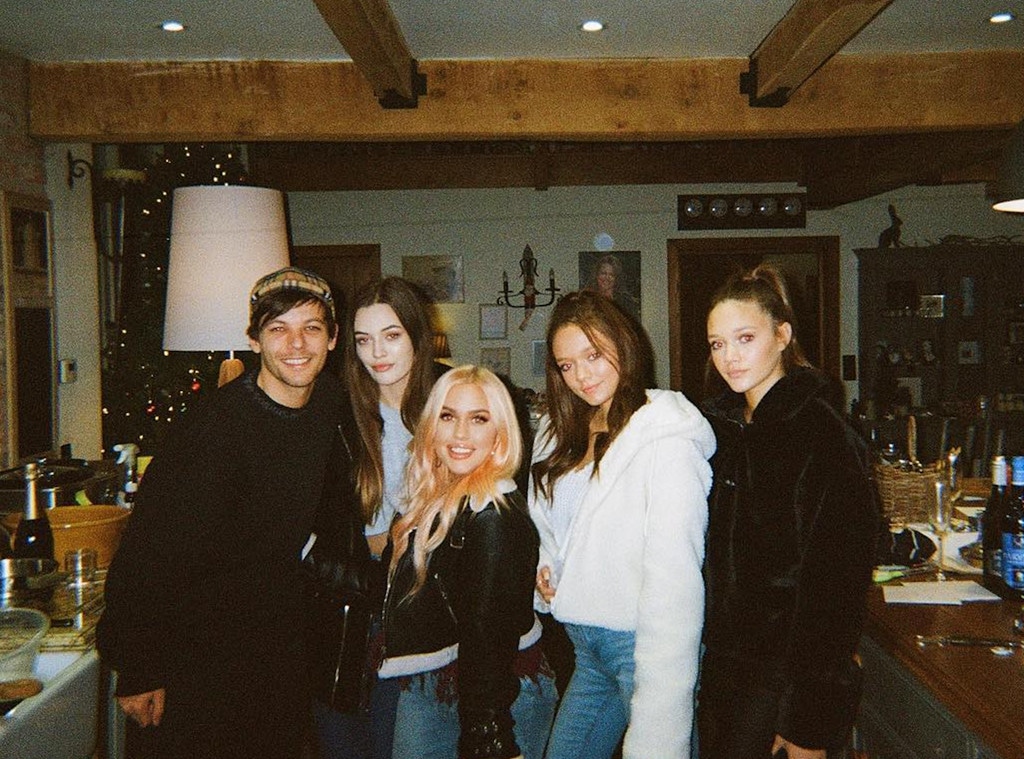 Félicité Tomlinson/Instagram
There are certain losses that no amount of success can replace. And the holes left behind by the death of a loved one are just there to stay.
Louis Tomlinson is grieving for the second time in just over two years, the news breaking Thursday that his sister Félicité Tomlinson has died. She was only 18 years old and is suspected to have suffered a heart attack at her home in London on Wednesday. Metropolitan Police are categorizing her death as unexplained for the moment and they said a postmortem will be conducted in due course. 
Félicité, a model and Instagram influencer, had most recently posted a photo with Louis and fellow siblings on Dec. 30. "Family," read the simple caption. 
Louis' parents split up when he was quite young and Félicité was one of his four half-sisters from his mother Johannah Poulston's marriage to Mark Tomlinson. Of Johannah and Mark's brood, Lottie is the eldest, followed by Félicité and twins Daisy and Phoebe. Louis also has a half-sister, Georgia, from father Troy Austin's second marriage.
Johannah and Mark divorced right around the time of Louis' life-changing audition for The X Factor. In February 2014 Johannah welcomed fraternal twins, Doris and Ernest, with Daniel Deakin, whom she married that July. Her oldest boy was right by her side.
In August 2015, as his 1D days were winding down, Félicité, Daisy and even baby Doris were backstage at one of the band's last shows.
When the twins were born, Louis was said to be thrilled. "Family is massively important to him," a source told The Sun, "so he was made up that he was not abroad and was able to meet them so soon after they were born. His sisters mean the world to him so he's delighted to have to more siblings to spoil."
Louis welcomed his own son, Freddie Reign, in January 2016, the start of a new chapter for the still only 24-year-old One Direction heartthrob. He was young, sure, but he was financially set and happy to be starting a family, albeit one that was a co-parenting arrangement upon arrival with Freddie's mom, stylist Briana Jungwirth.
Stuart C. Wilson/Getty Images
The unabashed joy that accompanies becoming a father was short-lived, however. 
Joannah, Louis' mum, died of leukemia at only 43 years of age on Dec. 7, 2016, a devastating blow for her sprawling family. She had just been diagnosed earlier that year.
"Johannah was first and foremost a truly amazing mother to seven children, whose individual talents and success are testament to the principles and beliefs she instilled in them," read a statement released by the family. "She was also an incredibly proud grandmother to Freddie."
Deakin tweeted from his late wife's account one last thank you for all of the support she had received, knowing that it stemmed from the One Direction fans' great love for her son.
"Hi, it's Dan," he began. "Johannah asked for me to send this afterwards. She wanted to thank you all, and to let you know that you have been amazing right from the start. You changed Louis' life, but also her life. Your support now is as strong if not stronger than ever. So from Johanna one last time, thank you for everything xxx."
No one would have blamed him if he had wanted to avoid the spotlight for awhile, but Louis went ahead with a planned performance of "Just Hold On," his single with Steve Aoki, on The X Factor four nights later, saying in a brief statement that it was Johannah's "dying wish" that he press on with his life.
"Louis, I have to say I've known you for six years," Aoki addressed his fellow artist onstage. "The bravery of what you've done. I respect you as an artist, as a person and your mum was so proud of you and she was so excited for the performance. She's looking down on you tonight."
After the taping, Dan Deakin hosted a group that included Louis, his sister Lottie, Niall Horan and Liam Payne at Cirque, where the group gathered to celebrate Johannah's life. Harry Styles had been at the show too.
"Harry, Niall and Liam all came down to X Factor to support Louis," a source told the Mail Online afterward. "They all were backstage with him supporting him. It was a lovely moment and shows the unity of 1D. First time all back together in a year. It was a lovely touching moment backstage and they all came to support Louis during a horrible time. Niall even flew back from New York."
"It was tough, but I felt like it was nice for me to almost have a little send off for her," he explained in a SiriusXM interview a few weeks later.
"It's not something that I feel 100-percent comfortable talking too much about but just quickly, when I first found out the news I kind of did want to throw the towel in," Tomlinson acknowledged.
"But it was my mum who said to me that I've just got to keep going, telling me very sternly that she wanted me to."
David M. Benett/Dave Benett/Getty Images for Nails Inc
Louis did split up with Danielle Campbell, his girlfriend of over a year, in the wake of Johannah's death, but a source told The Sun that it was mutual and they planned to remain friends. "They're still talking to each other and there is no bad feeling whatsoever," the insider said. 
Still, the source described the breakup as "really sad" because Danielle had been there for Louis during everything he was going through with his mother, as well as helped ease his transition from member of One Direction to solo artist after the group played their last concert in October 2015.
"She has stood by him, remained loyal and continued to be a great support," the source said, "which is exactly what he needs. Sometimes these things just don't work out and for Louis and Danielle this was the best way forward."
Joseph Llanes for iHeartRadio
Louis' next single, "Back to You," came out in July 2017, followed by "Miss You" that December. Read into them what you will.
"I wrote this song about a time in my life when I was going out partying every night," he wrote in explaining "Miss You." "In hindsight throughout that time I was pretty numb and just going through the motions. Deep down it was always in the back of my mind that what I really missed was the girl that I loved. It was important for me to write something really honest."
Another thing his mother apparently wanted for him was a reconciliation with Zayn Malik, knowing that they had been especially good friends when they were in 1D together.
"My mum said, 'You've got to get back in contact with Zayn. Life's too f--king short,'" he revealed to The Sun in the summer of 2017. "My mum always knew what I was feeling and what I wanted...Zayn was always good for me in the band because he was my go-to if I wanted to p--s around, lark around," he said. "I could always break the rules a little bit with Zayn."
There's no time like the present. But when Johannah passed, Zayn did tweet his old mate, writing, "Love you bro! All of your family is in my prayers."
Unlike a few of his fellow former bandmates, Louis has yet to release a full solo album, but he's been toiling away in the studio and just last week released "Two of Us," which is about his mother. 
Calling it "empowering" to write, Tomlinson told BBC Radio 1 Newsbeat, "I'm not at the stage in my grief where I'm going to open the first verse and burst into tears. It was something I needed to get off my chest. I used to lean on my mum for a lot of things—anytime I needed advice on something she would be the first call I made." 
That being said, "I don't want people to get caught up in the sadness of it. The song should be hopeful." (In the meantime, O magazine put "Two of Us" on its list of Best Mother's Day Songs this year.)
Tomlinson joined The X Factor as a judge for its 15th season, bringing his journey full circle as he continued to record. Meanwhile, perhaps that album is coming sooner rather than later—Variety reported last month that he had signed a new deal with Arista Records.
"I've written loads of songs," Louis told Total Access just days ago. "I think as the space and time has got bigger and bigger, and I'm conscious that I've been taking awhile for the album, I bet a bit more precious about each song. So it's been difficult but I think by the end of the year, or I've told everyone, by the end of the year, I've got to have the album out. It's a must."
And as one of Johanna's seven children, he obviously isn't the only one who spends a lot of time thinking about her.
Last year when twins Ernest and Doris turned 4, Félicité posted several photos, including ones of them with Johannah and with their aunts Phoebe and Daisy.
"Happy 4th Birthday to these little beautiful people," she wrote. "We're going to have to stop calling you the babies now! Mumma would of been so proud of you. One part of me wants you to stay little forever and another can't wait for you to grow up so we can tell you all about her and have so much fun with each other!
"Love you both ...Another little shoutout to my big twins who have stepped up during this difficult year and gone above and beyond your roles as big sisters, we are all in awe of you two beautiful, mature little ladies."
The little twins and all four of their big sisters were together over Christmas as well, with Phoebe and Félicité showing off a group photo. Louis joined them a few days later.
Now, unfathomably, Félicité's gone too, at only 18—a crushing loss for any family, and especially one that lost its matriarch just two years ago.
Talking to House of Solo magazine recently about "Two of Us," Louis said, "People say writing is a part of therapy. In a way, I feel like I'd been avoiding writing this song because I knew I only had one chance to get it right. I don't mean to be too soppy but if 'Two Of Us' can help just one other person who's going through the tough time I went through, that would make me really happy."
How was he to know that it would once again be him, and every other member of his family, who would be needing that help?